Shooting through time, a journey to the Jurrasic Coast. Posted On 26th June 2018 To Magazine, Stories & Film specific

Heading West
Last September my family and I headed west. It had been a few years since we'd visited the West Country, we had come to love it when our family was young, and now that they were grown we decided to return to see if it still has a special place in our hearts.
While my teenagers packed their essentials - clothes and iPhones, and my other half packed enough books to keep a large reading group going, I set about doing the important task of packing my camera equipment.
My focus was on which cameras to take, and of course which film.
I knew I'd only have a small space in the Leaf after the dogs, kids and books had taken up residence for what would turn out to be a seven-hour drive, so, after much thought, I decided on a small bag and two 35mm cameras.
The film choice was quite straightforward; my all-time favourite film from Ilford - HP5.
So the camera bag was packed, the family were just about ready to leave and after a hesitant start (We realised we'd left the charging lead at home for the car and had to turn back and pick it up!) it was time to make our long journey.
Not even a slight detour through London during rush hour (sat navs know nothing!) dampened my spirits when we arrived at the Jurassic Coast Line.
I couldn't wait to get out and just walk the beautiful countryside that Dorset has to offer. But the kids had other plans for day one!
The second day was a different story
We revisit Lulworth Cove a destination that I had fallen in love with the first time we'd seen it, many years ago.The family went off after lunch, and I started my journey.
I like to walk - to set off and soak up the beautiful landscapes I planned to walk in the opposite direction to the army live firing range, and as plans go, I think it was one of my best.
If you've ever been to Lulworth Cove then you will know that it is an area of particular interest to geologists. The rocks form an unbroken sequence from Jurassic Limestones to the Cretaceous Chalk, with exposed in cliffs up to 150 metres high that fold over on each other and have defined layers that Mary Berry would go crazy over.
With my first roll of HP5 loaded I set out to see if I could do justice to the continuous record of about 80 million years worth of the Earth's geological history locked in rock form and carved into the landscape.
Contrast and tone
I'd already decided not to use any filters, unless I deemed it essential because I wanted to rely on the contrast and tone that I know HP5 can deliver. I knew from the sky and the light quality that day that the HP5 would give some incredible results.
Lulworth Cove was, and is, a truly magical place with its beach contained in its almost circular bay, boats bobbing on the gentle azure blue sea, and landscapes formations that any photographer would trade their spare Leica for!
I spent a happy afternoon getting lost in the process of assessing the world and finding inspiration for shots. Only occasionally being pulled from my focus by random groups of geology students who for some reason thought I was Conor McGregor. -It's an easy mistake to make after all were both ginger; however, I am at least 2inches taller than the McGregor and definitely not as muscular, although lugging photography equipment around does help with that.
Day three was dissolved by the kids and a trip to Christchurch, I did take my camera, and I did photograph the kids, but portraiture is not where my heart lies. As my other half often tells me, we have more pictures of random trees then we do of our children.
Durdle Door
On day four we went to another unique landmark on the Dorset coast, Durdle Door.
Wow, this place is impressive.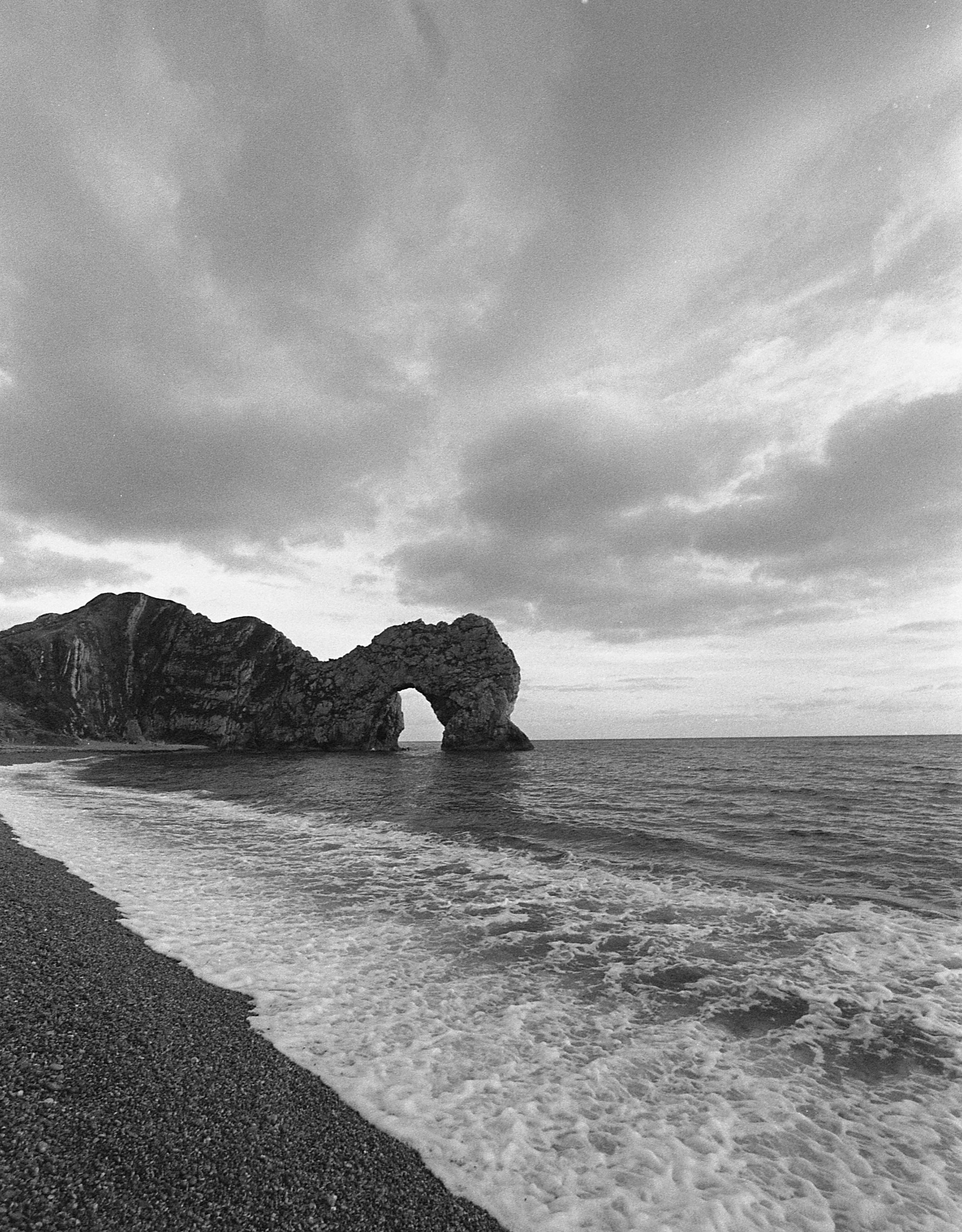 It's also one of the most photographed places in the UK, so I knew that I'd have to take every opportunity to show people that film can deliver brilliant results - especially when every other person there had a digital camera.
Seeing all the other photographers checking their screens made me think about why I choose film. There are many factors, but that day it was about the excitement of knowing that the HP5 would give me the results that I wanted from my photography. And the anticipation of developing that film when I got back home to Suffolk and being able to connect with a location that was now over 200 miles away and to continue the journey in my darkroom.
A tip off
One of the last places we visited during our short exception of the West was Kimmeridge Bay.
We'd never been there before. A fellow photographer had tipped me off about this stunning location but  when the other half mentioned it's connection to Thomas Hardy and P.D. James, and that the Cavell Tower used to be an observatory (She's in to stars as well as books!) I knew I was on to a winner.
I left her to her own fascination's - entertaining the kids with abridged versions of all of Hardy's works, while they moaned that it had turned cold and that they had no internet access, and set off - wandering the landscape once more with my bag on my back and my tripod in my hand.
The kids were right, on arrival the wind had picking up, but the sunshine was breaking through the clouds which made for a beautiful sky to go along with an incredible landscape.
One of the most amazing things about this place is its duality; when the tide goes out it totally changes the landscape, and for me, it was like magic.
I knew that the HP5 was more than capable of coping with the detail and tones I wanted out of this location, so it was imperative that every frame on the roll was just as important as the last.
The next adventure
After travelling nearly 700 miles in our electric car, (the longest journey we had done it at that point) and having a fantastic break; shooting four rolls of film, I was eager to set out on my next adventure back home - developing the film and watching my visions come to life.
---
About The Author

Jason Avery
I am a Suffolk based photographer gaining inspiration from the glorious East Anglian countryside.
I am best known for my capturing of wide open skies and the diversity of landscapes that I capture in my photos. Each of my images is evocative and creates mood through the tone and style.
I have been working in various photographic media, establishing a name for myself through my infrared and film work, I have only recently delved into digital colour work, utilising all of the techniques I have learnt so far to breathe innovation into my work.
I love that I am always learning, expanding and pushing the boundaries of my chosen art form and I am excited to see where it takes me next.
---