Positive Futures Posted On 28th January 2021 To Magazine & Stories

A bit of history
I am now 51 years old and have been faithfully using ILFORD film since first being handed an ILFORD Sport 120 roll film camera from my father. He had used it during National Service in the army in the 1950s and I used it from age 8 onwards and which is what I learnt with. Throughout my professional photography career over the last 18 years, I have regularly used ILFORD film - HP5 Plus, FP4, Delta 100, 400 and 3200 and XP2 Super. Subsequent cameras have ranged from the ILFORD Sport to 35 mm compacts, a Hasselblad XPan and 500C, many different 35 mm SLR's, some 4 x 5's and now I rely on 3 Olympus OM-40 Program with 21 mm and 50 mm lenses.
Side by side
I began to use digital relatively late, in 2006, as I didn't want to let go of using film and immediately found that I had to use digital and film side by side as both are best for different purposes. Digital for finding light in difficult situations and, of course, for colourful environments and black and white film for creating more artistic images where I think more carefully about tone, contrast, composition and shapes. ILFORD film gives me a way to make a statement without words and create expression, where digital often is unable to.
My Passion
My passion has always been portraiture and my work has lead me increasingly to specialize in people living remotely and off-grid. Subsequent commercially published books, containing many photographs made with ILFORD film have now proceeded to me publishing my own mainstream photography magazine called Positive Futures which show a range of both digital and ILFORD film images. The following images, all shot on XP2 Super give an idea of my purpose.
Above: Simon Fairlie, editor of The Land magazine with his Jersey cows in Bridport, Dorset on 26 May 2020. Using Olympus OM-40 Program with XP2 Super and Zuiko 21 mm/f3.5 lens.. I like the Olympus OM-40 Program in particular because it has an excellent ESP metering system and Program mode that means I only have to compose, focus and fire the shutter and nothing more.
I develop the film using Snappy Snaps on Colchester High Street because they are the cheapest service I can find but also they provide a professional and efficient service. The bonus of using XP2 Super film is that it has fine grain for detail, and great contrast, plus it is the world's only film that can be developed using the C-41 colour process. ILFORD, please never stop making this gorgeous film!
Moby
Tom McClean, Nautical Adventurer, with his whaleboat 'Moby' in Scotland on 20 July 2020. Using Olympus OM-40 Program with XP2 Super and Zuiko 21 mm/f3.5 lens.
In my work, I take photos and interview verbatim by typing fast in real-time to a laptop or iPad. An example of the type of interview I make is provided here, with an extract from Tom McClean's:
"When I was in the Paras in Borneo and had a resupply I read in a newspaper that Ridgway and Blyth had rowed the Atlantic, so in the SAS at Hereford, halfway through my stay I was getting itchy feet and there wasn't a lot on so decided to row it, I wanted to be the first person to row any ocean alone, unaided.

It was the 17th of May 1969, once you go out of St. John a mile or so you are straight into the open ocean, I chose a different route to them, it was a shorter distance but more dangerous because I was further north. I started in the cold, snow showers, in fog and on your own, no communications, no navigation, just a sextant and my bearings.
I got into the Gulf Stream and it warmed up, instead of whales then came sharks and the idea is you don't poke them, you don't annoy them, they are under the boat for days. It's more mid-ocean, it's never calm, there are always swells, I was quite happy with myself and got into a good routine, eat, sleep, row."
These words combined with the XP2 Super photographs make for an interesting read that inspires the reader and is important from an anthropological point of view.
Travelling light
I used to always carry one digital camera with me and one film camera, the Olympus OM-40 Program and would use Olympus manual focus lenses on both digital and film bodies. Now I have given up using digital as film, for me, is more straightforward to use and, because of cost, makes me more considered about what to photograph. It is also what I learnt with and feel nostalgic still being able to use it, the mid-80s cameras are superbly built, tactile and small, I don't have to worry about carrying and recharging batteries and the results are beautiful. I have to travel light as I frequently have to fly, travel by boat, or walk to locations and use a motorcycle as my only form of transport. This means I carry the three 35mm bodies and three lenses, two Zuiko 21 mm/f3.5s and Zuiko 50 mm/f1.8 lenses. The 21 mm lenses stay on for 99% of the time because they allow me to get close, get as much of the subject in as possible, creates a dramatic effect and are small and very sharp.
Brett
"I have always known I didn't have any hands, it just clicked in, I knew from an early age just how different I was from other people. The reason that we can put it down to was when my Mum was six weeks pregnant with me, she was scared by a German Shepherd and the switch was turned off that was making my fingers. My Mum was a Romany and was determined that I was going to go to ordinary school, and I did, all throughout my whole childhood, no special school for me."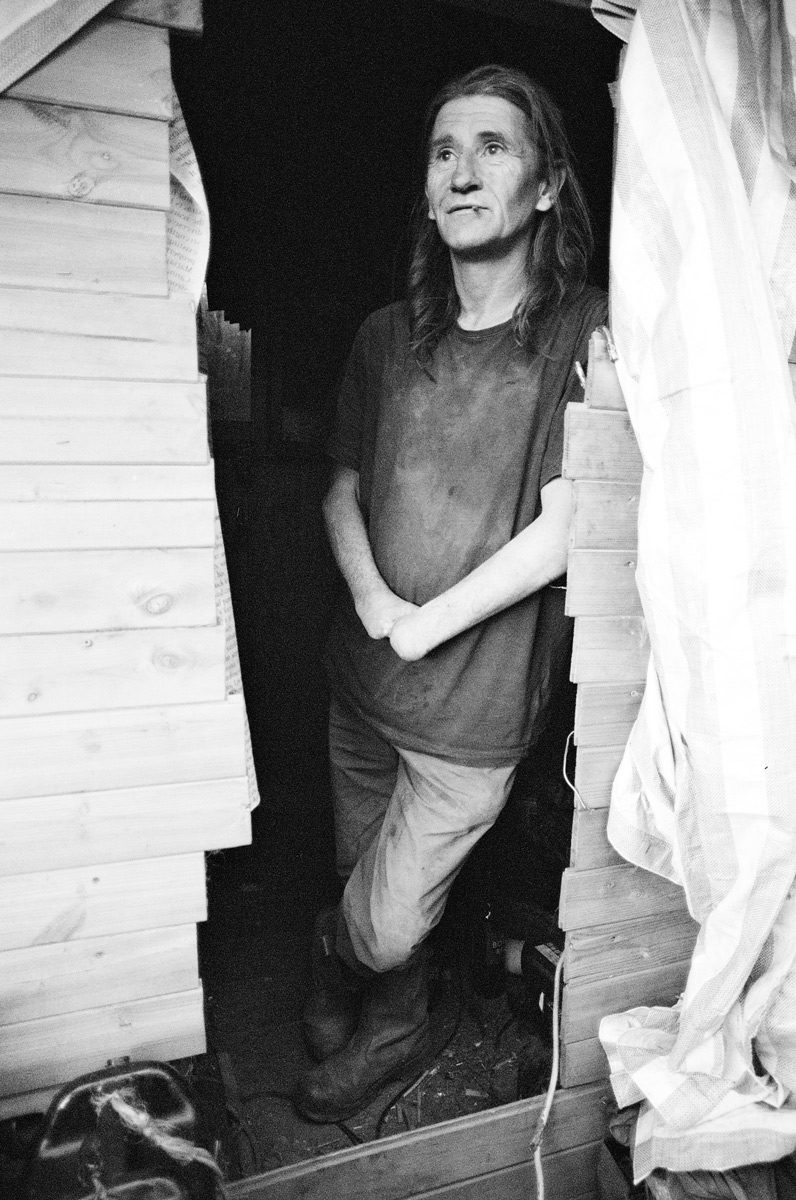 Brett, a 'Free Spirit' standing inside the bow top wagon he built himself on 30 May 2020. Using Olympus OM-40 Program with XP2 Super and Zuiko 21 mm/f3.5 lens.
Final words
You simply don't need to carry the latest equipment with a plethora of different lenses. Prime lenses give much better detail than zooms and if you need to get nearer, or further away from your subject, just use 'sneaker zoom', your feet. That's the old school way that worked for great photographers like Cartier-Bresson who only ever used one prime lens. Find out your interest, what kit works for you and what type of film suits your needs, then master it. Don't get distracted by 'what ifs', stick to your goal and become a specialist in your field. I use one type of black and white film only, ILFORD XP2 Super, as it suits all of my needs.
Linda Lemieux, a basket maker, cutting rushes in Somerset from a coracle she built herself on 09 June 2020.  Linda then weaving a basket in her workshop in Devon on 31 May 2020. Using Olympus OM-40 Program with XP2 Super and Zuiko 21 mm/f3.5 lens.
All images © Ed Gold
---
About The Author

Ed Gold
Positive Futures is a new quarterly magazine about alternative living and the people who embrace it. Sharing action and words, being responsible, sustaining healthy, generous and nurturing of our natural world. Stunning photography using both digital and ILFORD film is coupled with heartfelt and honest commentary on the way folks live. The first issue, published on 01 November 2020, includes Alaska's most remote family, words from anonymous apprentice shaman and editor of The Land magazine, Simon Fairlie's experiences.
My website: www.edgold.co.uk
My Instagram: www.instagram.com/positive.futures.magazine
My Facebook: www.facebook.com/EdGold.co.uk
My Wikipedia page: https://en.wikipedia.org/wiki/Ed_Gold
---