A student's view and the female gaze Posted On 21st October 2021 To Stories

In our digital age, film photography can appear to be expensive and risky but it has challenged me to learn the process involved in taking a photo that captures my intent and tells a story, creating a real sense of achievement.
Over the past year, my confidence in using the medium has grown which is driving me to experiment more. In a world where the media can manipulate colours to affect the audience's perception, black and white film uses alternative techniques. For example, in colour, red often connotes passion but in black and white it might be a detail such as the subject's eyes that give a sense of passion. Having initially used colour film, I have gravitated more towards black and white because of the challenge.
Femininity and identity
My subject matter within my photography work tends to consist of the concept of femininity and portraits of young women. I'm drawn towards images of those who are strong minded, proud and driven and represent the kind of world I want to be a part of.
I'm also passionate for more women to get behind the camera particularly to express their perception of the 'female gaze' to highlight the beauty we see in other women in such a male dominated industry.  Artists such as Luo Yang and Corrinne Day have been such a huge inspiration within my work. They have stemmed different concepts, ideas and visual styles that I have interest in exploring and researching. Although Yang captures her portraits in colour, the themes of femininity and identity that she explores in her decade long series 'GIRLS' was really inspiring. She depicts the women in such a raw and authentic style which is something I have been trying to incorporate in my work.
Isla
One of my favourite photos I've submitted is of my friend, Isla. Her jaw-dropping fashion and charismatic qualities make her such an interesting and diverse subject to present.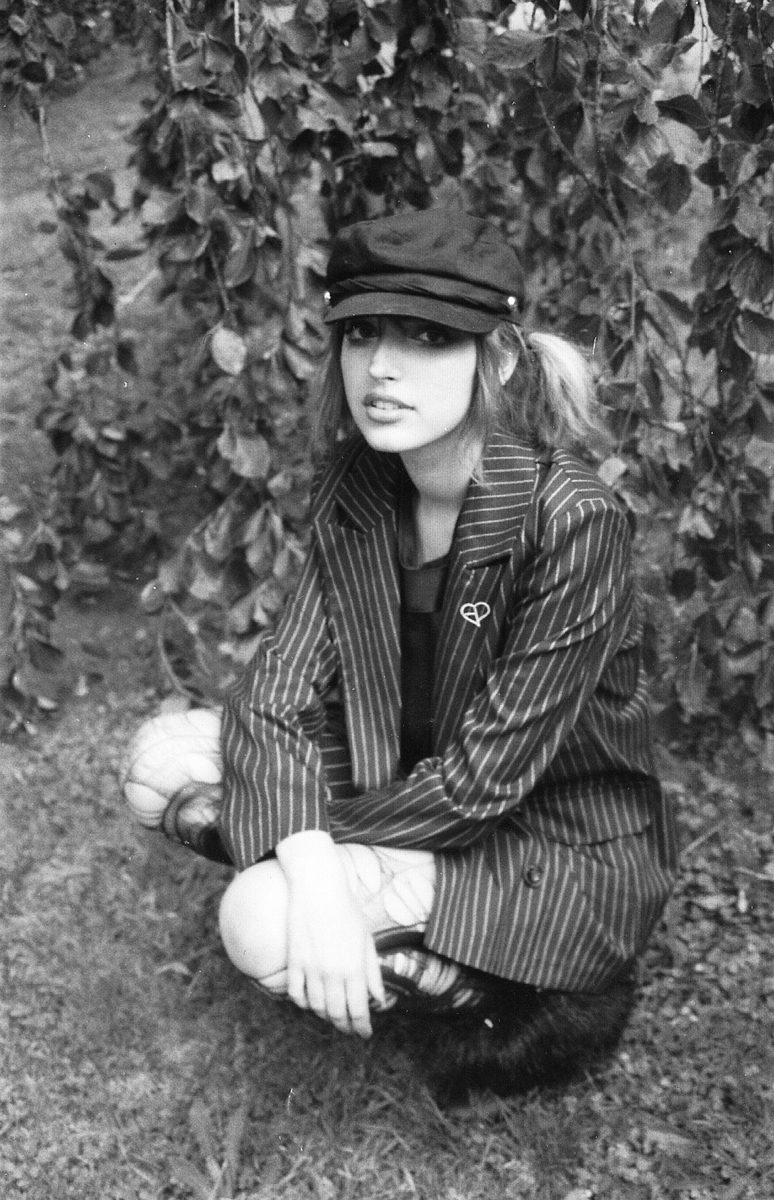 I took this photo using a roll of 35mm delta 400 on my Minolta maxxum 3000i.
ILFORD produces a great range of 35mm films. I started with HP5 PLUS, before going on to explore DELTA 100, DELTA 400 and XP2 Super.
I loved the HP-5, it produces a grainier, tonal and timeless quality within the image 'Flower'. The soft and gentle nature of flowers has traditionally symbolised femininity.
Ethereal effect
However, for my portraits I wanted to have a sharper image with a greater depth of field which I achieved by using a combination of Delta 100) and DELTA 400 . With Seren, I focused on capturing the fine details and texture of the surrounding trees and dewy grass. Creating an ethereal effect. With Isla, I wanted to focus more on her as well as her bold and incredible style. The harshness and dark qualities that delta 400 created was a good choice as it accentuated the depth and detail.
Symbolism
The unusual chemical process involved in developing XP2 intrigued me. I found once I'd taken and enlarged the portrait photos, elements of the photo that had lighter shades were highlighted- creating a dreamlike, almost impressionistic feel. This complimented my emphasis on feminine characteristics and the stigma around body-hair on women.
The figs symbolised the natural, soft curves of the female form. The cluster of inverted flowers and seeds within the fruit itself representing fertility and new life.
In the future I intend to continue to hone my practice of working with ILFORD films and equipment. And, to expand my techniques and build on my portfolio of work.
---
About The Author

Katie Spargo
Hi!
I'm Katie Spargo, a seventeen-year-old student living in Cornwall. I currently attend Truro College where I'm in my second year studying A-Level Law, Sociology and Photography.
A combination of all three subjects' content has been a huge inspiration within my work- lots of research in to areas such as feminism and the patriarchy have helped me start to challenge stereotypes.
Once I've completed my exams, I'm hoping to travel around the world and use photography as a tool to document the diversity of women in their various forms and environments.
When (or if!) I decide to move back to the UK, Brighton is top of my list of where I want to live.
I post my photography under @katiespargophoto on Instagram so if you'd like to see more please check out my account.
---