Port Eliot Project - Diana Gomez Posted On 25th September 2017 To Magazine, Stories & Film specific

A little background
I was born and raised in Caracas, Venezuela.  My chosen field of study was production engineering, but was I taking photography classes in the evenings and began working for a super cool magazine called Urbe, which is a bit like what Vice is in the UK now. I quickly became the chief photographer shooting all kinds of amazing and interesting people, and it was then that I knew that this is what I wanted to do with my life. Looking back it was quite an interesting time - I'd be learning thermodynamics by day and photographing homeless people, rockstars, police officers, people on the streets and prostitutes by night. It was so varied and raw, exciting, in your face, dramatic…
I moved to London in the early 2000s and I have been working as a professional photographer ever since. I love to create really beautifully lit and strong images which capture the optimism, power and beauty of the people that surround me.
I've been very fortunate to shoot some of the most incredible personalities in the world of art, music and film. I'm continuously inspired by those around me… and I think my failure to say the word 'NO' continually opens me up to incredible opportunities. My life has been a pretty crazy adventure to date and I can't wait to experience what is yet to unfold…
Fashion photography tips
I always try to think about an idea/concept and ensure it trickles down every aspect of the shoot. I make my team think about it and come up with their own perception and understanding of my initial concept. It is important to think about the details. It is in these that you show all the signifiers of the shoot. I am always very attentive of how the clothes look, and make sure that my subjects are comfortable and understand the story prior to the shoot. Connecting with your model/subject is the most important thing. You have to work on the energy in the room and make sure you create a unique atmosphere of trust, love, and passion for the work being created.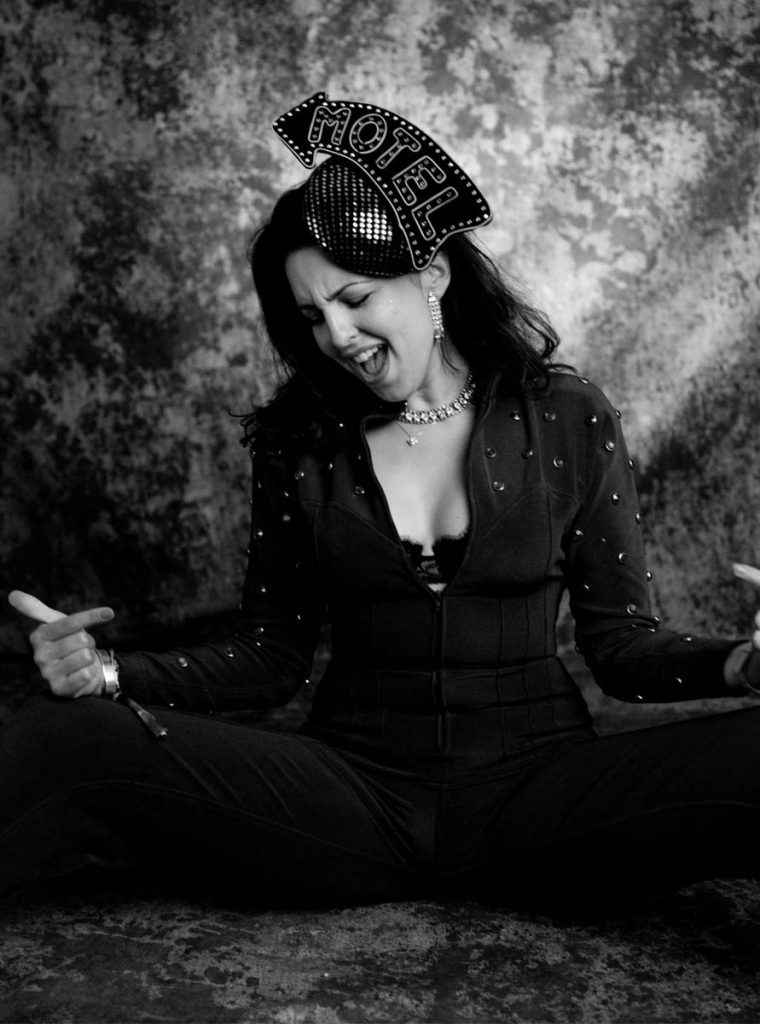 Why use film for this project?
I love to work with different photography mediums/cameras/films/formats. Shooting with film is very exciting, not knowing what will come out. It is always a beautiful surprise. I used to love spending hours in darkness working in the lab developing film, playing with the enlargers, mixing chemicals. It was such a romantic and meditative moment. I don't seem to have the time to do that now as life just got very hectic, but one day I will go back to developing my own film and working in a dark lab, there's nothing sexier and cooler than that.
I tend to use film for personal projects as most of my clients want to see the outcome whilst the shoot is still on. I've always used film but I am using it more now as I have a bit more time to work on personal projects.
FP4 plus film has always been one of my favorite films. I love the contrast, the small grain, the sharpness of the image, the quality achieved. It suited this project as I was working with strobe lights and in a fast paced studio.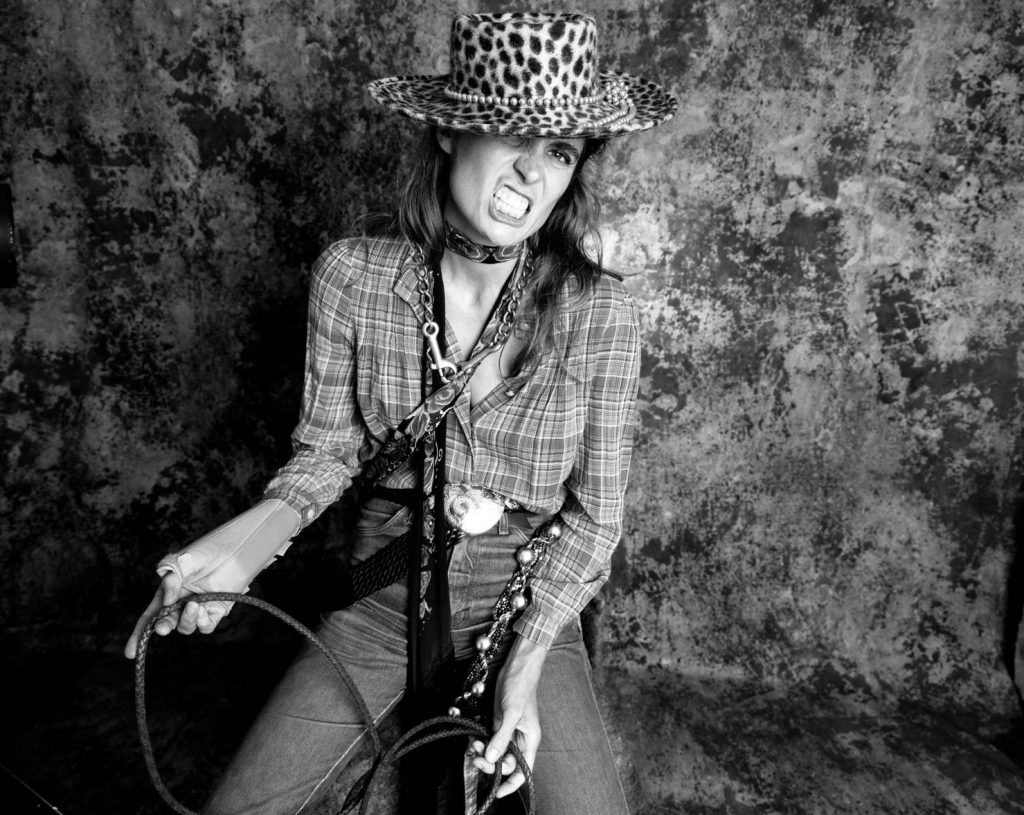 The Port Eliot project
I'm a big lover of music and music festivals… I'm a bit of a punk, I suppose. I've headed to Port Eliot Festival for the last few years and each time I've gone, I began to think about how incredible it would be to photograph the characters there. You get such an amazing variety of people in an absolutely stunning environment. And of course, it's seriously funny to see how people change between the first and last day. People start off so fresh, and end up looking a bit bruised and beaten! The idea for the photo booth developed with my two wonderful friends, Milliner Victoria Grant and the creative director of Black Cow Vodka, Archie. I've collaborated with both of them in the past, and we all have a great mutual respect for one another.
A really significant inspiration behind the studio booth came from photographers Irving Penn and Richard Avedon. Both were incredible commercial fashion photographers but also created ethnographic projects capturing the essence of the world around them. Avedon's series on the American west brilliantly captures the people from America's wild west, including ranch workers, roustabouts, bar girls, drifters and gamblers. Irving Penn's ambulant studios set up in Cuzco, New Guinea, open to the public and showing a true raw universal humanity.
The photos from Port Eliot ran along a similar vein. We captured a lot of people when they were tired, drunk, partying, before or after they just got on stage… Much like the portraits by Avedon and Penn, they were taken to show people when they were most real. Diana wasn't charging them to take their portraits and the studio was open for everyone who wanted to pose for her. We managed to set up an incredible make shift studio in the coolest part of the whole festival - right next to the Black Cow Saloon. In half a day we transformed a wooden tent into a really incredible ambulant studio/boudoir space, featuring western hats by Victoria Grant.
A little crazy!
Although the rain was torrential, we managed to pull off 4 days of really great shoots… which sometimes got a little crazy! I like to work with different cameras, formats…. So I shot with a super 8 camera, a digital camera and black and white film in medium format. Not only did this make it more fun and dynamic, but it helped to promote the vintage cowboy, western theme that we had created. I shot on ILFORD FP4 120 because I love the crispness of the black and white film, as well as the highlights and dark blacks. We managed to get incredible shots of artists, musicians, fashion designers, performers and festival goers. I think the studio was definitely the most fun feature of the entire festival! People would come in, we'd dress them up, photograph them and they would transform physically and emotionally!
As different as the environment was to a normal portrait shoot, the process was generally the same… I had an assistant. Victoria was styling, and we had all of the normal stresses of things not quite going to plan. But we also had the added stress of rain, mud, power outages and drunken people!
What happens next?
We're yet to finalise the details of the exhibition, but it will be in London at the end of summer/beginning of autumn. We're going bring together people who we shot at the festival into a space that shows portraits, super 8 film and of course we'll have music and a little party.
Everything will be printed on ILFORD  pearl, so naturally, it's going to look amazing.  I'll have more details on my website soon… I can't wait for it!
---
About The Author

Diana Gomez
Born and raised in Caracas, Venezuela and developing her photographic career in London for the last 16 years. Diana grew up surrounded by colour and nature in a big developing city. Influenced by great filmmakers and her love for humanity, people, nature, music and narratives, Diana's beautifully lit and colourful images capture a sense of optimism, power and beauty that portrays her sitters in a confident and engaging way.
Her editorial clients include Harpers Bazaar, L'Officiel, Marie Claire, The Sunday Times Style, Emmy Magazine, Hunger, You , Grazia, ES Magazine. Her advertising clients include Nike, Adidas, Coca Cola, Arcadia Group, River Island, EMI, Universal, Lancôme, BAFTA, The Olivier Awards, Coca Cola, Virgin, Warner Brothers, Atlantic Records, and many more. Diana has photographed many personalities in the music, art and film world including Rihanna, Courtney Love, Will.I.Am, Selena Gomez, Taylor Swift, Caroline Vreeland, Rosario Dawson, Grayson Perry, Virginia Bates, amongst others.
Her charity work includes contributions to organisations such as Shine On Sierra Leone, Cash & Rocket, LdNy Foundation, Wie Network, The United Nations, Teenage Cancer Trust, amongst others.
Diana lives and works between London and LA.
studio@dianagomez.com
Insta @dianagomezphoto
Twitter @DG_photographer
---