Lockdown Sessions Simon King Posted On 17th June 2020 To Magazine & Lockdown Sessions

I don't think it will be long before we need to change the title of this series! We really hope that you are enjoying finding out more about some of the members of our community. This week, for our 11th interview, we have Simon King. He is probably best know for is street photography and teaches short course on it at UAL.
SECTION 1 - THE BEGINNING
SHARE YOUR FAVOURITE IMAGE / PRINT SHOT ON ILFORD FILM AND TELL US WHAT IT MEANS TO YOU?
I really find it difficult choosing favourites, so I have to give a bit of a "cheat" answer and say that this is one of my recent favourites.
I took this in March earlier this year, in Bryant Park, New York, just as the city started to close and the idea of shelter-in-place had started to be taken seriously. It's not an image about any of that though, it's just a reasonably funny shot – something I always enjoy as humour is often a difficult thing to express in a photograph. It represents a time and place, a context and situation that carries meaning to me, but also is just a neat image I think can be universally understood and enjoyed.
It was taken on ILFORD HP5+ film, shot and developed at 800. Leica M2.
JUST IN CASE ANYONE DOESN'T KNOW WHO YOU ARE OR WHAT YOU DO CAN YOU GIVE US THE OVERVIEW?
I'm a documentary and street photographer, as well as a writer and educator. I currently teach a Street Photography course at UAL, and offer classes through the Leica Akademie.
HOW AND WHY DID YOU GET STARTED SHOOTING FILM? 
I was an advocate against film photography for a while, when the purpose of my photography was a little less well defined in my mind. My early work had deadlines, clients, and other requirements which kept me in a digital workflow, but as I spent more and more time working on personal documentary projects I found I could incorporate film, which was kind of OK but nothing special – I just wanted to see why people were so attached to it. Then at some point towards the end of 2018 it started to kind of click for me, and I transitioned through 2019 to my current, almost entirely film based approach.
The more seriously I took film the more I realised just how much the medium was offering to the kind of images I wanted to make – the honesty in having negatives as proof, the restriction to really concentrate on what matters in using those limited frames.
WHO HAS BEEN YOUR BIGGEST PHOTOGRAPHIC INSPIRATION / INFLUENCE TO DATE?
A photographer called Walter Rothwell – not simply because of the aesthetic merit of his work, which is beautiful, but also the no-nonsense approach he has in terms of his workflow and perspective. He knows what he wants out of photography, he knows the craft of producing an image, and he simply applies those mechanisms to as many fascinating situations as he can find.
WHAT IS THE BEST PIECE OF PHOTOGRAPHY ADVICE OR TIP YOU HAVE RECEIVED?
I don't think there's any one thing specific to photography that would make sense; instead I think that some of the best advice to photographers, film photographers, and documentary photographers just tends to be good life advice in general.  The biggest changes in the way I make photographs have happened as a result of philosophies I've picked up at certain points. Although it's very fortune cookie-y I think that this very simple quote attributed to Confucius offers an incredible perspective to anyone trying to sort out what actually matters: "We have two lives, and the second begins when we realize we only have one."
I realise a lot of what I do has just been noise, and I want to tune all of that out and just concentrate on what matters to me. No do-overs, no retakes, no dress rehearsal.
SECTION 2 – IN LOCKDOWN
WHAT PHOTOGRAPHY RELATED PROJECTS ARE YOU PLANNING TO DO WHILE IN LOCKDOWN? / DO YOU HAVE ANY PHOTOGRAPHY TIPS / IDEAS / PROJECTS FOR PEOPLE TO TRY?
At the moment in lockdown my time is spent either writing, teaching via webinars, or out shooting. There have still been a few worthwhile projects to photograph, and I have been working on a series documenting food distribution by a Hare Krishna charity to the homeless and disadvantaged communities around London. I've also been working on documenting still life on my walks, but I find the results very uninspiring, so I doubt anyone will ever see them.
My teaching and writing are always very busy, it's such a lovely thing to be able to connect with a community of sometimes hundreds of photographers who tune in to my broadcasts. I'm hoping to keep those operating even after I'm able to do my teaching in person again.
There are countless projects to allocate your attention during lockdown and beyond – personal documentation is a constant regardless of context. There are projects I've seen where people make portraits of people from windows, across balconies, and self portraiture when planned and coordinated across many people to make a coherent collective picture of a group.
If people are uninspired then I would say not to force it. The best projects don't necessarily come from a compulsion to photograph just for the sake of it. Do something else, and you'll be surprised by what occurs to you – you'll notice a light or a reflection you hadn't before, or notice someone's routine out your window that you hadn't been aware of before.
WHAT KEY PIECE OF ADVICE WOULD GIVE OTHERS TO SEE THEM THROUGH / STAYING MOTIVATED WITH THEIR PHOTOGRAPHY DURING THE LOCKDOWN?
Motivation has mixed results, and can often have the reverse of the intended intent. Discipline is what I rely on to keep myself working on something when I need to, whether it's writing, drafting up a presentation, or heading out to shoot.
Having said that, there are plenty of practice exercises you can work on which don't necessarily involve making images. For example, practicing rangefinder focusing using things at different distances, zone focusing, or learning to meter by eye.
This can be a form of motivation, as it offers you more refined skills to use for when you're eventually able to put them into practice – you can work hard on them with the assurance that they'll pay off down the line.
WHERE IS THE FIRST PLACE THAT YOU WILL BE SHOOTING ONCE THIS IS OVER AND WHAT KIT WILL YOU TAKE WITH YOU?
Anywhere with the largest crowd. Large groups of people always have the best energy and I can lose myself in all the goings-on. I'll have my Leica M6, 90mm APO, probably a 35 and 50 as well but not end up using them, and depending on the weather, Ilford Delta 100 or Ilford Delta 400.
THIS PANDEMIC HAS GIVEN MANY PEOPLE THE OPPORTUNITY TO REASSESS GOALS AND AMBITIONS. WHEN THE WORLD RETURNS TO NORMAL WHAT ARE YOUR PHOTOGRAPHIC GOALS GOING FORWARD? (CAN BE BUSINESS OR PERSONAL).
My short-term goal is always to find something worth photographing, so that hasn't and likely won't change. Long term I'm not sure – I've always aimed fairly high, and I don't think that's something I'll be reassessing – but I'll definitely be working much, much harder as you never know how much time you have. I don't want to end up in another extended lockdown situation feeling that if it became indefinite my body of work was inadequate.
ON A NON-PHOTOGRAPHY QUESTION - THIS IS A BIT MORE DEEP AND MEANINGFUL BUT POST CORONAVIRUS, WHAT WOULD YOU LIKE THE WORLD TO DO DIFFERENTLY (WHAT LESSONS COULD WE ALL TAKE FROM THIS)?
That's a big question, and I don't know that my values will align across "the world" but I've already seen such incredible acts of mutual aid and advocacy. From people forming support networks with their neighbours to large scale, almost industrial acts of charity and kindness. More of this level of commitment and engagement with each other – not just in times of crisis, but extending onwards.
SECTION 3 - SHOUT OUTS
WE ALL NEED A BIT OF INSPIRATION AND LOVE SO THIS IS YOUR CHANCE TO TELL THE COMMUNITY ABOUT YOURS. FROM THE FILM PHOTOGRAPHERS WHOSE WORK INSPIRES YOU, TO THE LABS YOU TRUST WITH YOUR FILM. YOUR 'GO TO' FILM PHOTOGRAPHY STOCKISTS, YOUR FAVOURITE COMMUNITY DARKROOMS OR JUST ANYONE IN THE COMMUNITY WHO YOU FEEL DESERVES A SPECIAL MENTION.
GIVE A SHOUT OUT TO YOUR 3 FAVOURITE FILM PHOTOGRAPHERS  CURRENTLY ACTIVE ON IG OR TWITTER AND BRIEFLY TELL US WHY OTHERS SHOULD FOLLOW THEM?
@benjamingordon__, @davidbabaian_, and @andyblowers are all very hard working analogue photographers, and very wonderful people as well! They mostly fit into the same social documentary/street/reportage bubble as I do, but all have very different takes on those genres, aesthetically and thematically.
GIVE A SHOUT OUT TO YOUR FAVOURITE PHOTOGRAPHY YOUTUBE CHANNEL (APART FROM THE @ILFORDPHOTO ONE)?
ForesthillFilmLab, which I think has a very simple structure and format, but you can really feel the presenter's passion for his topic. He's knowledgeable, and you really pick up on how much he cares about each detail he chooses to talk about. It shows that you don't need flashy graphics or snappy videography to just communicate about something you really love.
Give a shout out to your favourite photographic retailer
It's got to be Analogue Wonderland!
GIVE A SHOUT OUT TO YOUR FAVOURITE LAB SERVICE, IF YOU HAVE ONE
AG Photo Lab, Birmingham (but with a snappy mail service!), https://www.ag-photolab.co.uk
SECTION 4 - FAVOURITE KIT
WHAT IS YOUR FAVOURITE FILM CAMERA YOU OWN (OR HAVE OWNED/USED)? (SEND US A PICTURE OF IT IF YOU HAVE ONE).
Leica M6. I've made almost all of my best images with that camera, and would take it anywhere.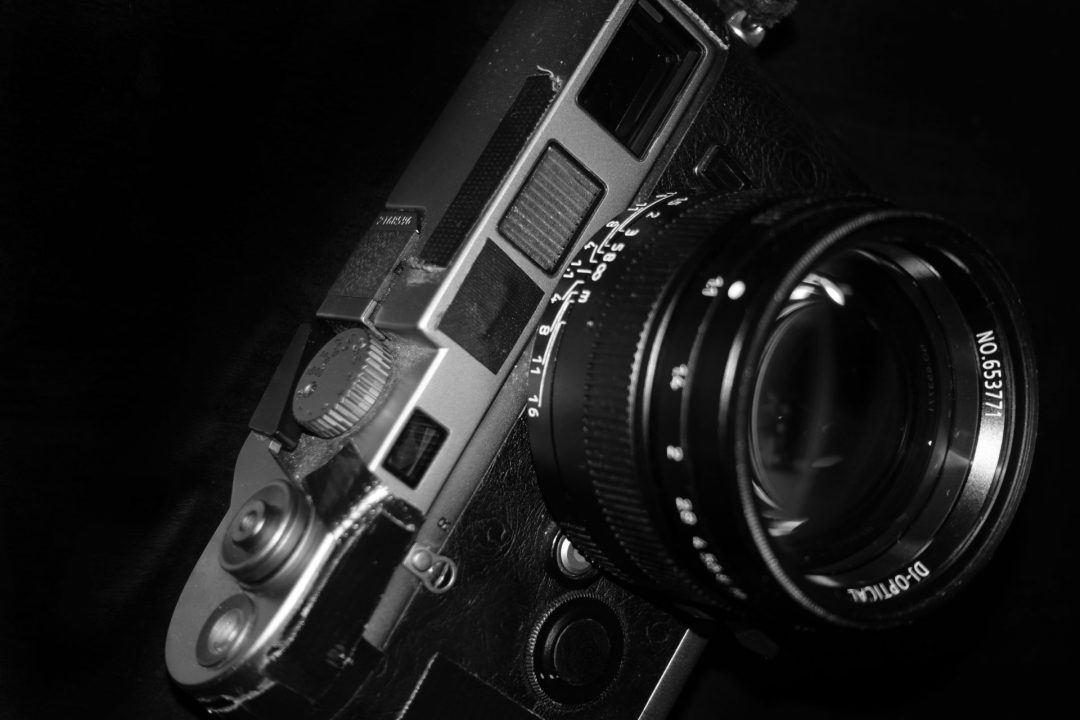 ASIDE FROM YOUR CAMERA, LENSES AND FILM WHAT ACCESSORIES MAKE IT INTO YOUR CAMERA BAG?
90mm is my focal length of choice, and Delta 4oo tends to be my preference for working at box speed. HP5+ when I need to push. A couple of spare batteries for emergencies, and a lens cloth, and I'm pretty much set. I prefer to walk light. If I absolutely need other lenses then a 50mm f/2 and 35mm f/2 are the obvious choiceS.
WHAT IS THE BEST PIECE OF PHOTOGRAPHY KIT YOU HAVE FOUND OR BEEN GIFTED?
People know not to give me gifts. I don't have room for lots of "stuff" and I don't use half as many accessories and gadgets as some photographers so I don't even know what I'd need! Having said that, I've received a fair amount of HP5+ for Christmas in the past, that's always welcome!
AS THIS IS AN ILFORD INTERVIEW IT WOULD BE REMISS OF US NOT TO ASK ABOUT YOUR FAVOURITE ILFORD PRODUCTS. TELL US YOUR FAVOURITE ILFORD FILM, PAPER AND CHEMS AND WHY?
For film Delta 400 is the perfect balance for me. It's the most versatile ISO for autumn/spring use, which is what the UK tends to deliver in abundance compared with the very tiny winter/summers we seem to have. The paper I have most experience with is the Satin Multigrade IV. I haven't tried the RCDL yet, but when I get back into a darkroom that will be where my first negatives end up!
WE'VE SEEN PICTURES FROM AROUND THE WORLD OF PEOPLE STOCKPILING ITEMS SUCH AS TOILET ROLLS, PASTA, HAND SANITISER ETC. IF YOU COULD STOCKPILE ONE ILFORD PRODUCT WHAT WOULD IT BE? 
HP5+
AND FINALLY…
NOMINATE ONE OTHER PERSON YOU THINK SHOULD FILL IN THIS FORM AND WE WILL REACH OUT TO THEM
Danny Wong/@danwongphoto
Images © Simon King
---
About The Author

---