How I got this picture - Nima Saffari Posted On 17th October 2019 To How I got this picture

Image title:Echos
Technical info:
Film used: ILFORD FP4+ 125
Format: 35mm
Camera: Contax 167mt
Lens: Zeiss 50mm 1.7
Exposure time: 1/500
Location: Ekbatan-Tehran-Iran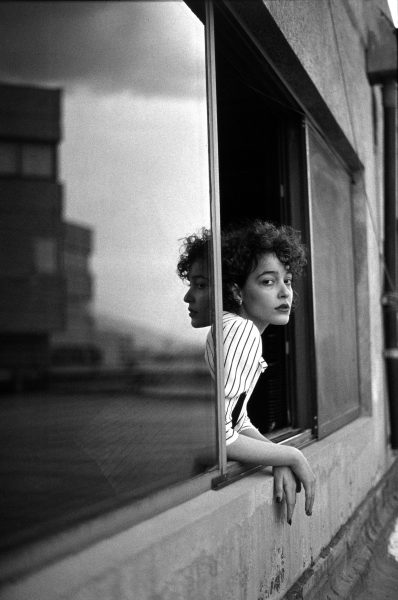 Firstly, tell us the story behind this image. What inspired you to shoot it?
As a photographer my eye is constantly searching  for a specific composition,moment and emotion. It was a cloudy day and the music was playing in the air. In that very second I felt a sudden hint of inspiration that lead me to capture this moment.
Did you come across any challenges?
I grabbed my camera with an Ilford FP4 negative inside. I wasn't going to shoot at 125 ISO because I was planning on reversal processing. For this reason I chose 160 ISO to let my developer have the flexibility of the reversal process on FP4 negative film.
What process did you use (Tripod? Set exposure time? Filters? Lighting?)
Most of the time its only you and your camera. I had the good conditions of whether and natural light, I didn't use any filters and lighting and I also removed the UV filter from my camera to prevent any additional reflections.
How did you process it?
My dear friend Dr. Davood Sadeqsa is a chemist and also a photographer. His passion for film developing has encouraged me to shoot on negative films beside my digital camera. At first I gave him my films and didn't care about the outcome, but now I feel lucky to be a part of his lab and learn more about developing.
What about printing?
I've never had the opportunity to print my photos, but recently I started working in a little lab with Dr. Sadeqsa and my brother. It began with printing negative photos but I wanted to print reversal because the quality of images didn't satisfy me.
Which paper did you use and what was your printing process?
Our developing was based on E4 and D19 Kodak developers for both the first and second develop. We also used Potassium Bichromate bleach for bleaching part .
I have tried many papers but Ilford Multigrade IV RC Deluxe photographic paper was the right choice for me to have more contrast control with ILFORD Multigrade filters .
---
About The Author

Nima Saffari
Nima Saffari is a freelance photographer. He is interested mainly in landscape and portrait photography and is looking for ways to combine both these two together. And he always prefers natural light over artificial.
Cinema has played a major role in his artistic career, and derives inspiration from watching cinematic films. Independence is the reason to self study at art , painting and photography, but recently he is working in a little lab to learn more about the art of photo development.
You can follow my work on Instagram
Instagram: https://www.instagram.com/nimasaffari_/
500px: https://500px.com/nsaffari7
---