A Part of History Posted On 13th May 2021 To Magazine & Stories

When the streets become unbearable
I'm not so good with words, but that's probably why I love photography. I can let the photos I make speak for themselves. The death of George Floyd, back in May of last year, hit me hard. So much so that I went out a did what I usually do when stress becomes unbearable, I make pictures. I grabbed my Nikon F and Nikon FE, grabbed some HP5 and FP4, and headed out to clear my mind, and see what I could create.
While stopping at some familiar spots in downtown Columbus, I noticed a large crowd of people marching, waving signs, and chanting! I wasn't sure what it was about, so I drove over to get a closer look. I pull up to, and stop at a traffic light at the intersection of Broad St and High St. I'm right by the State House building, in the middle of the city, and find myself engulfed in a protest of the death of George Floyd.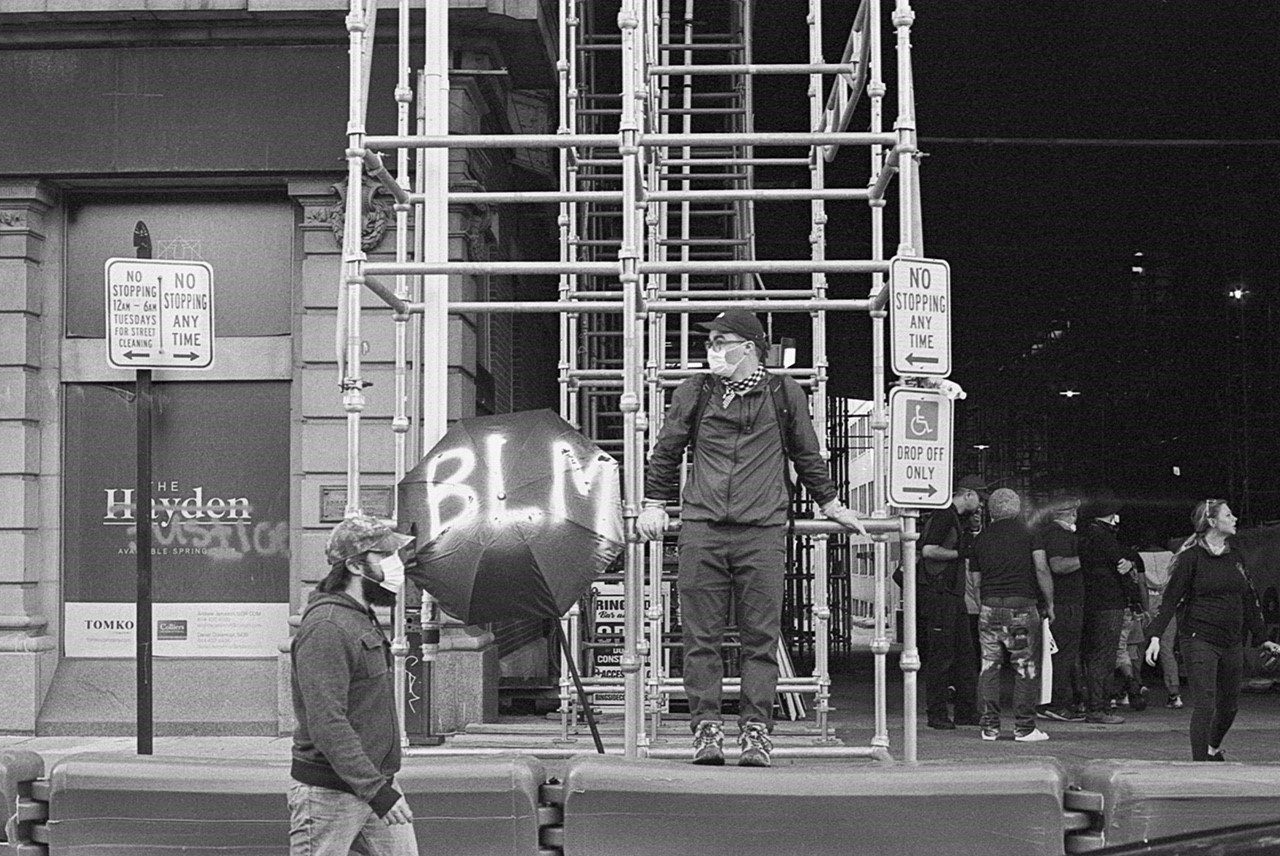 Love and Appreciation
At that moment I felt so much love and appreciation for the people in my city! I wasn't sure if Columbus would react, and if they did, what action would be taken. Minnesota, where it all started, is almost 1000 miles away. The shear number of protesters, the signs, the chants, the demands for justice from both black, white, and other people of color filled me with a flood of emotions. One thing that I was sure of was that I needed to be a part of this! I got out of my car, and I marched! I made photographs and I documented this demand for change in my city.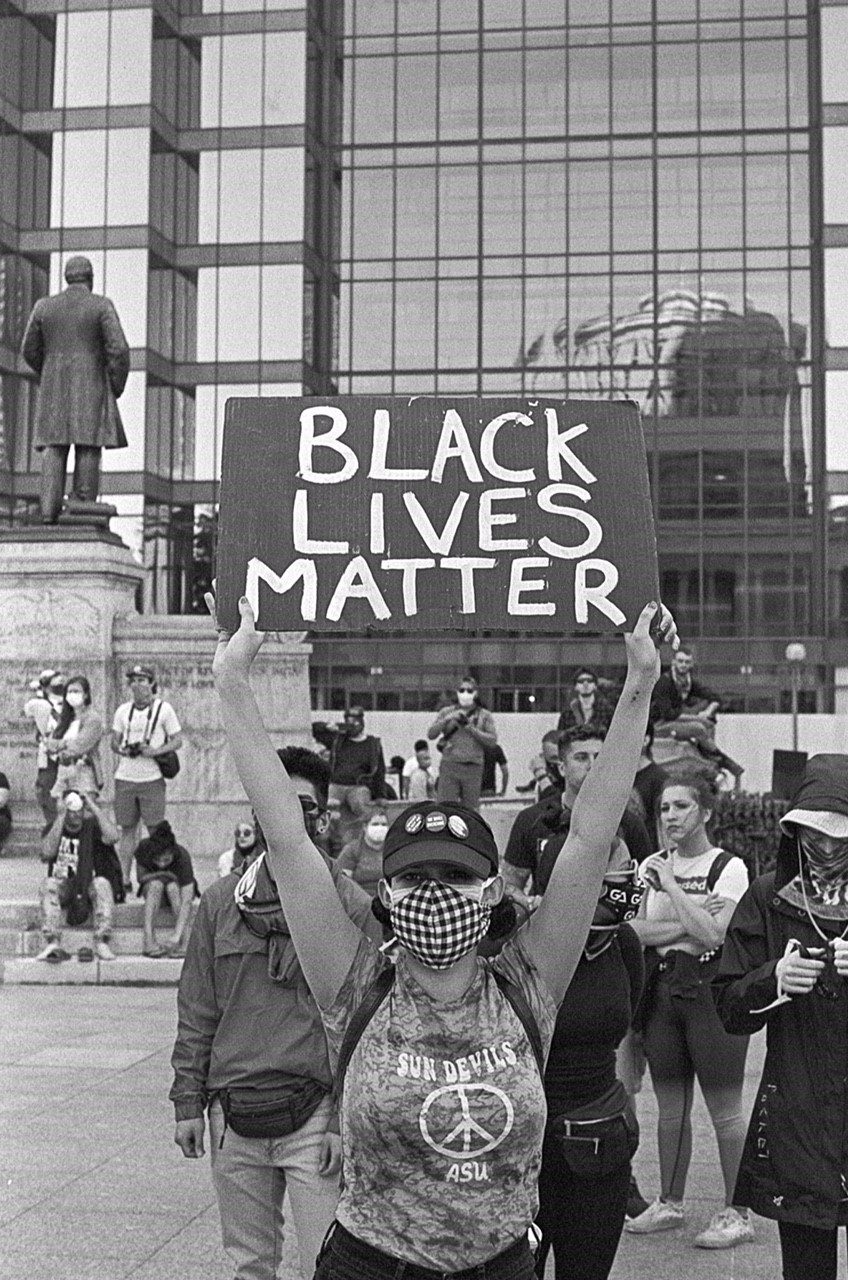 A message of awareness
This set of photographs are in a sort of chronological order, starting from that day! The protesting was a beautiful thing, but I also wanted to capture the amazing art being created by local artists. They also felt that call to duty to spread a message of awareness through their artistry. I wanted to make sure it wasn't forgotten. These images showcase the protesting its raw form, and in it's organized form; and it also shows some of the amazing art activism that followed.
The need for equality
I was born into this struggle, and I've always supported the need for equality. Being a part of this nationwide outcry was historic. I'm so thankful I have been able to document so much of the Black Lives Matter movement in Columbus so far, and I plan to continue for as long as I can!
These photographs were taken on my Nikon cameras using Kentmere 400, Ilford HP5 and Ilford FP4. I keep a 50mm on my Nikon F, and 28mm on Nikon FE. I don't usually use them in tandem, but with so much going on, it was absolutely necessary. I've come to trust the results of Ilford films because I've been using them for years. I know what I'm going to get, and it's the look I want. I knew in this epic event, I wouldn't be let down by this film when I needed it most.
Images ©Jamie Ceasar
---
About The Author

Jamie Ceasar
Jamie is a photographer, born and raised in Columbus Ohio. He started his journey back to film photography 3 years ago. Inspired by great film shooters like Gordon Parks and Helen Levitt, as well as newer film talents like Andre D. Wagner and Arnold Daniel, Jamie's photography is documentary in nature. His passion is in documentary photography, but his body of work also includes abstract, moody, landscape, and portraiture photography. Jamie not only shoots 35mm, and 120 film in black and white, and color, but also develops his own work. The process of film photography, as in bringing an image to life, adds to his love for the art.
Recently Jamie was also one of the award winners for the Art Unites CBUS grant, brought together by the Greater Columbus Art Council. The reward focused around the Black Lives Matter movement, and the fight for injustice through art in Columbus, OH.
IG: ceasar614
Website: Jamie-Ceasar.pixels.com
Facebook Page: ceasar614
---