Never too young Posted On 7th March 2016 To Magazine & Stories

 Never too young to learn about film photography
At home, one evening last week, I realised that I'd actually finished a full cup of coffee without any interruptions, a feat that happens rarely enough to lead to that moment of horror, (which can only be understood by parents of small children), when I wondered what our youngest (4) was up to.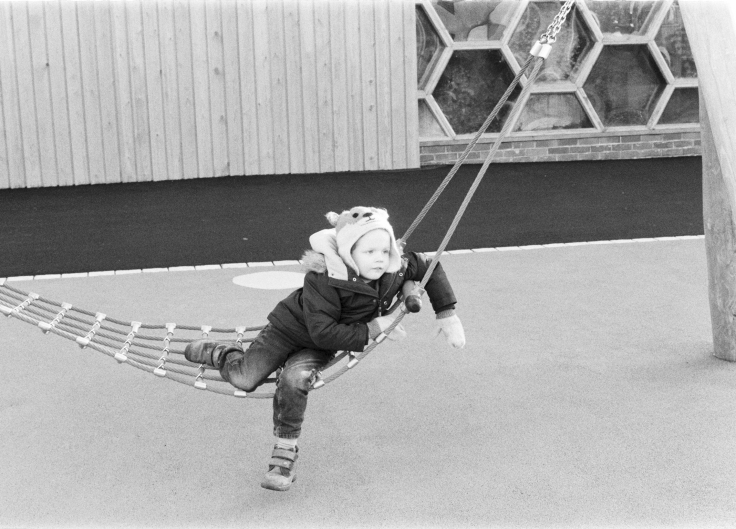 He'd gone upstairs twenty minutes earlier. At first, I'd heard the usual sounds of teddy bear wrestling and superheroes flying through the air. Now it was eerily quiet.
I crept up the stairs and in my best super spy mode, peeked around the top banister  into his room.  I couldn't really see anything except that he was in his 'den' under the bed and the light was on.
Biting the bullet I went into his room and opened the curtain to his den expecting a total mess. To my surprise he was sat on his beanbag with his back to me totally engrossed in whatever he was looking at, to the point that when I asked what he was doing he jumped a mile.
"Look what I've found Mummy, what are these?" he asked holding up my negative box and a strip of negs that he's taken out of the sleeve. (Horror!)
He's seen me load my cameras plenty of times, and was always excited to see the printed photographs. However, I realised then that he viewed the digital photo's on our tablets with the same enthusiasm. Maybe now was the time to capture the next generation of film photographer?
Matching Negatives
I removed the negative strip from his sticky grasp and told him to wait there whilst I grabbed the light box from his brother's room. (Part of a sensory kit for shining light through prisms really, but it worked fine for what I wanted to show him.)
I put the negatives on the light box and switched it on. "Wow Mummy look at the funny little pictures" he exclaimed.
We spent nearly an hour under his bed looking at the negatives and talking about them being back to front and matching them to the printed pictures. He was so excited when he recognised himself in the negatives.
His last words as we packed up were 'Can I have a proper camera for my five birthday please Mummy? ".
---
About The Author

Michelle Parr
I remember being told that you should never ask of others what you are not prepared to do yourself. So with that in mind, I thought I'd start our blog.
I've worked here at HARMAN technology for 14 years in a variety of roles. Most recent as a digital marketing specialist, looking after our websites and  social media streams. I enjoy my job immensely and the people that I get to speak to each day and the passion that they have for film photography and darkroom work is a huge part of that.
I've always enjoyed photography and growing up, I loved spending time poring over our family albums. However, it was only after having children and losing some precious memories to a warped memory card that I really started to shoot film properly again.
I'm be no means an expert photographer but enjoy shooting my family, friends and places that we visit.  I also love to spend time in the darkroom when I get chance and can;t wait to be able to share this magic too.
You can find me on IG @shelby2003.mp (The eagle shot is a particular favourite of mine!)
---