Lockdown Sessions - Kit Young Posted On 8th July 2020 To Magazine & Lockdown Sessions

In our 14th and possibly final Lockdown Session (before we move to a new format), we are bringing you Kit Young who was nominated by Ashley Carr back in week 9.
We've followed Kit for a while on Instagram. He's a fantastic darkroom printer and is always happy to share how get gets to the finished prints from his negatives.
SECTION 1 - THE BEGINNING
SHARE YOUR FAVOURITE IMAGE / PRINT SHOT ON ILFORD FILM AND TELL US WHAT IT MEANS TO YOU?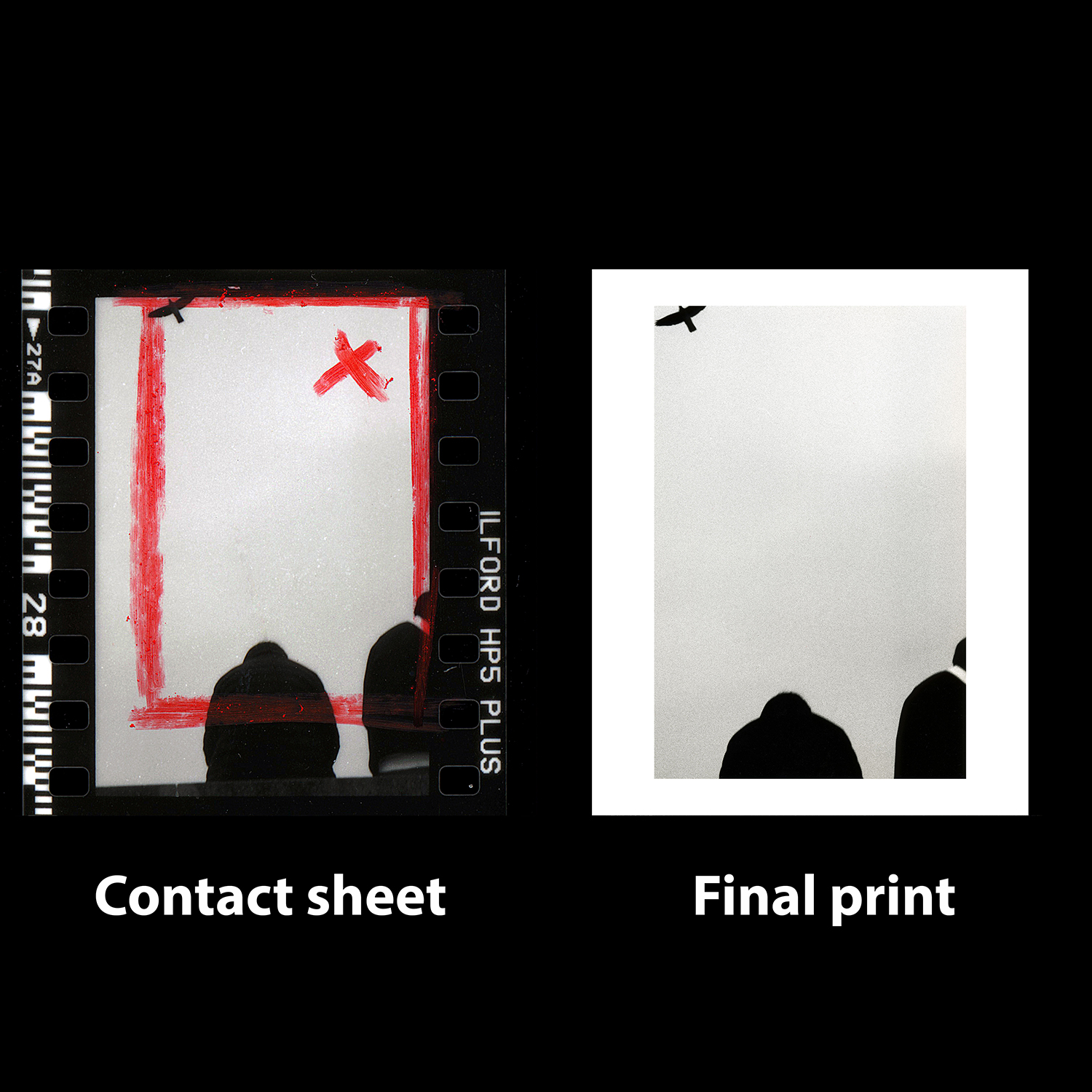 There are a lot, so I'll pick this relatively recent print of HP5+ developed in Microphen. This was taken on a walk through the Tuileries Garden in Paris with the very talented French photographer Olivier Marchesi . I saw the shapes, lifted the viewfinder to my eye and tripped the shutter. The bird was a total fluke, but I liked its presence in the composition and the pleasing implied diagonal it creates. Also, when mounted, the bird looks like it's trying to escape from the print. A happy accident!
JUST IN CASE ANYONE DOESN'T KNOW WHO YOU ARE OR WHAT YOU DO CAN YOU GIVE US THE OVERVIEW?

I'm a photographer who relies solely on what are now referred to as 'traditional' printing methods to create my work. I set out on my photographic journey in 2009 when I moved to France where I joined a group of Paris-based photographers led by Gérard Moulin. It was during this period that I began to explore the infinite possibilities of darkroom printing and the juxtaposition of seemingly unrelated moments in time to create visual patterns as part of series-based work.
In 2018, I worked with the publisher Bergger Editions in France to publish my first ever book entitled 'Paris Couplets' (https://bergger.com/paris-couplets.html).
I am a member of AllFormat, an international photography collective united by a mutual love of film.
HOW AND WHY DID YOU GET STARTED SHOOTING FILM?
My first memory of shooting film and printing in a darkroom for the very first time dates back to when I was ten or so – seeing the image appear in the developer tray was (and still is!) a magical experience. I think my father, who taught photography and darkroom printing at Art College, sowed the seed. I grew up with my father taking photographs with a black paint Nikon F2 Photomic and I still have vague memories of visiting one of his exhibitions of silver gelatin prints made with Ilford's beautiful Galerie paper (I have a box of the paper he used somewhere!). Photography was ever-present as a child.
WHO HAS BEEN YOUR BIGGEST PHOTOGRAPHIC INSPIRATION TO DATE?
Without a shadow of a doubt: Gérard Moulin (https://www.gerardmoulin.com/). Gérard is not only an accomplished photographer and darkroom craftsman with an immense archive of work spanning decades, he is also someone who gives up a lot of his time to help others and has always led groups of photographers in one way or another, always encouraging them to focus more on the philosophical concerns of creation rather than anything materialistic used to create photographic work. I consider myself very lucky to have received many darkroom-related pointers and critiques from him over the years and I consider him a great friend and mentor.
WHAT IS THE BEST PIECE OF PHOTOGRAPHY TIP OR ADVICE YOU HAVE EVER RECEIVED?

"The bin is the darkroom printer's best friend", i.e. be demanding, don't settle for second best and don't keep rubbish. I have got through entire boxes of FB paper before now, chasing after that elusive 'perfect' print. I like to push myself in this way. I think it's the only way to learn and to progress.
SECTION 2 – IN LOCKDOWN
WHAT PHOTOGRAPHY RELATED PROJECTS (IF ANY) ARE YOU PLANNING TO DO WHILE IN LOCKDOWN? (PROCESSING, SCANNING, PRINTING, BUSINESS PLANNING ETC) / DO YOU HAVE ANY PHOTOGRAPHY TIPS / IDEAS / PROJECTS FOR PEOPLE TO TRY?
I've spent the last few months printing urban and landscape work shot in the UK, France and Italy with a view to sending some of it to Open Doors (https://www.instagram.com/odtakeovers/?hl=en), a London-based gallery that champions emerging and early-career photographic artists in addition to organising beautifully curated pop-up exhibitions around the capital.
I have also (somehow!) accumulated around fifty rolls of exposed film during lockdown – mostly landscapes and photographs of my family – which I'll begin to develop soon.
So, in short, I haven't been overtly pursuing any specific projects related to the lockdown, but rather, I have been using the time to put the finishing touches to a number of projects I've been working on for quite some time now…
For specific lockdown-related photography ideas, I've really enjoyed following the work of Andrew Sanderson and his Stuck at Home Photography blog. It's definitely worth checking out! Andrew's inquisitiveness, creativity and drive know no bounds!
WHAT KEY PIECE OF ADVICE WOULD GIVE OTHERS TO SEE THEM THROUGH / STAYING MOTIVATED WITH THEIR PHOTOGRAPHY DURING THE LOCKDOWN?

Take a step back and look at the bigger picture. I think it can be very easy to lose focus at times like these and to feel like one should always be creative and creating. Stop, enjoy the quiet moments and that niggling feeling will soon seem like a minor concern. If it's any comfort to any photographers and darkroom printers reading this, I personally have found it rather difficult at times to get in the right frame of mind and muster the strength to be productive in the darkroom. I think it's important not to force things and instead to take one's time, remembering that periods of rest are often followed by periods of fervent activity…
WHERE IS THE FIRST PLACE THAT YOU WILL BE SHOOTING ONCE THIS IS OVER AND WHAT KIT WILL YOU TAKE WITH YOU?

Nowhere specific but I am looking forward to seeing all of my friends and family dotted across the UK and Europe again. I generally travel with a Leica M, a 50mm lens and a bag full of HP5+ film. I am keen to build on my series-based work by developing certain themes when visiting new parts of the world, camera in hand.
THIS PANDEMIC HAS GIVEN MANY PEOPLE THE OPPORTUNITY TO REASSESS GOALS AND AMBITIONS. WHEN THE WORLD RETURNS TO NORMAL WHAT ARE YOUR PHOTOGRAPHIC GOALS GOING FORWARD? 
I had planned to give my first ever three-day shooting and printing workshop in Paris in early May of this year with a really lovely bunch of people. Everything was set and everybody was poised but, obviously, the pandemic has resulted in those plans being postponed, for now. That said, I am really keen to make the Paris workshop a reality – and perhaps other ones too. In my experience, sharing ideas, seeing how others work and thinking collectively has always been a fulfilling experience, for everyone involved.
ON A NON-PHOTOGRAPHY QUESTION - THIS IS A BIT MORE DEEP AND MEANINGFUL BUT POST CORONAVIRUS, WHAT WOULD YOU LIKE THE WORLD TO DO DIFFERENTLY (WHAT LESSONS COULD WE ALL TAKE FROM THIS)?
So many people and issues in the world require our care and attention. I'd like to see a shift towards a more collective mindset…
SECTION 3 - SHOUT OUTS
WE ALL NEED A BIT OF INSPIRATION AND LOVE SO THIS IS YOUR CHANCE TO TELL THE COMMUNITY ABOUT YOURS. FROM THE FILM PHOTOGRAPHERS WHOSE WORK INSPIRES YOU, TO THE LABS YOU TRUST WITH YOUR FILM. YOUR 'GO TO' FILM PHOTOGRAPHY STOCKISTS, YOUR FAVOURITE COMMUNITY DARKROOMS OR JUST ANYONE IN THE COMMUNITY WHO YOU FEEL DESERVES A SPECIAL MENTION.
GIVE A SHOUT OUT TO YOUR 3 FAVOURITE FILM PHOTOGRAPHERS CURRENTLY ACTIVE ON IG OR TWITTER. 
Sorry, I can't give you three… but I can give you four J:
Mikael Siirilä: Mikael is a kindred spirit I met through AllFormat Collective. I love Mikael's offbeat compositions and I find he explores some very interesting 'contrasting' themes, which often fill his work with a fascinating push-pull feel. Also, very few are as exacting in the darkroom as Mikael…
Laëtitia Deleuze: Laëtitia often pairs her stunning photographs with moving poetry and text, taking her work to a really interesting place where fantasy jostles with fiction…
Tom Charles: Tom's work is the proof that poetry can – and indeed does – exist on Instagram. I find that Tom communicates his love for Mother Nature in a beautiful and unique way, often side-stepping 'conventional' ways of seeing to show his point of view…
Christine Walter Saxena: Christine's work is a captivating mix of urban grit with a surrealist twist. More recently, Christine has sought to bring more abstract concepts to the fore by embracing certain technical limitations and harnessing the tools at her disposal…
GIVE A SHOUT OUT TO YOUR FAVOURITE PHOTOGRAPHIC RETAILER (NAME, LOCATION AND WEBSITE)
When in the UK, I'd have to say Ag Photographic in Birmingham (https://www.ag-photographic.co.uk/). When in France, I'd have to say Labo Argentique in Vicq-sur-Breuilh (https://labo-argentique.com/). Both companies provide an impeccable level of service!
GIVE A SHOUT OUT TO YOUR FAVOURITE LAB SERVICE, IF YOU HAVE ONE.
I don't generally use any lab services but when I do I use Ag Photo Lab in Birmingham (https://www.ag-photolab.co.uk/).
SECTION 4 - FAVOURITE KIT
WHAT IS YOUR FAVOURITE FILM CAMERA YOU OWN?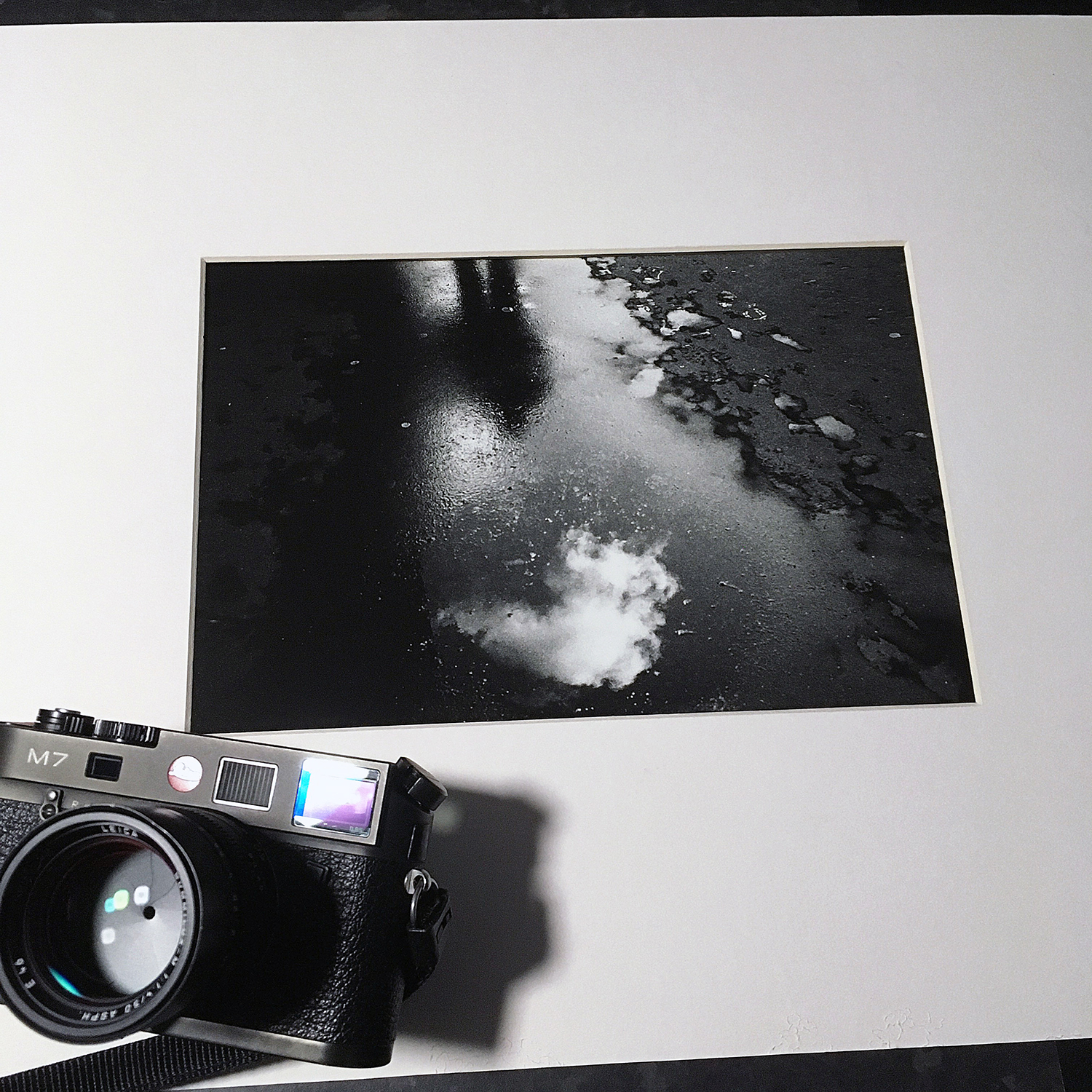 Definitely my Leica M7 – I've shot thousands of rolls of film with it over the years. It's experienced scorching heat, horizontal rain, sleet and snow and it's even fallen to pieces a few times too. (Once, I apparently wore out the shutter). But, when it works, it works ever so well…
ASIDE FROM YOUR CAMERA, LENSES AND FILM WHAT ACCESSORIES MAKE IT INTO YOUR CAMERA BAG?
I always carry a small light meter, lots of spare batteries, an array of lens filters (green, yellow, orange and red), a sharpie for writing notes on film canisters and a map of Paris (even if I'm not in Paris).
WHAT IS THE BEST PIECE OF PHOTOGRAPHY KIT YOU HAVE FOUND OR BEEN GIFTED?
I've been fortunate enough to have been gifted a fair bit of gear over the years but I think one of my most prized possessions would have to be the silver gelatin prints that have been given to me by my friends. – Gear is inanimate whereas prints contain a part of the photographer's soul!
AS THIS IS AN ILFORD INTERVIEW IT WOULD BE REMISS OF US NOT TO ASK ABOUT YOUR FAVOURITE ILFORD PRODUCTS. TELL US YOU FAVOURITE ILFORD FILM, PAPER AND CHEMS AND WHY?
Pushed lIford HP5+ film, Ilford Microphen developer and Ilford MG FB Classic paper. This is one of my favourite ever combinations for scintillating highlights, deep, rich blacks and grain with real presence.
WE'VE SEEN PICTURES FROM AROUND THE WORLD OF PEOPLE STOCKPILING PRODUCTS. IF YOU COULD STOCKPILE ONE ILFORD PRODUCT WHAT WOULD IT BE?
I'm always trying to stockpile Ilford film, chemicals and paper… the problem is that I generally use them faster than I can acquire them!
AND FINALLY…
NOMINATE ONE OTHER PERSON YOU THINK SHOULD FILL IN THIS FORM AND WE WILL REACH OUT TO THEM
Tyler Bervy.  Tyler is a brilliant photographer and very hard-working darkroom printer with a keen eye for landscapes, as I hope you'll see…
All images copyright: Kit Young 2020
---
About The Author

Kit Young
Kit Young was born in 1984. He set out on his photographic journey in 2009 when he moved to France where he joined a group of Paris-based photographers led by Gérard Moulin. It was during this period that Kit began to explore the infinite possibilities of darkroom printing and the juxtaposition of seemingly unrelated moments in time to create visual patterns as part of series-based work.
"While I began taking photographs several years ago, I only started taking the medium of photography seriously when I discovered the hands-on nature of black-and-white film and what are now referred to as 'traditional' printing methods. For me, nothing else will do. The four sides of the negative are my point of reference – they enable the viewer to see what I have seen."
Kit is a member of AllFormat, an international photography collective united by a mutual love of film.
---