Lockdown Sessions: Aislinn Chuahiock Posted On 30th April 2020 To Magazine & Lockdown Sessions

When we held our first Lockdown Session with Emulsive, we asked him who he'd like to see us interview in future and he suggested the very lovely Aislinn. (AKA The Film Pusher).
SECTION 1 - THE BEGINNING
SHARE YOUR FAVOURITE IMAGE / PRINT SHOT ON ILFORD FILM AND TELL US WHAT IT MEANS TO YOU?
I have tons! But let me share my recent favourite, the one that I had printed and hung on my wall. It's a pinhole image of the Natural History Museum in London. It means a lot to me, as the NHM is a favourite visit of mine. Whenever I find myself in London and with 1-2 hours to spare, I usually head over and just enjoy the displays. It's a little bittersweet, as heavens know when I shall find myself back there, under this year's circumstances.
JUST IN CASE ANYONE DOESN'T KNOW WHO YOU ARE OR WHAT YOU DO CAN YOU GIVE US THE OVERVIEW?
Mabuhay! My name is Aislinn and I am from the Philippines J My community here know me as the "film pusher" and co-owner of FilmFolk and Sunny16Lab. I am also known to own way too many cameras and just another loud (hopefully positive) voice in the film community.
HOW AND WHY DID YOU GET STARTED SHOOTING FILM?
Actually, I have never stopped shooting film since I was kid in school. I am lucky to be part of that generation that saw and experienced the film to digital transition. But on a whole, I shot film most of my life. Just different perspectives and application these days! And honestly, I don't ever see myself getting out of it ever ahaha.
WHO HAS BEEN YOUR BIGGEST PHOTOGRAPHIC INSPIRATION / INFLUENCE TO DATE?
Honestly? It would be my customers in the Philippines. Not being cheesy or predictable… but people who know me, really know WHY I do what I do, and got into the business of film. I enjoy interacting with the film community locally because I meet new friends and learn new (wild/bombastic/creative) things. A lot of new (and even experienced) film shooters today are fearless in going out of the box, challenging the norms, embracing failure, and sharing their experiences. I find myself very often drawn to these people because I myself get to wrapped up in traditional processes that I don't allow myself room to engage in some flexible creativity.
Speaking outside of my business hat, I draw a lot of personal inspiration from the process and the tools. Just the thought of the cameras I can buy/play with, and all the possible photos that can come out of it, just makes me feel fuzzy all over.
WHAT IS THE BEST PIECE OF PHOTOGRAPHY ADVICE OR TIP YOU HAVE RECEIVED?
The best advice I've received is the same message but told by different people in various ways. "You shoot what you shoot because it makes you happy! Why else would you shoot?!" The first time that it actually registered in my mind was when a classmate in Fashion School blurted it out. We were in a Photoshop class and he basically was responding to a class critique.
I really believe that the most honest work will always come from what you love to shoot. Doesn't matter if it's your pets or a random pavement. I think the pitfall is always trying to emanate the work of your idols… that is totally fine, but in the end, it's about the shots that make you smile.  Photography should always be first about what you're in love with. Everything else should fall in place.
SECTION 2 – IN LOCKDOWN
WHAT PHOTOGRAPHY RELATED PROJECTS (IF ANY) ARE YOU PLANNING TO DO WHILE IN LOCKDOWN? (PROCESSING, SCANNING, PRINTING, BUSINESS PLANNING ETC) / DO YOU HAVE ANY PHOTOGRAPHY TIPS / IDEAS / PROJECTS FOR PEOPLE TO TRY?
I am in Day 38 of a Lockdown and the first 2 weeks was the worst. It's like this mental race to make yourself useful and tackle things you wish you had the time to tackle on a normal day. To give you an idea of what I did:
Day 1-7 – I started with laying out all my cameras and giving them a good wind-fire-wind-fire. I took out my ONDU PINHOLE Camera and some FP4. I am quite lucky to live in a gated community and the only prerequisite to go out it so wear a mask and social distancing. I walked and walked around our little village and just took photographs. Towards the edge of our community, a homeowner used a vacant lot to basically pile on a bunch of kitschy home décor with very interesting themes.
Day 8-14 – I went on the film photography theme and processed my rolls. I also excitedly woke up every morning to make sense of the mountainous decade worth of negatives. I FINALLY had no excuse to file them properly. It also gave me a wonderful journey back to my "body of ad & mis adventures".
In week 3 of the Lockdown, I was able to experiment in Cyanotype. I have long wanted to do so but never had the "long enough hours" to dedicate to it.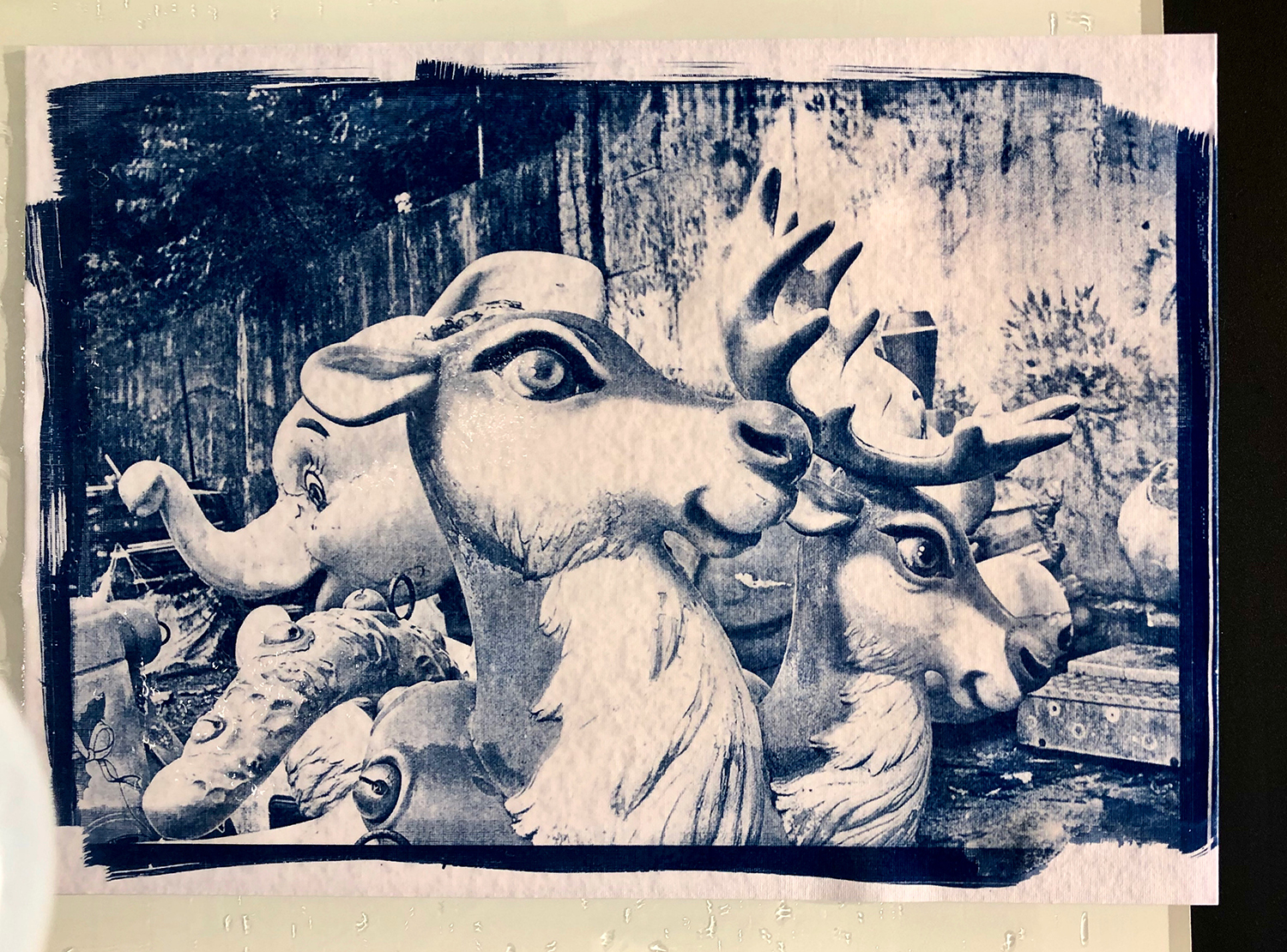 The bottom line is, don't feel pressured to achieve anything out of the ordinary during this lockdown. Just slowly ease yourself into projects you have always wanted to tackle. And just really enjoy the time that was given to you rather than dwell on the worries of today's events.
WHAT KEY PIECE OF ADVICE WOULD YOU GIVE OTHERS TO SEE THEM THROUGH / STAY MOTIVATED WITH THEIR PHOTOGRAPHY DURING LOCKDOWN?
Photography, film or anything else, is luckily… a solo endeavour most of the time. And being alone really gives you an opportunity to explore the tools you've amassed through the years. Nothing is more motivational than finding out that you have most of what you need just at your fingertips. I saw a lot of people in the community happily build that darkroom they have been dreaming about… or shooting large format with that camera gathering dust in the corner. While my siblings have yet to agree to pose for portraits, I find that even the most mundane items in the house are fantastic subjects for things like macro photography. In short, the Lockdown has gifted me enough time to enjoy the process end to end uninterrupted for hours at a time.
I also found out that a beer or 3 helps !!
WHERE IS THE FIRST PLACE THAT YOU WILL BE SHOOTING ONCE THIS IS OVER AND WHAT KIT WILL YOU TAKE WITH YOU?
Once this is over, I am gathering the Sunny16Lab troupe for an intimate session of portraits. We usually hold one once or twice a month. Just us at the studio accompanied by film, music, booze, and food. It is such a fun and cheerful activity that keeps everyone grounded. I really miss the human interaction side of photography…. Especially amongst the people who share with you the same enthusiasm.
ANNNDD I was just starting to teach myself about Large Format Photography. So I'd really love to resume that!
THIS PANDEMIC HAS GIVEN MANY PEOPLE THE OPPORTUNITY TO REASSESS GOALS AND AMBITIONS. WHEN THE WORLD RETURNS TO NORMAL WHAT ARE YOUR PHOTOGRAPHIC GOALS GOING FORWARD? (CAN BE BUSINESS OR PERSONAL).
I realized that there is a huge potential in taking a great portion of learning/teaching online. Marrying hobby and business has never been easier. It's just a matter of balancing. I also understand that the lockdown will reshape how we communicate and interact with our customers specially when it comes to their needs. Film is widely about application, so we really need to encourage film shooters beyond "shooting", learn how to process, and print their work. As a lot of our audience realize, staring a shot roll is frustrating when all the labs are closed.
Engagement is an endeavour with a brand like ours. But I always do my best in keeping Film Folks entertained with activities. We've had pockets of online challenges like take a Quarantine Selfie and Draw your Dream Camera. And it never fails to surprise me how the community is always looking for ways to keep in touch.
On a personal goal, gee I've had quite a few afternoons in quarantine wishing the Darkroom is just next-door. When this is all over, I really do want to spend more time printing.
ON A NON-PHOTOGRAPHY QUESTION - THIS IS A BIT MORE DEEP AND MEANINGFUL BUT POST CORONAVIRUS, WHAT WOULD YOU LIKE THE WORLD TO DO DIFFERENTLY (WHAT LESSONS COULD WE ALL TAKE FROM THIS)?
I think the world is already in an ice bath of realization that life is fragile but beautifully woven together by relationships. And keeping us apart is painful and unbearable. We also see the most magical side of humanity. We all collectively celebrate that because deep down, we're looking for ways to matter.
So if there are lessons us humans need to learn from this global crisis? Is that we don't have anyone else but each other to make things work, to solve meaningful problems, to build lasting positive change, and to lift one another up with respect. A minute of kindness is all it takes to change a life. So spare a minute.
SECTION 3 - SHOUT OUTS
WE ALL NEED A BIT OF INSPIRATION AND LOVE SO THIS IS YOUR CHANCE TO TELL THE COMMUNITY ABOUT YOURS – FROM THE FILM PHOTOGRAPHERS WHOSE WORK INSPIRES YOU, THE LABS YOU TRUST WITH YOUR FILM, YOUR 'GO TO' FILM PHOTOGRAPHY STOCKISTS, YOUR FAVOURITE COMMUNITY DARKROOMS OR JUST ANYONE IN THE COMMUNITY WHO YOU FEEL DESERVES A SPECIAL MENTION.
Give a shout out to your 3 favourite film photographers (not photography hubs) currently active on IG or Twitter and briefly tell us why others should follow them?
Top of mind, I'm going to give a shout out to 3 photographers whose aesthetics I really adore. First is Chi of IG:chic. She's one of the nicest and humblest film photographers I know, and whose output is just consistently beautiful. My talented friend Jed of IG: Jedcalara who shares the same passion for travel photography as I do and I never see without his Leica. And recently, I have been quietly enjoying the work of one of our clients at FilmFolk, Gerome of @mikofoto_. It's been wild to see his portrait work exponentially get better with every post.
These are 3 people who I feel I have had the pleasure to "grow" with or see film used/executed beautifully at its simplest sense. And to see that kind of translation is inspiring, especially to beginners who are looking to find a foothold for film photography. Did I make sense?
GIVE A SHOUT OUT TO YOUR 3 FAVOURITE PHOTOGRAPHY YOUTUBE CHANNELS (APART FROM THE @ILFORDPHOTO ONE)?
This is a difficult one! Hahaha ashamed to admit that YouTube isn't really my avenue of adventure for film photography. I do watch a lot of the Ilford videos! And if we can, please encourage Rachel to do more!
GIVE A SHOUT OUT TO YOUR FAVOURITE PHOTOGRAPHIC RETAILER (NAME, LOCATION AND WEBSITE)
Other than the one that I run, FilmFolk (ah shameless plug.. hey! We worked hard on that LOL!!) We're available online at www.filmfolk.com and carry our film stock at Satchmi Café in Megamall, Mandaluyong City Philippines.
Ok if I had to choose a second personal favourite online retailer, it would obviously be Camerafilmphoto in Hong Kong.
GIVE A SHOUT OUT TO YOUR FAVOURITE LAB SERVICE, IF YOU HAVE ONE, (NAME, LOCATION, WEBSITE)
Only Sunny16Lab touches my film. Another shameless plug. But if you ever find yourself in the Philippines and in need of your work handled professionally and by enthusiastic lab folks, please do shoot us a message at facebook.com/sunny16lab or visit us at www.sunny16lab.com
Section 4 - Favourite kit
WHAT IS YOUR FAVOURITE FILM CAMERA YOU OWN (OR HAVE OWNED/USED)? (SEND US A PICTURE OF IT IF YOU HAVE ONE).
No mystery here! My Rolleiflex!!!!!
ASIDE FROM YOUR CAMERA, LENSES AND FILM WHAT ACCESSORIES MAKE IT INTO YOUR CAMERA BAG?
I can be a little untidy sometimes when I shoot, always propping the camera on untidy tables and such. So I always carry some sort of wet wipes and the Cura Lens cleaning kit. Can't go without it.
WHAT IS THE BEST PIECE OF PHOTOGRAPHY KIT YOU HAVE FOUND OR BEEN GIFTED?
I have 2.
The first one was a gift from my father almost a decade ago. A Leica M6, which we bought in Leica Vienna. We were on a tour bus and while the guide was lecturing about the beauty of the city, all I saw was the Red Dot like a beacon shining in the distance. It was the first Leica Store I have ever seen. We had an hour to spare in the city for lunch. Guess what, I ran over there. And walked out with tears in my eyes and a Leica M6 kit after 40 minutes. I remember the sales associate asking me if I want film with it, and gave me a Kodak Portra. I gave it back and said, " Can I have the ILFORD HP5 instead?" (he gave me 2 rolls)… TRUE STORY!!! <3
The second was a complete, minty, Hasselblad 500CM kit. 3 lenses, 3 backs, and the whole accessories like filters and such. This was maybe 6 years ago. It was offered to me straight out of an estate sale. Until today, I cannot believe I paid that little for the kit. Alas… I sold the whole thing just because the mature woman in me knows to admit when a system is just not for me. I proudly sold it to a professional photographer who'll give it the life it deserves. No regrets.
As this is an ILFORD interview it would be remiss of us not to ask about your favourite ILFORD products. Tell us you favourite ILFORD film, paper and chems and why?
I'm a loyal user of HP5, Delta400, and FP4. IT NEEDS NO EXPLANATION, come on.
For chemicals, I've always championed Ilfosol 3. I love it as a general, no-fuss developer. I urge beginners to not over think it yet and just invest on Ilfosol 3.
For paper, since I'm a beginner, I'm only starting to experiment with the basic Multigrade RC Glossy & Satin finishes. I have yet to have the experience to narrow down a signature favourite. And I haven't really tried other papers yet because in my mind, hey, the Multigrade is hitting all the right notes for me… no need to try something else HAHAHA!
Unfortunately, we've seen pictures from around the world of people stockpiling products such as toilet rolls, pasta, hand sanitiser and so on. If you could stockpile one ILFORD product what would it be?
Right now, I want a pile of FP4. I know it's probably also the least appreciated (for my region I believe). But it's a silent winner for me, and I have recently seen people shoot it all the way to ISO500. So yes, I love it in macro photography, it responds well to experimentation (even with caffenol!)
AND FINALLY…
NOMINATE ONE OTHER PERSON YOU THINK SHOULD FILL IN THIS FORM AND WE WILL REACH OUT TO THEM
I nominate Rachel Brewster Wright if she isn't on your list! We need more women like her in our spectrum <3 - (We'll be in touch Rachel)!
However, if she already has been nominated, please do interview the creative minds behind a lot of the crafted cameras. They really are the future of our community. Sam of Solarcan, Ethan of Cameradactyl, Steve of Chroma!
---
About The Author

Aislinn Chuahiock
Aislinn is a Philippine based film advocate and rabid camera enthusiast. Co-founder of FilmFolk Philippines, Sunny16Lab, and Satchmi.
---