In Focus - Roger Lowe Posted On 9th September 2021 To Magazine & In Focus

SECTION 1 - BACKGROUND
SHARE YOUR FAVOURITE IMAGE / PRINT SHOT ON ILFORD FILM AND TELL US WHAT IT MEANS TO YOU?
I have many beautiful prints from an Ilford negative. One Ilford film that always interests me is the Ortho 80. Being less sensitive in the reds it renders reds as dark or sometimes black giving interesting results. This is a print of a light switch in my home. The light was casting an interesting shadow across the wall. The black area is a shadow from a picture frame. It's so simple but I just like the composition and various tones.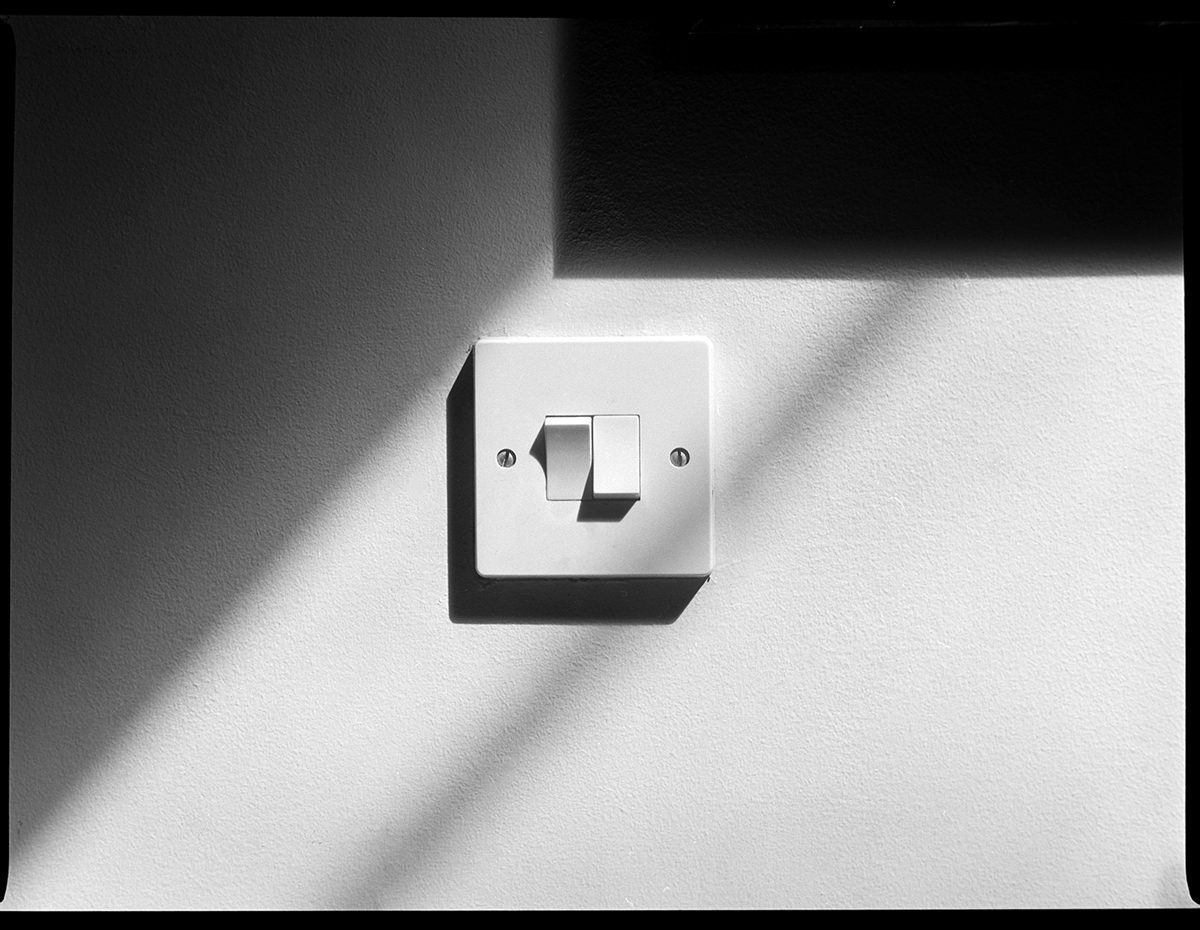 JUST IN CASE ANYONE DOESN'T KNOW WHO YOU ARE OR WHAT YOU DO CAN YOU GIVE US THE OVERVIEW?
My name is Roger and I have a YouTube Channel based on Film Photography and Darkroom Printing called "Shoot Film Like a Boss" or "SFLaB" for short. The channel is focused towards shooting and learning film photography and Darkroom works.
How and why did you get started shooting film?
To cut a long story short, I once had a portrait studio as well as an extensive range of Seascapes, Landscapes and Architectural prints that I would exhibit. All Digital.
For my prints I would go to the canvas print maker next door to my studio to use his large format Inkjet for my printing. I'd have my own papers that I would use. Usually large rolls. Large Printers were expensive so I used to make his artwork for his canvas banners and he let me use his printer for free.
I was shooting lots of digital and editing in photoshop and one day I started to get a bit bored of the whole process.
I'd always been fascinated in film photography but never tried it. I remember as a kid there was a market stall at Greenwich Market that sold black and white prints. I thought they were beautiful even though they were mostly photographs of bicycle parts.
So I started to look into shooting film as a way of bringing some spark back into my photography. Only I didn't have any gear or knowledge.
My In-Laws introduced me to their neighbour, Stan, who was a retired press photographer. Stan had tons of knowledge and gear. Over many cups of Tea, Stan and I would chat about Photography and more so me listening to his stories and seeing his negatives and prints.
It wasn't long before he sold me his Nikon F90X and some developing tanks so I could give film a try. Stan recommended me to shoot Ilford FP4 "if they still make it" he said!
Over time I was shooting lots of FP4 and HP5 and developing at home and soon after had a darkroom set up in my bathroom making prints from the enlarger and other gear Stan has sold me. I was hooked!
I used to call Stan "Boss" for fun.
I found with film there were so many different variables to choose. What film, what developer, push, pull, development times, temperatures not to mention making every shot count and not overshooting.
And then there are the cameras and lenses. I saw a Pentax Spotmatic F come up for sale locally and I got it for £10! The mirror was stuck but it was a quick fix. Using these old classic cameras felt really good to shoot. Like driving an old classic car!
And with film it was all with my hands and not sitting on a computer. But the whole process was new, exciting and challenging. There was so much to ask, read, learn and practice. (Still is).
Mistakes would always happen but thats just self education. I always welcomed mistakes because thats how I learned. I never got put off. Just more motivated. I still make mistakes and learn from them.
The YouTube channel came about after I sent a friend a short video on how to develop film. It was much easier showing him than telling him over the phone. It was that friend that suggested I make more videos like this for YouTube. I wasn't too keen but a year or so later I did just that in 2017.
Stan passed away just as I started to learn how to print. Now you know why I called my YouTube Channel "Shoot Film Like a Boss".
Who has been your biggest photographic inspiration to date?
That has to be Stan. I was inspired by his stories, equipment and prints. And the market stall at Greenwich. I used to love looking at that mans prints.
But if you're looking for anyone famous then I love reading the stories of the lads that shot the 60s. Bailey, Duffy, Donavan and Terry O'Niell. Just regular guys done good.
What is the best piece of photography tip or advice you have ever received?
That would have to be a good photographer friend of mine, Simon John. I showed him a digital image of my daughter, Jessica, kneeling on the floor in a studio when I first started shooting portraits. He looked at it and said "Nice lighting, but you've lost her limbs". When I looked again I could see instantly.
I had Jessica sitting on her bottom with her legs folded to the side It looked like she had no limbs from the knee down. Easy to overlook but once it's pointed out you never forget it. Not that I shoot many portraits these days but I used to. Lots! And I always made sure I didn't cut any body parts off. Yeah a good bit of advice that has always stuck. I think that is the thing with good advice. If it is something that is mentally triggered when you shoot then it must have been good advice.
What film photography related projects are you currently working on (or are in the pipeline?
I want to make a classic car series on the channel where we meet the owner and talk about the car as we drive and get a few pictures of the car. I like classic cars. Cars and Photography.
I'd also like to photograph the early morning lives of sea fisherman at work. That is another project I have as an idea for the channel. Although I may need some sea legs!
What / where is your next shoot and how do you decide what film / kit you will use?
I am spoilt for choice where I live, on the Isle of Wight, which is an island just off Portsmouth, South of the UK. We have beautiful beaches and landscapes.
Sometimes I plan a shoot where I am looking at Tide Charts, Sunrises and Sunset times, weather conditions. But more often than not I just gaze out of the window and decide if it's a good day to shoot a certain location. Then decide what film and what camera to take. Usually Medium Format.
I have my eye on an old shipwreck at the moment but I have to plan the tide just right. The location is about a 40 minute drive away at a place called Compton Bay. I have to wait for the spring tide or I won't see it. Near the wreck are rocks which will be ideal to place a tripod. Hopefully I can plan that right and get a nice long exposure of the sea around the wreck. I intend to shoot Ilford PanF 50 for that. A nice slow speed film.
What are your photographic goals going forward? (Can be business or personal).
I would like to get into Large Format Photography at some point. It's an expensive move with the camera, lenses, slides and enlarger. I may start off with 5x4 Pinhole and make contact prints.
I have also been working on a Pinhole and Holga book showing photographs from those cameras over the last two years. Trouble is, of all the prints I have from these cameras only very few have made the short list. So I'm afraid this project may take a long while.
Section 2 - Shout outs
We all need a bit of inspiration and love so this is your chance to tell the community about yours – from the film photographers whose work inspires you, the labs you trust with your film, your 'go to' film photography stockists, your favourite community darkrooms or just anyone in the community who you feel deserves a special mention.
Give a shout out to your 3 favourite film photographers (not photography hubs) currently active on IG or Twitter and briefly tell us why others should follow them.
Instagramers would have to be -
@garygeezerphotoart. Gary shoots creative BW and tasteful body sculptures/nudes in his studio on Large Format film.
@borutpeterlin Borut was one of the first inspirations to me as I was and still am fascinated in his wet plate photography.
@volodymyr_demkiv This guy shoots a lot of HP5 with high contrast. I enjoy his feed.
Give a shout out to your favourite photography YouTube channels (apart from the @ilfordphoto one).
Peter Elgar. Gotta love Peter Elgar. That man is a legend. The man is in his 80s making YouTube videos, a wealth of knowledge and charismatic too. Funny guy!
Ribsy. Great guy. Simple bathroom printing and no fuss. Ribsy came to visit me. We had a good laugh. Shoots Colour and B&W.
Martin Henson. Another great guy with a wealth of knowledge. Martin shows the whole process similar to myself. Shoots a wide range of cameras and also 4x5 and Pinhole.
Give a shout out to your favourite photographic retailers (name, location and website).
I get all my stuff from First Call Photographic in Dorset. Always well stocked, next day delivery and helpful bunch.
4. Give a shout out to your favourite lab service, if you have one, (name, location,website).
Has to be James Lane, Zone Imaging Lab in North London. I don't use his developing services but he introduced me to 510 Pyro and we chat often about photo chemistry where usually he gets carried away talking about chemicals and loses me.
Section 3 - Favourite kit
What film cameras do you own and which is your favourite?
I have many film cameras and enjoy shooting all of them all. Medium Format has to be the Zeiss Ikon Nettar and the Mamiya RZ67. 35mm has to be the Nikon F5 and also my Olympus OM20. I also enjoy shooting my 6x6 Pinhole Cameras and the Holga 120n. Fun to shoot with interesting results.
Aside from your camera, lenses and film what accessories make it into your camera bag?
My Sekonic L-508 light meter, and Gray Card.
Cokin Filters, RED, ORANGE, YELLOW, GREEN.
ND Filter, 3 stop and a 10 stop
Cable release, Lens cloth, plastic bag for rain.
Something to stop my tripod legs sinking in the sand for longer exposures on the beach. CD's work well.
Hand Warmers! My hands get cold in winter especially on the beach.
My vlogging gear, usually a Gopro and a microphone.
What is the best piece of photography kit you have found or been gifted?
That has to be the Mamiya RZ67 kindly donated to the channel by Kevin McLaughlin in New York. It has a 645 back, which is ideal as I can't print 67 on my enlarger. Amazing camera.
As this is an ILFORD interview it would be remiss of us not to ask about your favourite ILFORD products. Tell us you favourite ILFORD film, paper or chems and why?
Film - Has to be the Ortho 80 and also HP5. I like HP5 and how versatile it is. The Ortho 80 I enjoy shooting as I said it renders reds almost black. I like that look especially on the street.
Paper - Either Pearl or Gloss RC Deluxe Papers. Nice rich blacks and also tone well.
Chems - MG for paper developer. Always lasts. ID-11 is a film developer I use mostly from the Ilford range or if I am shooting PANF 50 I like to develop in Perceptol.
And finally…
Nominate one other person you think should fill in this form and we will reach out to them.
Martin Henson.
---
About The Author

Roger Lowe
"I was born in South London in the 1970's and moved away with my Wife and Daughter in the late 2000's to the Isle of Wight.
The Isle of Wight  is a small Island just a short ferry ride from Portsmouth, South England.
Since the very early 2000's I have been making films and video documentaries for private and commercial sector.
I wanted to learn photography to help with my film making. Understanding more about compositions and lighting in a single frame really helped along with the understanding of how a stills camera worked, aperture, shutter Speed, ISO.
My first DSLR was a Nikon D80 and eventually moved over to Canon, not only for photography but also for the Video capabilities at the time.
I eventually became more interested in Film Photography which was an escape from the digital world and from work."
See blogs and prints
Support SFLaB on Patreon
Patreon – Shoot Film Like A Boss
Watch the videos
You Tube – Shoot Film Like A Boss
Follow on Instagram
Instagram – Shoot Film Like A Boss
Follow on Facebook
Facebook – Shoot Film Like A Boss
---