In Focus - Melanie King Posted On 30th November 2021 To Magazine & In Focus

Melanie King was first introduced to us by Lucy Ridges, and since then we have heard her name mentioned from several different people. It was fantastic to be able to learn a little more about her when she agreed to take part in this series.
Section 1 - Background
Share your favourite image / print shot on ILFORD film and tell us what it means to you?
My favourite image is Ancient Light, Emiliano Cardone Observatory, Casalattico, 2018. This photograph was produced when my collective, Lumen Studios, ran an astronomy-themed residency in the Italian countryside. We took artists to observatories and on walks in the nearby forest. This photograph was taken during the Perseid Meteor shower, which happens each August. Due to our location in a dark sky area, up in the mountains, we were able to see the meteors as if they were giant fireballs in the sky. I wasn't sure if I had captured the meteor in this photo, until I had the film developed. The resultant image reminds me of our special group experience at an observatory which was created in honour of a local person in the village who loved astronomy.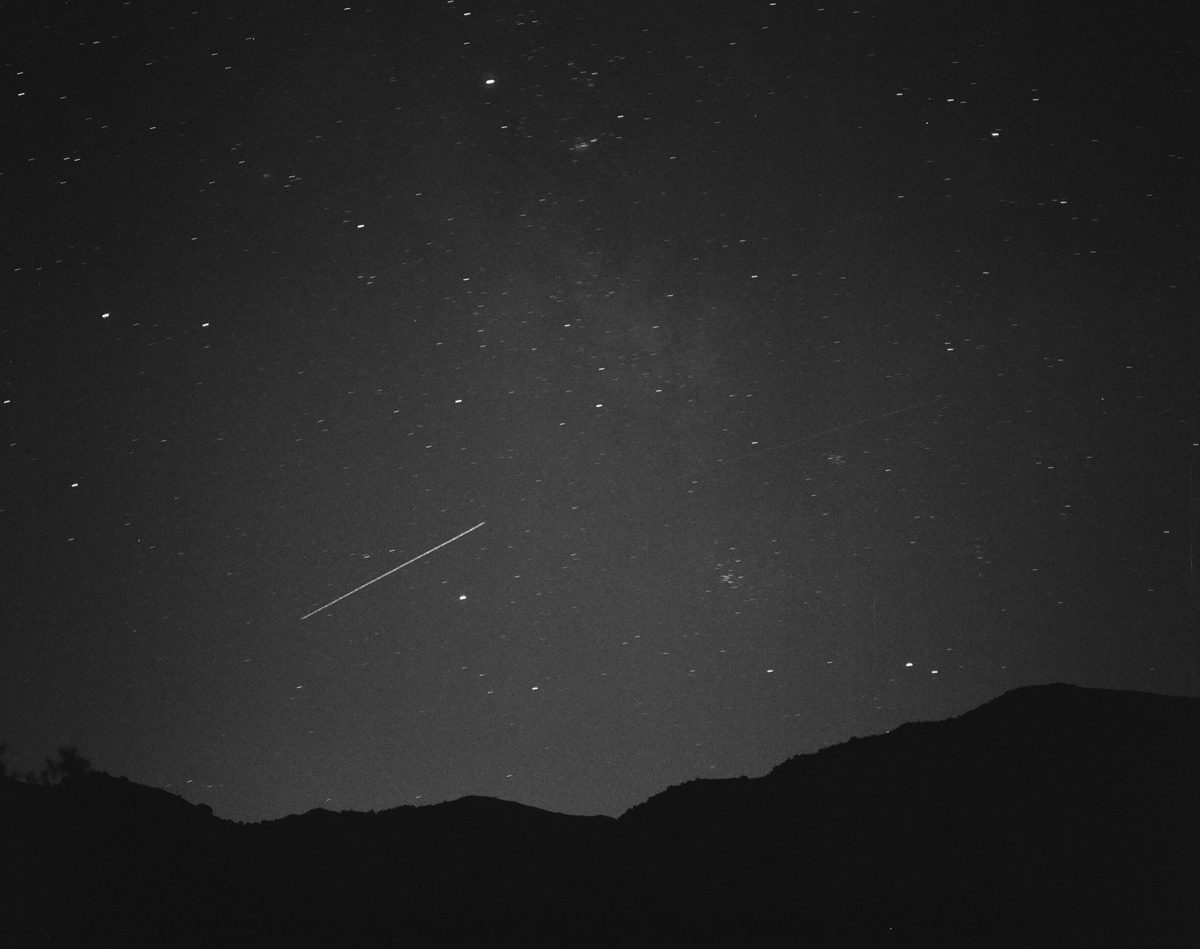 Just in case anyone doesn't know who you are or what you do can you give us the overview?
I am an artist and curator originally from Manchester, and am currently based in Ramsgate, Kent. My work has a specific focus on astronomy, photography, and materiality. I am a PhD Candidate in Fine Art at the Royal College of Art, a Lecturer in Photography at Canterbury Christ Church University and a graduate of Central Saint Martins and Leeds Art University. I co-direct three art collectives; super/collider, Lumen Studios International and the London Alternative Photography Collective.
I have primarily worked in the darkroom since 2010, when I was introduced to the photogram process by artist Katie Dent. I am from a Fine Art background and have always been influenced by science and materiality. I approached photography with an interest in light sensitive, dynamic materials and have experimented with many different analogue and alternative photographic processes. These techniques include daguerreotype, cyanotype, anthotype, solarisation, photogravure, platinum printing and more.
My practice based PhD "Ancient Light: Rematerialising The Astronomical Image" focuses on analogue, astronomical photography. It comprises of a series of long exposure photographs, primarily using Ilford Delta 3200 and Ilford HP5 400. These images were produced on residencies in dark sky locations, such as Iceland, Finland, Ireland, Italy and Spain. I have also worked closer to home, at the UCLO Observatory, Kielder Observatory, Cornwall, The Lake District and my current home of Kent.
How and why did you get started shooting film?
When I started an Access Course at Stockport College, I was given a Canon Rebel 35mm film camera by my Dad. My Dad used the camera in the 1980's to document biker festivals. I used the camera for many years before getting the confidence to try medium format and large format cameras. I still use the camera, it is incredibly versatile and can be used in many different situations.
Who has been your biggest photographic inspiration to date?
My biggest inspiration, Helen Chadwick, was an artist who worked with photography in unconventional ways, such as using large photocopies of herself, animals and objects in her installation "The Oval Court". In her piece "Viral Landscapes", Chadwick overlaid microscope images of cells, photographs of the Pembrokeshire coast and paintings co-created with ocean waves. She also displayed photographs in interesting ways – for example, showing images of eyes, dandelion clocks and cells in circular perspex frames in a necklace format, or creating three-dimensional geometric photographs in her piece "Ego Geometria Sum".
Chadwick was also interested in materiality, immersing photographs of flowers in toxic fluids such as oil in her piece "Wreaths to Pleasure". I love the way Helen Chadwick drew the connections between photography, science and materiality – and this has been a constant inspiration throughout my practice. I often wonder what she might have made if she was still living now, and what she would think of the world that we currently live in.
What is the best piece of photography tip or advice you have ever received?
To relax and have patience in the darkroom. There have been many times when I have messed up a film because I haven't taken my time. I have accidentally dropped a film on the floor whilst spooling it and been impatient waiting for prints to develop and fix properly. All of these mistakes end in tears!
Now I have changed my mindset where I see the darkroom as a meditative place and embrace the slow pace. This is especially true now I am using more sustainable photographic processes, which take even longer to work. Now, as a photography tutor, I try and pass this relaxed and mindful approach to darkroom practice on to my students!
What film photography related projects are you currently working on (or are in the pipeline)?
I am working towards the culmination of my PhD project "Ancient Light".  As I have been working on this series since 2015, the project is expansive. I am currently working on large format photographs of the night sky and am aiming to develop these images in plant based developers.
As a founder of the London Alternative Photography Collective, I have been part of the Sustainable Darkroom project since its inception by Hannah Fletcher in 2019.  As part of this project, I have been making my own plant-based film and paper developers from coffee, seaweed, mint, red wine and left over pasta water. I am also working on a silver reclamation project "Precious Metals", which is funded by Arts Council England.
In part of this project, I am using electrolysis to attract silver from my spent photographic fixer, which silver plates handmade copper jewellery. This project is related to my PhD research, as silver can only be made in high energy stellar explosions such as when a star goes supernova. As we can't create silver on Earth, silver is a precious resource and should be recycled where possible. "Precious Metals" will be exhibited at Photofusion, Brixton in July 2021 and The Hive, Birmingham in September 2021.
Three 16x20" fibre-based photo graphs from my "Ancient Light" series are going to be exhibited alongside Katie Paterson and Seminconductor at "To The Edge of Time", KU Leuven Belgium from 22 October 2021 to 01 January 2022.
At the Turner Contemporary Margate, I am going to be showing three images from my "Lunar Portraits" series, where I create film portraits using only the light of the Moon.
What / where is your next shoot and how do you decide what film / kit you will use?
My next shoot will be to take large format photographs of the night sky in the Kentish countryside. I moved to Kent in 2018, due to its proximity to dark night skies. I'll use my Graphex large format camera, which is incredibly portable! I have a Toyo View camera, but as someone who doesn't drive – it isn't convenient to carry around. I need something that I can explore with and use easily in the darkness! I will use Ilford HP5 sheet film and do exposures of between 5 and 30 minutes.
I'll be sharing the video documenting my process on my Youtube channel 
What are your photographic goals going forward?
I currently have my own darkroom which is based at This Museum Is Not Obsolete in Ramsgate. This is a museum that my partner Sam Battle AKA Look Mum No Computer opened in 2021, which celebrates obsolete and experimental technologies.
We have been given lots of antiquated equipment, such as a 4x5" copy stand, a computer which converts digital images to 4x5", an aerial camera from an aeroplane and a spectrograph, amongst other things!
Once I have safely graduated from my PhD, I plan to experiment with these weird and wonderful things – making them usable for visitors to the museum!
Section 2 - Shout outs
We all need a bit of inspiration and love so this is your chance to tell the community about yours – from the film photographers whose work inspires you, the labs you trust with your film, your 'go to' film photography stockists, your favourite community darkrooms or just anyone in the community who you feel deserves a special mention.
Give a shout out to your 3 favourite film photographers (not photography hubs) currently active on IG or Twitter and briefly tell us why others should follow them.
Hannah Fletcher – A fellow co-director of the London Alternative Photography Collective and founder of the Sustainable Darkroom. She has a really interesting practice, which involves growing kombucha scoby as a cyanotype substrate. Hannah has invented her own developers for photographic film, using lacto-fermented garlic and spruce needles. Hannah is currently on a roadtrip through Europe in her van, and I can't wait to see her new work!
Her website is here – https://www.hannahfletcher.com
And you can see an example of one of her cherry blossom developers here: https://www.instagram.com/p/CON0xrsli9S/
Madison Beach – Madison Beach is a youtuber and photographer, who creates interesting videos on how to make photography more sustainable. You can see her website here: https://www.madisonbeach.com/ and her Youtube here: https://www.youtube.com/c/MadisonBPhotography
Martha Gray – Martha Gray is an artist who uses photographic film to create images for cyanotypes on bioplastic. She is also an editor for Alternative Processes.org with Chiara Salvi. https://marthagray.pb.photography/
Give a shout out to your favourite photography YouTube channels (apart from the @ilfordphoto one).
Ribsy – Ribsy is a photographer based in the UK and USA. I find his videos extremely useful for learning photographic techniques! https://www.youtube.com/c/DoingFilmThings
Give a shout out to your favourite photographic retailers (name, location and website).
Parallax Photographic is my favourite photographic supplier.  They do everything from film, paper and darkroom supplies to artist photo books and zines. I have ordered from Parallax since they started retailing and was lucky enough to design their cyanotype paper label!
https://parallaxphotographic.coop/
Give a shout out to your favourite lab service, if you have one, (name, location, website).
My absolute favourite photo lab is Labyrinth Photographic in Bethnal Green. I used to live in Mile End, and it was extremely handy to pop in with a film! Now I live in Kent, but I still trust them with my most precious films. Their development is always perfect, and their scans are amazing.  http://www.labyrinthphotographic.co.uk/
Section 3 - Favourite kit
What film cameras do you own and which is your favourite? (Please send us a picture of it if you can).
I have too many to count, but my favourites are:
Graphex Large Format Camera, due to its portability!
Mamiya 645 Medium Format Camera, which I got at Princess May Primary School car boot sale in Dalston in 2014 as a total bargain! I couldn't really afford it at the time, but it has been well used on residencies!
Canon Rebel SLR 35mm Film Camera, because it has served me well!
I'd also love a Hasselblad one day. I got to visit the Hasselblad Foundation  in Gothenberg when I exhibited in their Moonlight exhibition – and was fascinated to see the Hasselblads that have been into space.
Aside from your camera, lenses and film what accessories make it into your camera bag?
The things that are important for creating my Ancient Light photographs are:
External shutter Release for long exposures.
A head torch with a red light, so that I don't lose my dark adaptation.
Lens hood for blocking out light pollution.
What is the best piece of photography kit you have found or been gifted?
I am soon going to be given a De Vere 504 from an old scientific laboratory. This is going to take my photography to a new level as I'll be able to print at 5x4 within my own darkroom!
As this is an ILFORD interview it would be remiss of us not to ask about your favourite ILFORD products. Tell us you favourite ILFORD film, paper or chems and why?
Ilford Delta 3200 is my favourite film ever, due its' high sensitivity to light. It allows me to capture very faint light that has been emitted from distant stars, many thousands or millions of years ago.
Ilford Multigrade FB Warmtone is my paper of choice, when printing the images. I love the texture of the paper, and the deep blacks that it can achieve. To print my images, I use a high filter and long exposures under the enlarger.
And finally…
Nominate one other person you think should fill in this form and we will reach out to them
Asa Johanneson http://asajohannesson.com/
All images © Melanie King
---
About The Author

Melanie King
Melanie King is a working-class artist and curator, originally from Manchester, UK. Melanie is now based in Ramsgate, Kent, UK. Melanie's work has a specific focus on astronomy, analogue photography and materiality. She is co-Director of super/collider, Lumen Studios and founder of the London Alternative Photography Collective. Melanie is currently Artist In Residence at the School of Metallurgy and Materials at The University of Birmingham, from Feb 2021 to June 2022. Melanie is currently Artist In Residence at Spacer, Ramsgate from July 2021 to July 2022.
Melanie is a PhD Candidate at the Royal College of Art (2015-2022). She is a graduate of the MA in Art and Science at Central Saint Martins (2013), and the BA Fine Art at Leeds Art University (2011). She is a lecturer in Photography at Canterbury Christ Church University. She is represented by the Land Art Agency. Melanie's solo exhibitions include Photofusion, London, UK (2022), Photo Co Op Folkestone, UK (2021), Big Day Film Collective, Philadelphia, USA (2021), Leeds Art University, UK (2017, 2020), Bloomsbury Festival, London, UK (2019), the Blyth Gallery, Imperial College London, UK (2018). Melanie has exhibited in a wide range of international galleries, such as the Hasselblad Foundation, Sweden, BOZAR Brussels, Unseen Amsterdam, the Williamson Gallery in Los Angeles and CAS Gallery in Japan. Melanie has attended residencies organised by Lay of the Land Ireland, Joya Arte and Ecologica, Spain, Bow Arts, Grizedale Forest, BioArtSociety, Finland and SIM Reykjavik, Iceland. Melanie has been commissioned by ITV Creates, Mural, The European Commission, Museum of Freemasonry, Bow Arts, Green Man Festival, Vivid Projects, Bompas and Parr X Citizen M Hotel, Mayes Creative, Design Miami x COS Stores, Chelsea Flower Fringe and the Wellcome Trust. Melanie has been awarded funding by Arts Council England (2020, 2021), Royal Academy of Engineering (2021), South East Creatives (2020) and the Rebecca Vassie Memorial Trust (2019, 2021).
Upcoming exhibitions:
https://www.bangfestivalleuven.be/program/to-the-edge-of-time?cluster=41559
https://turnercontemporary.org/open/
Socials
https://www.instagram.com/melaniekatking/
https://twitter.com/MelanieKKing
https://www.facebook.com/melaniekatking
---