In Focus - Keith Moss Posted On 10th November 2020 To Magazine & In Focus

We have known Keith for a long while and admire not just his photography, but his enthusiasm for all things film and darkroom and his willingness to share his knowledge and inspire others.  We're glad he agreed to take part in this series and become our 28th In Focus interview. We hope you enjoy finding out more about him.
BACKGROUND
SHARE YOUR FAVOURITE IMAGE / PRINT SHOT ON ILFORD FILM AND TELL US WHAT IT MEANS TO YOU?
I shot this image in La Boqueria Barcelona with a fuji 645 camera. What makes it special for me is that the lady selling the fruit and vegetables didn't seem to want her photo taken so I pre-focused stood back and looked at the peppers that she had just put out as if there was something wrong with them, knowing full well that she would put her hands on her hips and think to herself 'what's wrong with my peppers?' She made the move just as I had expected, and I snapped the image. The image was shot on Ilford HP5 Plus, one of my favorite films.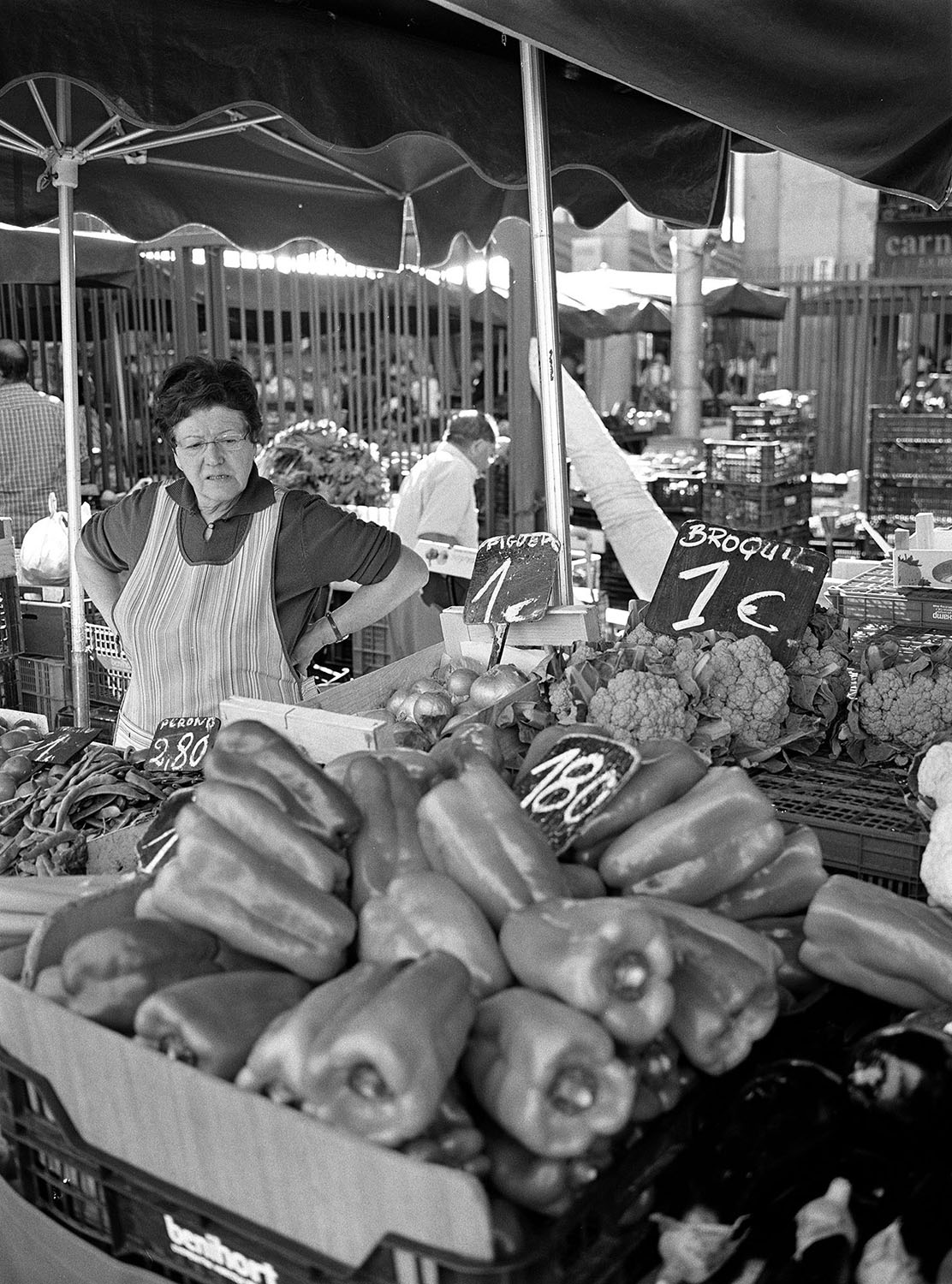 JUST IN CASE ANYONE DOESN'T KNOW WHO YOU ARE OR WHAT YOU DO CAN YOU GIVE US THE OVERVIEW?
I'm Keith Moss and I've been a fashion and commercial photographer for 35 years. I'm now sort of semi-retired from that although from time to time I do keep my hand in doing the odd commercial job. Now I concentrate on my first love which is street photography, which I also teach throughout the UK and Europe.   I'm also a guest lecturer at several universities and colleges in the UK. I contribute to several photography magazines and I'm very proud to be an Ilford Artisan Partner.
HOW AND WHY DID YOU GET STARTED SHOOTING FILM?
I got started in film photography when I was about 13 years old long before digital. I'd watch my father working in his darkroom and caught the bug. I became a professional photographer at around 25 years old starting by shooting models portfolios and the odd bit of commercial work. Back then I shot an awful lot of colour transparency film mainly FujiProvia but for my own personal work I always shot black and white Ilford film.
WHO HAS BEEN YOUR BIGGEST PHOTOGRAPHIC INSPIRATION TO DATE?
The two people that have most inspired me from a photographic point of view are both French photographers, Jeanloup Sieff and Robert Doisneau. I absolutely love their work. Jeanloup Sieff; I love his fashion work, more importantly the way he captures people. Robert Doisneau; his street documentary work of everyday life over the decades in Paris really inspires me.
WHAT IS THE BEST PIECE OF PHOTOGRAPHY TIP OR ADVICE YOU HAVE EVER RECEIVED?
That content is king. I really believe this and always work to this mantra. In a world where we see heavily filtered images most of them being Photoshopped to look good, it seems we have lost the ability to shoot good content. Good content always shines through.
WHAT FILM PHOTOGRAPHY RELATED PROJECTS ARE YOU CURRENTLY WORKING ON (OR ARE IN THE PIPELINE)?
The project I'm working on at the moment is, documenting daily life in these changing challenging times.  I estimate it is going to take me at least a couple of years to get the content I require, I will then use the images to create my second book. My first book took around five years to complete, it's about street portraiture and it's called 'Urban Portraits'.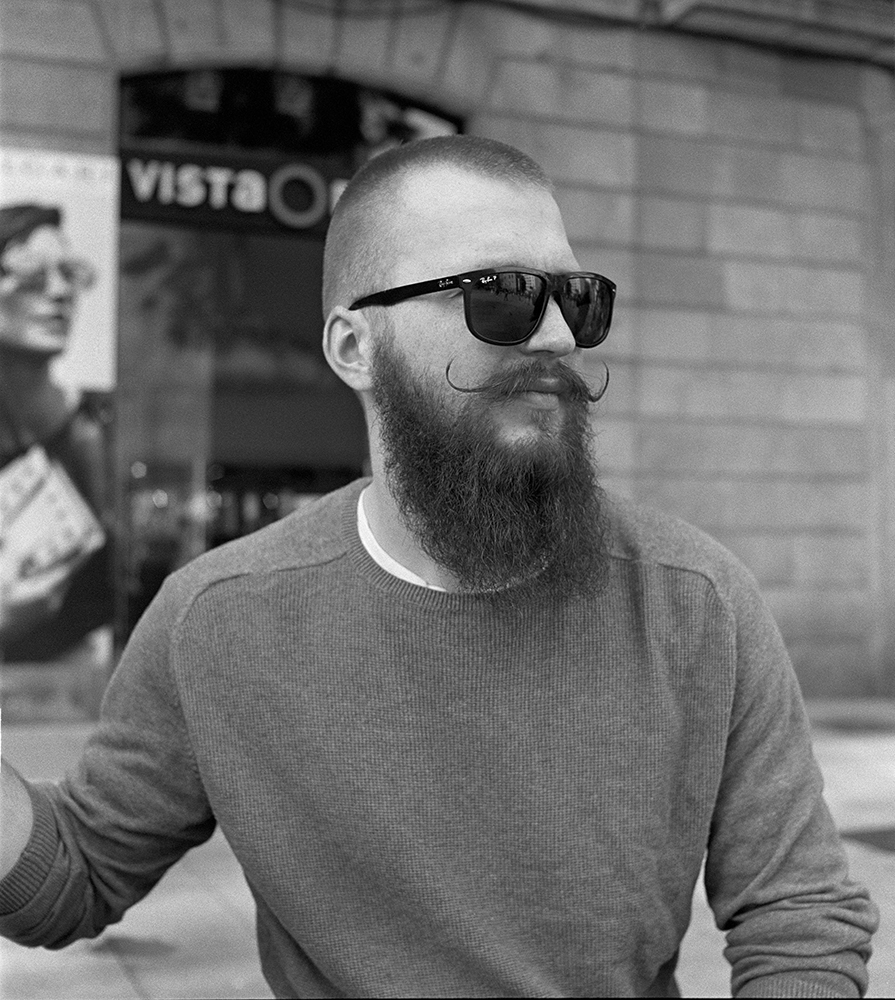 WHAT / WHERE IS YOUR NEXT SHOOT AND HOW DO YOU DECIDE WHAT FILM / KIT YOU WILL USE?
My next shoot is this weekend, I am teaching a fellow photographer how to work with and how to photograph models both in a studio environment and out on location. For me a good model is one that can act and express different emotions and a good photographer needs to know how to create the right environment to make this happen and also to make the model feel very comfortable in order to get the best from them. Although the shoot is not about me, it's about passing on my knowledge, I will be demonstrating working with the model using my Contax 167 35mm camera with a Carl Zeiss lens, the film will be Ilford HP 5 because of its flexibility and the way it renders skin tone.
WHAT ARE YOUR PHOTOGRAPHIC GOALS GOING FORWARD?
My photographic goals moving forward are to re establish a strong business teaching film photography and darkroom and of course street photography which is no mean feat in these challenging times. On a personal level to be able to travel again and to shoot urban portraits in many more cities throughout Europe.

SECTION 2 - SHOUT OUTS
We all need a bit of inspiration and love so this is your chance to tell the community about yours – from the film photographers whose work inspires you, the labs you trust with your film, your 'go to' film photography stockists, your favourite community darkrooms or just anyone in the community who you feel deserves a special mention.
GIVE A SHOUT OUT TO YOUR 3 FAVOURITE FILM PHOTOGRAPHERS (NOT PHOTOGRAPHY HUBS) CURRENTLY ACTIVE ON IG OR TWITTER AND BRIEFLY TELL US WHY OTHERS SHOULD FOLLOW THEM.
The first person I would like to give a shout out to is Charles Morgan. Charles came to me a few years ago for a darkroom workshop and since then has gone on to be a real expert in film photography, all credit to him.
The second person is Simon Riddell. Simon came on one of my landscape photography workshops in Scotland and now shoots interesting subject matter in all formats and has also moved on to wet plate.
The third person is David Collyer a great portrait and documentary photographer, he has shot a great series of images around COVID19 in hospital which has been featured in a national newspaper and photography magazines. He is a very talented photographer.
GIVE A SHOUT OUT TO YOUR FAVOURITE PHOTOGRAPHY YOUTUBE CHANNELS (APART FROM THE @ILFORDPHOTO ONE).
GIVE A SHOUT OUT TO YOUR FAVOURITE PHOTOGRAPHIC RETAILERS (NAME, LOCATION AND WEBSITE).
Ffordes photographic. I first used Ffordes to buy equipment many, many years ago and have now become great friends with Alistair who is the manager. He has given me great advice over the years.
GIVE A SHOUT OUT TO YOUR FAVOURITE LAB SERVICE, IF YOU HAVE ONE.
I don't use a lab I process and print in my own darkroom.

SECTION 3 - FAVOURITE KIT
WHAT FILM CAMERAS DO YOU OWN AND WHICH IS YOUR FAVOURITE? (PLEASE SEND US A PICTURE OF IT IF YOU CAN).
I have far too many film cameras to mention. The one's I am using at the moment are; 35 mm is Contax 167,  medium format is Pentax 6x7 and my large format camera is a hand made 5x4 that Doctor Jim Lycett made for me.
ASIDE FROM YOUR CAMERA, LENSES AND FILM WHAT ACCESSORIES MAKE IT INTO YOUR CAMERA BAG?
A hand held light meter is a must for me. I never go anywhere without one.
WHAT IS THE BEST PIECE OF PHOTOGRAPHY KIT YOU HAVE FOUND OR BEEN GIFTED?
The best photographic equipment I have been given is from my very good friend Doctor Jim Lycett. He hand makes beautiful large format cameras in wood and brass. It's a thing of beauty and really functional too.  I really treasure it.
AS THIS IS AN ILFORD INTERVIEW IT WOULD BE REMISS OF US NOT TO ASK ABOUT YOUR FAVOURITE ILFORD PRODUCTS. TELL US YOU FAVOURITE ILFORD FILM, PAPER OR CHEMS AND WHY?
My favourite film is Ilford HP5 Plus, it's totally flexible. You can push it up to 3200asa and pull it to 100asa. I love the contrast, the beautiful tone and fine grain it gives.
For chemicals it has to be Ilford Perceptol film developer for achieving sharpness detail and extra fine grain.
And for paper it has to be Multigrade FB classic gloss. I love working with this paper as it produces the most amazing results.
AND FINALLY…
NOMINATE ONE OTHER PERSON YOU THINK SHOULD FILL IN THIS FORM AND WE WILL REACH OUT TO THEM
A tough choice but I think it has to be David Collyer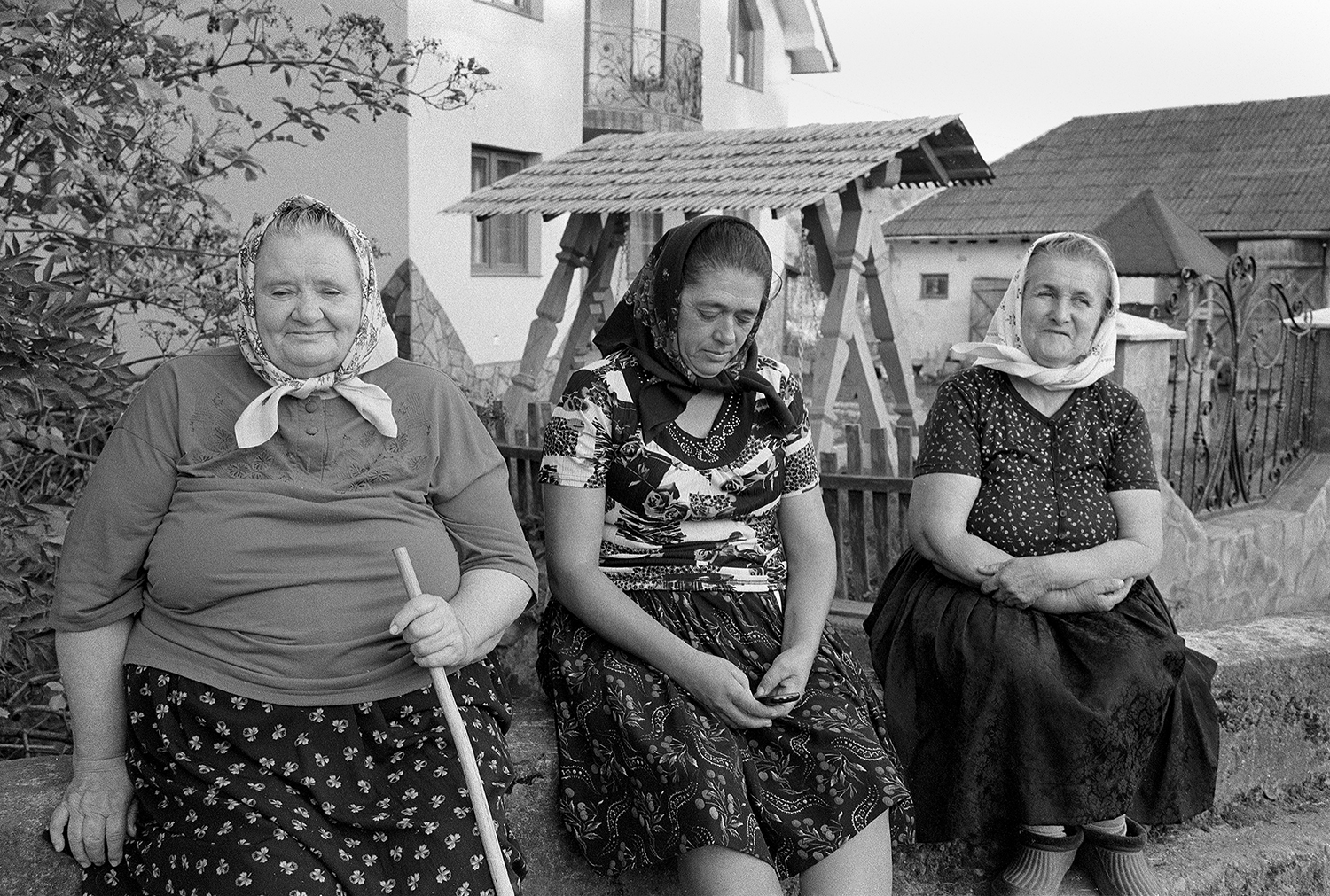 ---
About The Author

Keith Moss
I'm Keith Moss, a self taught professional photographer, and mentor with an international reputation. I have run a successful photography business for 35 years, mentoring amateurs and professional photographers for the last 12 years.
Having worked as a photographer for the past 35 years or so, I have worked on advertising campaigns for Blue Chip companies including Laura Ashley, Barker & Stonehouse, The BBC, Miss Sixty, The Cooperative Clothing Company, Unilever, Hilton Hotels, Mars Confectionery, Hand Picked Hotels and many more. I have also worked with and been featured in dozens of lifestyle and photography magazines including Professional Photographer, Amateur Photographer, Digital Photographer, and Photography for Beginners. At the beginning of 2013, I became an Ilford Partner, delivering masterclasses to lecturers, students, and competition winners.
Teaching
Having taught photography in large institutions such as Northumbria University, Teesside University, York St John University and mentored many professional photographers through Digital City Teeside as well as individual companies like BIGDUG and Galvin for Men Ireland, I found another passion – passing on my photographic knowledge, so I offer a mentoring and coaching sessions. Whether it is advice on which camera to buy or tips on how to get the most out of your photography. Keith loves helping amateur, keen enthusiasts and professional photographers achieve their potential. I offer an online mentoring-coaching service, street photography workshops, studio photography workshops, and black and white film and darkroom workshops from his own studio/ darkroom in North Yorkshire.
Please have a browse through his workshops and if any of them interest you get in touch. Or if there is anything you would like to learn which is not currently available let him know.
For any enquires email me direct on info@keithmoss.co.uk or call me +44 (0)7454 286 443.
www.keithmossphotography.co.uk
http://instagram.com/keithmoss
---