ILFORD PHOTO ANNOUNCE THE UK WINNER OF THEIR 2019/20 STUDENT PHOTOGRAPHY COMPETITION 'A SENSE OF…' Posted On 6th April 2020 To News & Competitions

When UK students submitted their prints for the 10th Annual ILFORD PHOTO Student Photography Competition under the theme 'A Sense of …' they had little knowledge of what disruption was coming just a couple of months later.
With schools and colleges now closed due to the coronavirus crisis and term seemingly at an abrupt end,  we are pleased to be able to look back and reflect on some of the stunning entries we received as well as announce the 2019/20 winner.
And the Winner is...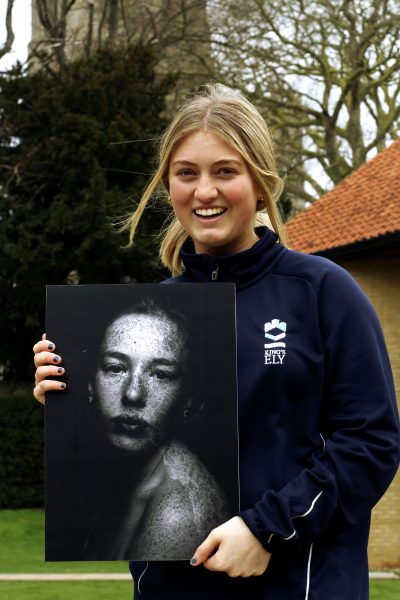 That honour, and the title of 'ILFORD PHOTO UK Student Photographer of the Year 2019/20', goes to Paige Newell from King's Ely School in Cambridge. Paige's beautiful portrait 'A Sense of Vulnerability' was captured on ILFORD HP5 Plus and superbly printed on ILFORD MULTIGRADE IV RC Deluxe.
Paige's win marks an incredible 3-year streak for King's Ely School and tutor Antonio Longo, Head of Photography. It once again reinforces the school's reputation as a hot bed for emerging photographers and shows how they have benefited from integrating the competition into their GCSE and A Level curriculum. The school continues to explore all elements of film and darkroom printing processes, from Chemigrams to B&W printing.
This year's runner up prize goes to Trina Atkar from Leicester College for her image 'Sense of Humour' shot on 120 ILFORD HP5 Plus. We hope that despite the disruption with their courses this year that Paige, Trina and everyone who participated, will go onto have incredibly successful futures in photography.
Thank you
We would like to thank all the students, colleges, tutors and technicians for once again supporting and participating in the competition. We wish you all the very best over the coming weeks and months and hope you are able to return to normal as soon as possible.
The details of the 2020/21 ILFORD PHOTO student competition will be announced in the coming months on the ilfordphoto.com website.