ILFORD Inspires: Silver Stories with Chuck Kelton Posted On 26th July 2016 To News & Events

26th July 2016
ILFORD Photo (HARMAN technology Ltd) are delighted to introduce 'ILFORD inspires', a series of events aimed at broadening the appeal of black and white film photography to a wider audience.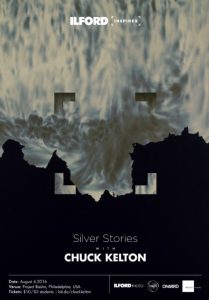 The first of these events takes place on August 4th in Philadelphia, PA and features an insight into and showcase of the incredible work of artist, educator and master printer Chuck Kelton.
Chuck's feature talk will describe his experiences working with some of the most iconic photographers of the 20th Century including Mary Ellen Mark, Danny Lyon, Larry Clark, Helen Levitt and Saul Leiter.  He will also talk about his own artistic vision including his passion for using traditional silver techniques in his creative process to make chemograms and photograms.
There will be a gallery of his work on display as well as a selection of prints he has done for world renowned photographers that the audience can see and feel.
To register for this one off event please visit: http://onwardphoto.org/silver-stories-chuck-kelton/
(please note places are limited so book now to avoid disappointment)
Date: Thursday 4th August, 6:30pm to 9:30pm
Venue: Project Basho Gallery, 1305 Germantown Ave, Philadelphia, PA, 19122, USA.
Tickets: $10 general / $5 Students & Project Basho Members
About Chuck Kelton
Chuck Kelton is an artist, educator and master printer. At Kelton Labs, he has spent many years working with some of the most significant photographers of the 20th century. He has collaborated with photographers like Mary Ellen Mark, Danny Lyon, Larry Clark, Helen Levitt and Saul Leiter producing gelatin silver prints for their exhibitions and portfolios.
As an artist he makes chemograms and photograms inside the darkroom; transforming light, chemistry and paper into abstract landscapes. Both chemograms and photograms are made without the use of cameras or negatives, rendering each print entirely unique.
The image in a photogram is the result of exposing photographic paper to light - writing with light. Whereas the image in a chemogram is the outcome of exposing photographic paper to developer and fixer.
Kelton's work has been featured in numerous exhibitions and publications and is in the collections of the Museum of Fine Arts Boston; Bibliothéque nationale de France; Norton Museum of Art, West Palm Beach, Florida; International Center of Photography, New York; and New York Public Library. The artist lives and works in Jersey City, NJ.