How I got this picture - Anna Chobotova Posted On 15th November 2018 To How I got this picture

Violin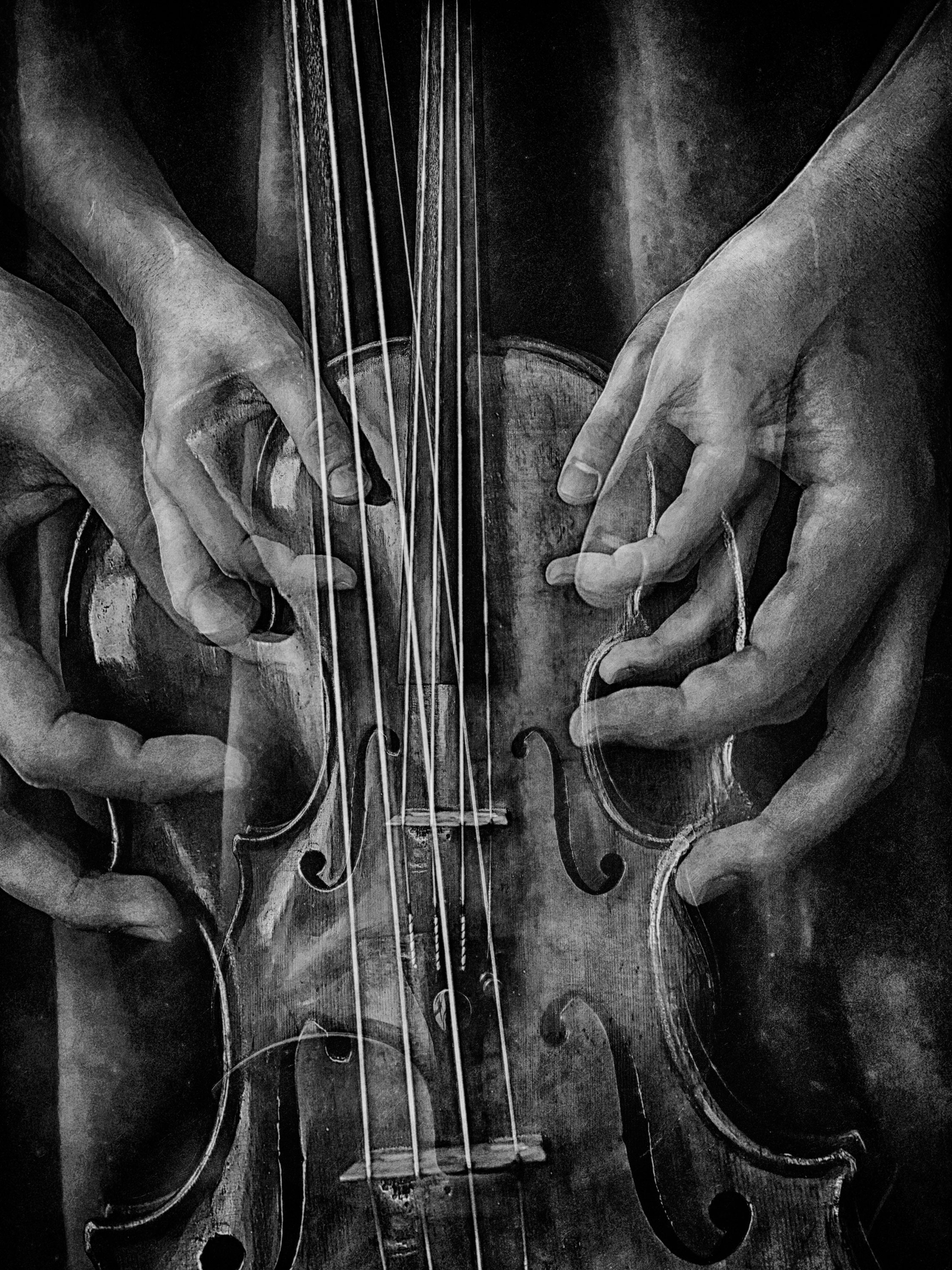 Technical info
Film Used:  ILFORD HP5 plus 400 
Format 120 (6*6)
Camera Hasselblad 503CW 
Lens: Planar 80mm f/2,8 CF lens and Makro Planar T* CF 120mm f/4 
Exposure time Double exposure (f/5,6 1/30s)
Location: Petrozavodsk (Russia)
Tell us the story behind Violin. What inspired you to shoot it?
I have been working with the Karelian State Philharmonic for many years. The Philharmonic invites world famous musicians for concerts and festivals, and I shoot portraits of those musicians for posters and other various projects, I am grateful for the opportunity to interact with such interesting and talented people, and with many of them a have maintained a friendship. Each of the musicians has his own features that fascinate me as a photographer.
I took this photo on October 24, 2014. In it you see the magnificent and talented violinist, Aylen Pritchin.  His hands were fascinating as they worked the strings - like spiders, quickly, accurately and professionally. I wanted to convey this movement, to give the photo life. Additionally, it is necessary to mention the violin. Musicians at such a high level very reverently choose their instrument. This particular violin is the work of Neapolitan master Gennaro Gagliano, and was created in 1765.
Did you come across any challenges?
When shooting musical instruments coated with varnish, you need to monitor the reflection and glare from the lights, and place the lights themselves very carefully. In this case, we were lucky with the weather and I abandoned the studio light in favor of diffused daylight. In addition, musical instruments do not tolerate sudden changes in temperature. You need to keep this in mind, trying not to place them close to sources of constant light that can excessively heat the instrument.
What process did you use (Tripod? Set exposure time? Filters? Lighting?)
I wanted to show movement, to give the picture dynamics. For this, I chose to take a multiple exposure. For different shots I used lenses with different focal lengths of 80 and 120 mm. When shooting the second frame, I turned the camera a little.
How did you process it?
I have my own small photo laboratory, I carried out the film development myself using ILFORD chemistry.
What about printing? 
I like to add texture to my artworks, so I am crazy about ILFORD Multigrade Art (11 x 14 ") paper! Cropping a square format to a vertical one was done while printing to be able to use the work in magazine printing and for posters.
---
About The Author

Anna Chobotova
Ann is a freelance photo artist based in Paris. You can follow her on Instagram @annachobo
About Anna
Anna was born in Russia.
1996-2001 – the Karelian University, faculty of foreign languages, diploma ´Teacher of Finnish and English languages'
2005 – The University of Manchester, postgraduate diploma in "Cultural management".
2006 – diploma 'Photo artist' of the international photo school "Fotoart-School".
Workshops with Igor Sakharov, Kirill Novosartov, Yuri Palmin, Andrei Chezhin.
2007-2018 – the founder and director of the "AnnaKids" studio.
Anna takes part in exhibitions and is invited to publish in European editions and photo albums.
Since 2008 she has been cooperating with the Karelian State Philharmonic.
Anna works with such musicians as Julia Igonina, Eduard Grach, Vadym Kholodenko, Marius Stravinsky, Aylen Pritchin.
Anna's works are used by the London Philharmonic Orchestra, the Karelian State Philharmonic and others.
Many works are in the personal collections in Europe and Russia.

Exhibitions:
 – Personal exhibition "Sensuality", October, 2008, Russia, State National Theater of Republic of Karelia;
 – Group exhibition "The fathers and the kids", February, 2009, Russia, State Puppet Theater of Republic of Karelia;
 – Personal exhibition Moulin Rouge: Mirror", RussiaPetrozavodsk, November, 2009;
 – Group exhibition, LOFT-project "Seasons of the year. Onega tractor factory», September-October, 2010;
 – Personal exhibition "In AnnaKids Country", October-November, 2010, State Puppet Theater of Republic of Karelia;
 – Exhibition of Anna Chobotova and Andrey Chernushov, April, 2011, The Gallery "Grain";
 – Personal exhibition "In the angel's country", May-June, 2011, Karelian State Philharmonic;
 – Group exhibition "Author – time", November-December, 2011, the museum of industrial history of Petrozavodsk;
 – Personal exhibition "Dreams from childhood", August-September, 2012, Karelian State Philharmonic.
 – Personal exhibition "Dreams from childhood", November, 2012 Finland/Joensuu.
 – Personal exhibition "Walking shadows" (the best lithprints), November, 2015, Russia, Karelian State Philharmonic.
 – Group exhibition "Monocle" according to the results of the All-Russian competition (finalist), November, 2017, St. Petersburg. 
  Books:
 -UNLIMITED GRAIN/ PORTRAITS (edited by Frans Peter Verheyen)/2011, Rotterdam, the Netherlands
 -Book Contest Unlimited Grain 2014 (edited by Frans Peter Verheyen)/2011, Rotterdam, the Netherlands) 
Autobiography
The main theme of my work is loneliness. The Banishment. The contrast between the physical and the metaphysical.
My heroes, be they living or simply objects, are temporarily stranded in this material world on their path to further development. I perceive the world around me as a temporary stop. The space of my works is static and symmetrical, seemingly absent, emphasizing the endlessness of time. My characters are in constant motion. They are trying to reach beyond this immovable physical world, taking the limits off their space. Awareness of the impossibility of moving further to their origins affects each of the heroes differently – sparking tragedy, humility, protest.
I often refer to everyday objects, the use of miniature elements against the background of large spaces, multi-exposure, repeats. Mirrors, watches, triangles, and hands are frequent symbols in my works. Using these tools, I try to reach inside of the viewer. Or I try to understand myself. You decide.
---