What I gained from photographing in a hospital. Posted On 6th May 2021 To Magazine & Stories

After a 25 year hiatus of shooting stills, I returned to pushing on with my personal photography in 2016 and more recently using film once again. Part of that process has involved a scanner which led me to revisit some of my 1980s images which had never before been published.
1987
In 1987 as a nineteen year old, I volunteered for an occupational therapy department in a Psychiatric Hospital, leading weekly 'photo therapy' workshops for a small group of patients. The aim was to encourage the group to explore their surroundings and add some value to their day. Moreover the camera was a vehicle for them to venture outside and rediscover experiences.
I had come about the idea of using photography as therapy after reading about the photographer Jo Spence, in my college library. At the time the phrase and application of therapy seemed open to interpretation but it was a useful catch phrase as a starting point; enabling the camera to unlock creativity.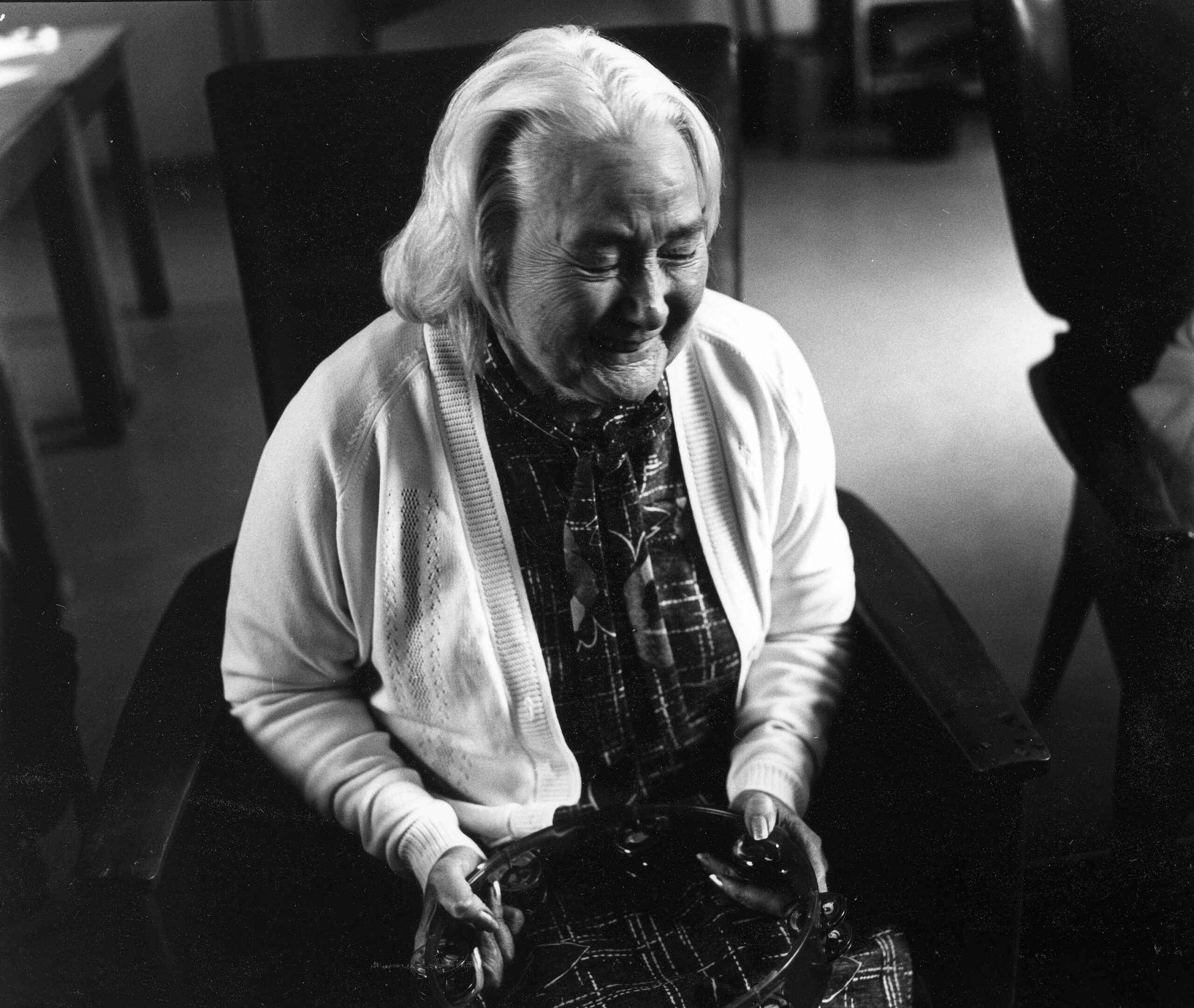 The photographic approach
The group's cameras were loaded with colour film using 35 mm Russian Cosmic Symbol cameras, whilst I used black and white 120 film to record them on both on location and in the hospital department. The Cosmic was the cheapest model I could find to include in my budget pitch. It's settings were ideally rudimentary. An aperture was set to match the film speed and then the shutter speed adjusted according to the weather conditions. It did mean setting the camera up each day for patients but subsequent results showed this unsophisticated approach to exposure control, worked well enough.
Throughout the 1980s I was exclusively a FP4 film shooter, developing in ID11 and printing on Ilford Multigrade papers. For the therapy workshops, I decided to use HP5, the greater film speed allowing handheld mobility at a 1/60 second, fully open on my Pentax 67.
The first workshop
As the small group assembled on the first day, I began with a flip chart and technical notes on basic camera settings, which received no flicker of acknowledgement.  Understandably, after several years in hospital the more elderly long term patients didn't interact much with each other or with me for the initial workshops. Discovering what their interests were came at its own pace. I quickly realised it wouldn't be classroom theory! Instead I decided to keep it all practical and mostly on location, away from the occupational therapy department.
Photographing them
My initial challenge in what they would photograph, was equally matched by how I would photograph them. Initially in the hospital grounds, I began by arranging them in pairs, which I quickly abandoned after seeing how contrived this looked on a first contact sheet.
Instead my focus shifted to more adventurous trips for them, beyond the hospital perimeter and taking a more casual and found approach with my documentation; a case of less portrait and more reportage. This appeared more natural and I also chose only to photograph them when they had found their own connection on location or were comfortable in that moment.
Photography is firstly about the user finding a spark of recognition in a subject, and if our individual take on the visual world have been suppressed or not sufficiently developed, this can be slow to arrive. I have found many years later running photo workshops during walkabouts, that sometimes participants struggle to find inspiration in the everyday, even in a new and exciting location such as Morocco.
Often this is about getting the connecting muscle working and reframing assumptions about what a photograph is for. Re-tuning expectations of spectacle and vista towards the more intimate and seemingly insignificant subjects.
Back in 1987 after a few weeks of classes, my photography became secondary, something I felt more comfortable with as I began to develop a greater interest in psychiatric nursing. The workshops fizzled out after a few months as I took on other duties within the department, not developing the films until a couple of years after I had left the hospital.
Looking back on the images
All the photos taken by the patients during the few months of 1987 were displayed in the department at the time.  For my own personal selection of photos I finally settled on a mixture of portraits and reportage, including captured moments of them photographing me. These were printed up in 1989 and kept in portfolio book for many years, before I scanned them in 2019.
In retrospect the images have a charm that wasn't apparent to me when taking them. In documentary photography the importance of some imagery is acquired only with time passing. With hindsight, photographing the group members over the course of year or more would have provided a unique documentary record.  What partially what held me back was knowing that they couldn't be published anytime in the near future. A 19 year old doesn't necessarily have the foresight to invest in something that will be rewarding down the line, especially when there are so many other things to discover.
Images @ Darren Lewey
---
About The Author

Darren Lewey
SOCIAL LINKS:
---