Finland Rooting for Analogue Photography Posted On 14th April 2022 To Magazine & Stories

Finnish Darkroom Association
In Finland during the early 2000's, as elsewhere, analog photography practice was pushed aside by digital photography. The 2010's saw a rapid decline in the use of darkroom techniques by artists and the almost total disappearance of professional darkrooms and film labs.
In 2016, with five other female photography artists all specialising in analogue photography and darkroom work. We founded the Finnish Darkroom Association.
The original idea came from photography artist Natalia Kopkina. The association was established to promote, teach and ultimately save the darkroom photography practice in Finland.
From the beginning, we very consciously set out on the path to ensure that the craft and know-how of analog photography would be preserved for future generations. Our association specialised in black and white darkroom work and alternative techniques such as wet plate collodion, cyanotype and daguerréotype processes, as there was already another association for analog colour photography.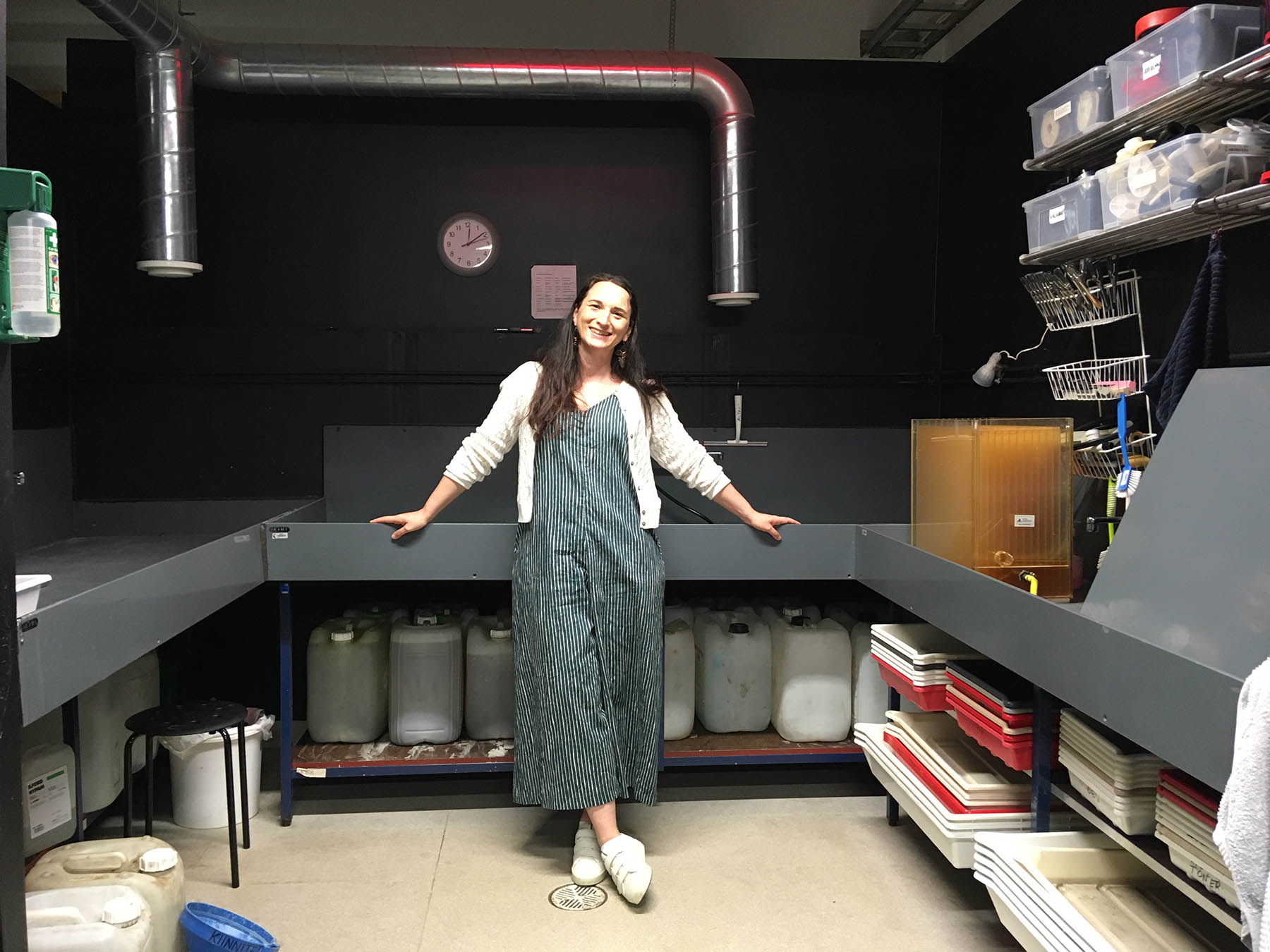 Mörk
I was selected the first president of the association and have served in that position since, except for my maternity leave in 2017. Our most concrete achievement so far has been the professional darkroom Mörk. This was built with the help of funding from the Finnish Cultural Foundation. The darkroom has 40 square meters with eight enlargers. It is located in a building maintained by the Finnish Artists' Association. We also have another room, separated from the darkroom by a light lock tunnel.  Here we have the drying screens, fume cabinet and the heat press.
We did a large part of the construction work ourselves, with the help of friends and family. Most of the equipment for the darkroom came from Aalto University. This was a donation (or rescued salvage), as it was at the time moving to new premises. The darkroom in the old building was being taken down.
Growing steadily
In the beginning, we were worried if we would be able to fund the association's work. Luckily, the interest in analog photography and darkroom practice has been growing steadily. This meant our membership growing accordingly. As well as the most of our courses being fully booked. As many of us were already experienced teachers and artists. This meant that giving classes turned out to be a good way for us to both secure the association financially and to raise awareness and promote analog photography.
In addition to introductory courses on film photography, film developing, and gelatin silver printing, we have offered classes and workshops such as pinhole camera building, ecological development, large format gelatin silver printing, wet plate collodion, direct positive portrait photography, fotogramme, daguerréotype, lithprinting and cyanotype process.
I'm proud to say that we have almost a hundred members now, only five years after the start. All of the work required for running the association and maintaining its activities is done voluntarily. However, we are currently exploring options for hiring some full-time personnel for running the practical side of things.
The Helsinki Darkroom Festival
At the moment, we are organising the first analog photography festival of the digital era in Finland – the Helsinki Darkroom Festival – in cooperation with the Finnish Museum of Photography. The festival involves an international exhibition at the museum of photography, for which ten artists were chosen from almost 400 submissions.
Apart from the museum exhibition there are gallery exhibitions, an artistic research symposium, a photography competition and several workshops included in the festival program.
If you happen to stop in Helsinki between 27.1.–24.4. 2022, there will be a lot to see for friends of analog photography.

Light_side2
---
About The Author

Katri Lassila
Katri Lassila (born in 1979) is photography and visual artist writing her doctoral dissertation about the image of landscape for Aalto University. She gave her first solo exhibition in 1999 and has given and taken part to numerous exhibitions since then. Her first mentor in the art of gelatin silver print was photography artist Pentti Sammallahti. In 2008 she graduated (practice based MA) from University of Art and Design Helsinki, nowadays Aalto University. Katri is specialized in fine art gelatin silver print technique. She thrives to achieve lucid and tonally rich prints and enjoys to print especially the element of water. During the past ten years, she has worked also with moving image and painting, combining those usually with analogue photography. Her selected theme is landscape, through which she explores the ambiguities of time and memory.
www – www.katrilassila.com
Insta – @klassila
---