This simple guide will show you how easy it is to erect your ILFORD Pop Up Darkroom.
Before assembling ensure that you have sufficient floor space and height:- The external metal frame is approximately 2.2m tall  and the internal space is 1.3 x 1.3m. If you are choosing to attach a fan / air blower to the lower vent on your pop up darkroom then this will cause it to expand slightly.
Open the storage case and remove the poles, groundsheet and pop up darkroom.
Move the groundsheet out of the way for now and unfold the pop up darkroom so that the black plastic cross is roughly in the centre
Unfold the poles and clip the 1st three sections on each together
Push the top of each pole into one of sections on the plastic cross - Repeat for all 4 poles.
Attach the 1st two clips onto each pole
Erect each pole fully and attach remaining clips.
Fold out the skirts so they lie flat to the floor.
Insert the pegs into the bottom of each pole.
Roll up the front of the pop up darkroom and use toggles to hold it in place.
Attach the groundsheet inside the pop up darkroom using the velcro.
Watch the video
The ILFORD Pop-Up Darkroom is the perfect solution for film photographers who want to print their negatives and otherwise may struggle to convert existing spaces into suitable working darkrooms.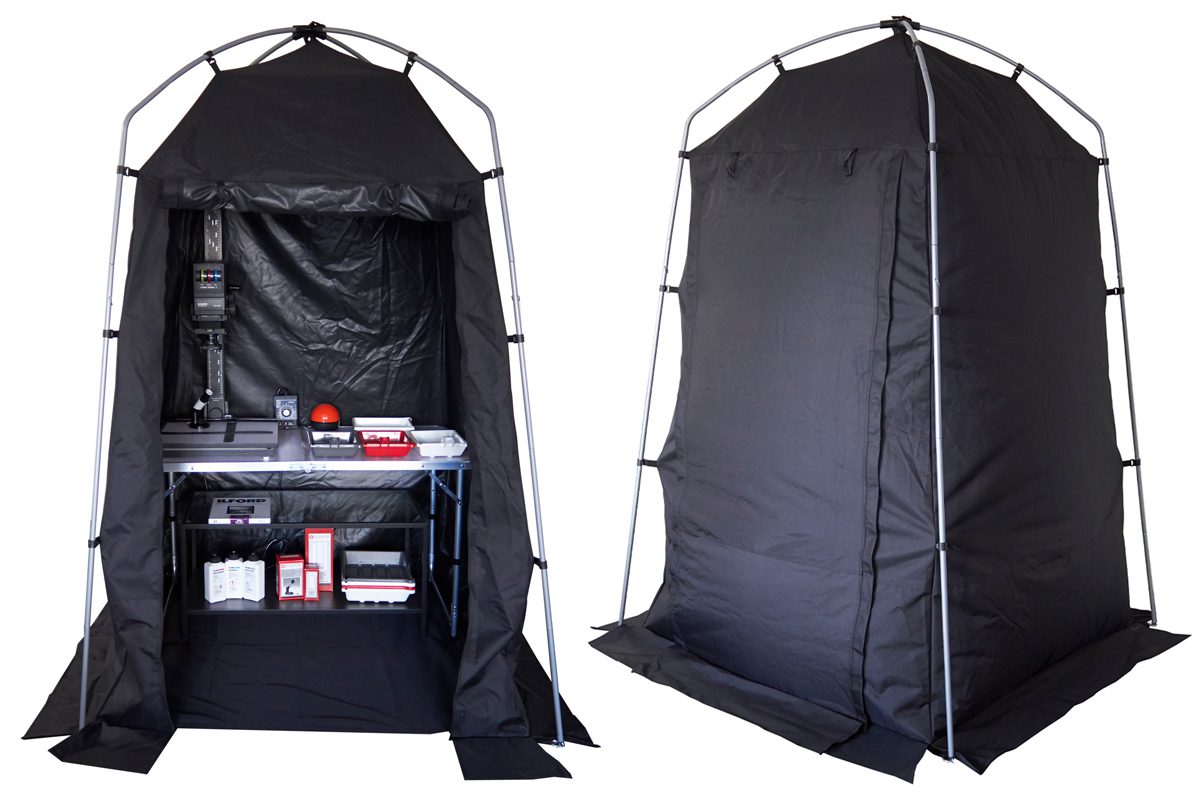 A durable light tight black material clips to the frame while an accompanying ground mat offers protection for your flooring. This and can be fastened to the interior skirt of the darkroom.
A built-in air vent towards the base allows for an optional fan / air blower to be used. Once sealed, the incoming air will expand the inner dimensions. A smaller vent is also included closer to the top of the darkroom to attach air extraction tubes (not included).
Visit our Learning Zone to find out more about choosing chemicals and paper to make your first black and white darkroom print.
*products shown inside darkroom for reference only and are not supplied with the pop up darkroom. Find out more about them below.
Table 120x60cm
Mixed-flo extractor fan 6" diameter. - The fan should be able to blow air into the lower vent, and it will flow out of the upper one.
Fabric complies with ignition and flammability standards  BS5852:Part1:1979 and BS7838:1996 (R2015).