In Focus - Paula Smith Posted On 3rd February 2022 To Magazine & In Focus

A regular contributor to conversations on film and analogue photography and always happy to share her knowledge and support other photographers. This week's In Focus interview is with Paula Smith.
Section 1 - Background
Share your favourite image / print shot on ILFORD film and tell us what it means to you?
One of my favourite images. This was taken in New Zealand on a crisp sunny winter's day. The light was beautiful and I loved how it picked up the chicken wire on the jetty. It brings back great memories of travelling 'down under' solo, just me and my Leica MP. This woman isn't me, but she may as well be. I would point my camera at anything and everything and travelling for 3 months with one film camera, 2 lenses (35mm & 90mm) and a ton of film was one of the best photographic experiences I've ever had.
Just in case anyone doesn't know who you are or what you do can you give us the overview?
I'm a London based freelance photographer. I mostly shoot interiors, people and events. Though most of my professional work is shot with digital, I still use film, pretty much on a daily basis, to capture personal projects, family life and the world around me.
How and why did you get started shooting film?
I started taking photos when film was the only option. As a kid I had a plastic toy camera that took 110 film. Then we had the family cheapo, no name brand 35mm compact that I took on holidays, school trips, parties etc. At 18, when I started travelling, I invested in an Olympus Mju. Little did I know then, that this would become an iconic little camera. It did a great job capturing all my early travel adventures and got me more interested in photography.
Sadly, it was stolen by some toe-rag at Waterloo Station. But that event spurred me into buying my first 'proper' camera, a Canon EOS 300 (Rebel 2000) SLR and the plastic fantastic 50mm f1.8. That was it… A life obsession was born. From then on, I haven't stopped taking film photographs.
(By the way, I still have the EOS 300 & 50mm 1.8 and use them often.)
Who has been your biggest photographic inspiration to date?
Not sure I could name just one person! It's probably every photo exhibition I've ever been to, every book I've ever studied, and many conversations had with photography minded folk.
I'm really drawn to images that capture simple scenes that not only document a moment in time, but do it in a way that there is geometry, light and an extra 'something' to tell a deeper story. Its no surprise then, that when I look at my photo book collection much of it is classic black and white from the first half of the 20th century – Henri Cartier Bresson, Diane Arbus, Walker Evans, Dorothea Lange, Lee Miller, Vivian Maier, Robert Frank, Helen Levitt, Saul Leiter…
What is the best piece of photography tip or advice you have ever received?
Keep an eye on your edges… A shot can be thrown off balance with something sticking in or out of frame. Once I did that, I found my compositions got tighter and cleaner, leading to more pleasing images (to me anyway). Oh, and make sure your film is properly wound on to the spool!  I've lost some shots of a lifetime because of that chestnut!
What film photography related projects are you currently working on (or are in the pipeline)?
I've got a few things on the go. Some are long term and probably about time I did something with them. The first is around charting my daily walks schlepping the kids to and from school… Probably nothing remotely interesting to anyone else, but I feel so compelled to capture the details I see as I walk back and forth. Hopefully, it will hold some value to my kids in years to come.
I'm also hoping to be able to get back over to America soon to continue building on a collection of images created in and around Central Pennsylvania, where my in-laws live. Being a city girl and all, it's such a wildly different environment to me. I'm fascinated by the mixture of rural farming landscape and swathes of rustbelt industrial lands.
I've also had two film photography 'firsts' this year – shooting 4x5 pinhole and 35mm half frame. Yep, one extreme to the other! It's been so much fun and pushed me out of my 35mm/120 norm that I'm hoping to develop some new work around these new to me formats.
What / where is your next shoot and how do you decide what film / kit you will use?
It's either to the local woods to shoot autumnal colours or the City of London where I like nothing better than to ramble around with a camera shooting whatever I find. Camera and film choice is usually based on what mood I'm in, how 'stealthy' I want to be and the weather.
I can often be found down on the Thames foreshore with a tripod and either my Bronica 6x6 format or the Ondu Multiformat pinhole camera loaded up with ILFORD PanF+ or FP4+.
River Thames towards The Shard, London. Taken on Canon EOS 3, Ilford PanF+ EI50 developed Ilfotec HC 1+31.
River Thames towards Tate Modern, London. Taken on Canon EOS 3 and Ilford FP4+ EI 125. Developed Ilfotec HC 1+31.
What are your photographic goals going forward? (Can be business or personal).
It's been over 10 years since I last made a darkroom print. I'm aiming to set up my own darkroom space again and start learning more about traditional wet printing. I'd also love to give alternative processes such as cyanotypes a proper go.
Section 2 - Shout outs
We all need a bit of inspiration and love so this is your chance to tell the community about yours – from the film photographers whose work inspires you, the labs you trust with your film, your 'go to' film photography stockists, your favourite community darkrooms or just anyone in the community who you feel deserves a special mention.
Give a shout out to your 3 favourite film photographers (not photography hubs) currently active on IG or Twitter and briefly tell us why others should follow them.
Oh my goodness… only 3?! There are so many inspiring analogue film people out there and it is growing all the time.
@aitchclarke - Hilary's polaroid work is beautiful and I love her ability to present personal family stories within her photographic practice. On that note I can't mention Hilary without also mentioning Deborah Parkin @deborahparkin… very inspiring!
@johnScarbro1 – John's pinhole and Holga photography is a constant source of joy and inspiration.
Likewise, Dave @elland_in produces such pleasing compositions no matter if he is shooting a 4x5 pinhole or his wide-angle panoramas.
Give a shout out to your favourite photography YouTube channels (apart from the @ilfordphoto one).
T Hopper – Fascinating insights into the work of many famous and not so well known photographers. Plus, inspiring discussions on how to develop your own photography practice.
Shootfilmlikeaboss – Roger shares his experiences learning to use different film cameras and film stocks and shows how he prints them in his darkroom shed.
Steve O'nions – Takes viewers on photowalks in the great outdoors where he shares his process for finding and taking compositions. (Also, a Bronica user so thumbs up from me!)
Give a shout out to your favourite photographic retailers (name, location and website).
Analogue Wonderland is my go-to. They have a great selection and super customer service. Plus, they are doing amazing things to pro-actively support film photographers with their 'Community Film Fund' and promotion of female photographers through the #sheheartsfilm series and photowalks.
We are pretty lucky in the UK to still have a choice. I regularly use Ilford Photo direct for film and chemical supplies. Plus Silverprint.co.uk, and firstcall-photographic.co.uk. And for second-hand used gear I'll always check in with Ffordes.com.
Give a shout out to your favourite lab service, if you have one, (name, location, website).
I do most of my developing myself these days, but when I do need services, I wouldn't hesitate to use –
Section 3 - Favourite kit
What film cameras do you own and which is your favourite?
Probably too many to mention now! My favourites and probably the main workhorses are - Leica MP, Bronica SQAi, Ricoh 500G, Olympus Trip 35mm, Rolleiflex Automat, Ondu MultiFormat and Zeiss Ikonta.  I also have a soft spot for Ensigns given that the Walthamstow factory was about a mile from my home. I have a few Ensign box cameras dating from the 1910s and up, and a couple of folders, most of them get occasional use and all still produce lovely results!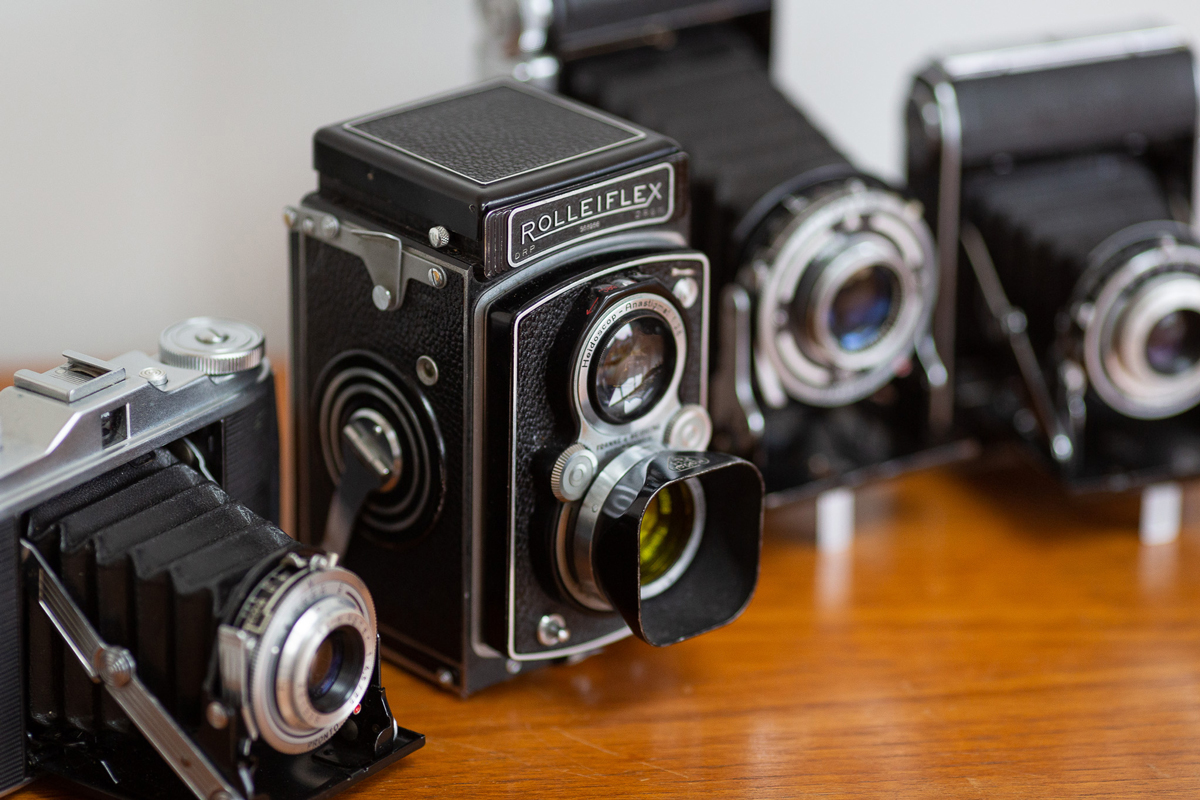 Aside from your camera, lenses and film what accessories make it into your camera bag?
Sekonic 'Flashmate' Lightmeter, cable release, lens cloth, note book, pencil and depending on the camera I'm using I may have a yellow and red filter too. (And given the times we now live – a mask and antibac.)
What is the best piece of photography kit you have found or been gifted?
There are some amazingly generous people out there and I've been fortunate to be gifted some cameras including a couple box brownies, an Olympus Trip 35 and most recently a Canon A1 with 28mm, 50mm and 100-200mm lenses. The camera had sat in a loft for 20+ years so needed some TLC but a couple of test rolls and it's producing some nice images. I may also be coming into possession of a 4x5 camera thanks to a great stalwart of the twitter analogue film community. Watch this space...
As this is an ILFORD interview it would be remiss of us not to ask about your favourite ILFORD products. Tell us you favourite ILFORD film, paper or chems and why?
Oh! This is a bit like picking your favourite child… can't I say I like them all? Hah! Ok, let's see…
The one I find myself grabbing for the most, especially in 120, is FP4+. Like HP5+, it's a versatile forgiving film, I can shoot it in all sorts of light conditions and get good shadow and highlight details. But it dials in more contrast at the outset so when I come to scan and edit, I'm not having to fiddle with the curves slider quite so much to find the sweet spot.
I've also found myself using Kentmere 100 & 400 a lot more to help reduce my film costs, particularly if I'm testing a new to me camera, or taking those random nonsense shots. There is nothing 'budget' about this film stock, it's reliable and gives pleasing negatives.
For developing I use Ilfotec HC regularly and it's always given me solid results. Its economical being 1+31 and has a great shelf life. I also use Ilford's DD-X and that gives lovely results too. I don't think I've ever used anything other than Ilford's Stop bath and Rapid Fixer chemicals, it's reliable stuff.
And finally…
Nominate one other person you think should fill in this form and we will reach out to them
I'd really like to hear more from Karin Liana @klizana. She's recently posted on twitter about hand colouring her black and white prints, they look awesome!
Images © Paula Smith
---
About The Author

Paula Smith
A London based professional photographer providing a range of photography services including: interiors and architecture, portrait, event, alongside award winning internationally collected travel and landscape photography.
Website: www.paulasmith.co.uk
Twitter: @paulasmithphoto
Instagram: @paulasmithphoto
---