In Focus - Mandyleft Posted On 7th November 2023 To Magazine & In Focus

Allow us to introduce Mandyleft, our 73rd featured artist in our "In Focus" series. Mandyleft is a talented film photographer known for her deep passion for connecting with people, a quality that has immersed her in the vibrant film community.
SECTION 1 - BACKGROUND
SHARE YOUR FAVOURITE IMAGE/PRINT SHOT ON ILFORD FILM AND TELL US WHAT IT MEANS TO YOU.
I took this photo in a hotel in London. It was a very exciting weekend. I had just been to the theatre and then I had been shooting around the West End with my Rolleicord until late at night. When I got back to my room, I had a shower and I noticed that I quite liked the light in the bathroom. There were two shots left in my camera, so I took a picture in front of the mirror. However, I immediately realised that I hadn't changed the settings from when I was shooting outside. So, I took another picture, correctly exposed. But when I saw both photos, the 'incorrectly' exposed one seemed more interesting to me. This one is the one that I exposed 'wrong', shot on ILFORD DELTA PROFESSIONAL 3200. This experience made me think a lot about what's 'correct' and what's 'incorrect'… 'Correct' doesn't always mean better.
JUST IN CASE ANYONE DOESN'T KNOW WHO YOU ARE OR WHAT YOU DO CAN YOU GIVE US THE OVERVIEW?
My name is Mandyleft. I am a film photography artist with a passion for analogue cameras and all analogue photography processes. Portraiture, fashion and editorial is what I normally shoot. I love organising shoots and working with teams of professionals in a studio.
I am very much involved in the analogue photography community. Meeting people, talking about film, sharing tips, and getting inspiration from others is what I love the most. I lead a collective of film photographers called OnlyFilms (@onlyfilmsproject).
HOW AND WHY DID YOU GET STARTED SHOOTING FILM?
One day, I was given a TLR camera that looked battered. I didn't think it would work… but I gave it a go and it did. When I saw the images that came out of it, I instantly fell in love with film photography. All I wanted was to try another roll, and then another, and another camera, and then another…I thoroughly enjoyed handling and shooting different analogue cameras and learning about their technical aspects. And the more I got into it, the more my curiosity grew. For me, it was the physicality of film what drew me. My interest is in the craft. If I had to shoot only digital, I wouldn't do photography.
WHO HAS BEEN YOUR BIGGEST PHOTOGRAPHIC INSPIRATION TO DATE?
When I was about 4 years old, I remember my mum took me to a hairdresser who had a big print of a photo by Pamela Hanson on the wall. I could not stop looking at it. It was a woman in front of a mirror putting lipstick on, in a very unusual posture, and a man behind her. I still remember having my hair washed whilst my eyes were stuck on that picture. That type of striking image is the one that I aspire to create.
Later on, in my adolescence, I happened to visit an exhibition by Ouka Leele. I was amazed by the creativity and originality of her images, and by the intricate process of her work. First, she would take a photo in black and white, and then she would paint it in colour by hand. I really liked how she staged her subjects to create impactful images.
More recently, I have been very interested in Yevonde's work. I find her beautiful portraiture incredibly inspiring.
WHAT IS THE BEST PIECE OF PHOTOGRAPHY TIP OR ADVICE YOU HAVE EVER RECEIVED?
The best piece of photography advice that I have been given is: shoot only one film stock and stick to it.
I've never done that, but it seems like a very sensible piece of advice.
WHAT FILM PHOTOGRAPHY RELATED PROJECTS ARE YOU CURRENTLY WORKING ON (OR ARE IN THE PIPELINE)?
One of my dearest projects is 'Artists and Artisans'. I am taking portraits of people who work with their hands, in an attempt to promote the work they do so they can have the recognition they deserve. This project started in the Canary Islands, taking portraits of musicians, tailors, luthiers, and woodworkers. I have continued this work in the UK, starting with a studio shoot of a painter in London. This is an ongoing project, centered around taking portraits of artists and artisans who I find interesting and add value to the world of arts.
I am also working on a project where I join my interest in cultures and fashion. I am photographing people wearing cultural outfits from different countries. Recently, I have taken portraits of people from Afghanistan, Ghana, and Mongolia. I expect this project to continue and grow.
One more project I'm working on is called 'Seaside: here and there'. I am taking photos in seaside towns in the Canary Islands and in the UK, to see how they compare. I'm interested to find similarities in both places. I want to explore the atmosphere and the life of the seaside.
At the moment, I'm also organising some shoots with actors who will be playing characters. I want to make a movie, but in stills. I'm developing a story, finding locations, and planning shots that evoke a certain feeling or atmosphere. I am very much inspired by specific movies when I think of it. I'm sure this will be an exciting project to work on.
Talking about movies, I have started shooting super8 film, which has released new ideas and possibilities in my mind. I would like to produce some films in the near future to develop this new passion further.
WHAT / WHERE IS YOUR NEXT SHOOT AND HOW DO YOU DECIDE WHAT FILM / KIT YOU WILL USE?
My next piece of work will be a fashion shoot in Leeds. I generally use different cameras, one per format that I want to shoot. Right now, my go-to medium format is a Pentax 6x7 with a 105mm f/2.4 lens. For 35mm, I will be taking a Nikon F5 with a 50mm f/1.2. And I always take a Polaroid camera! My favourite is my sx-70, modified by @Polanthropy (I can shoot sx70, 600 and i-Type film with it). As for film, I will be using ILFORD Delta 100 and ILFORD Ortho 80.
WHAT ARE YOUR PHOTOGRAPHIC GOALS GOING FORWARD?
I have two main goals: to produce work for fashion brands and magazines and to exhibit prints that I will have made in the darkroom.
SECTION 2 - SHOUT OUTS
We all need a bit of inspiration and love so this is your chance to tell the community about yours – from the film photographers whose work inspires you, the labs you trust with your film, your 'go to' film photography stockists, your favourite community darkrooms or just anyone in the community who you feel deserves a special mention.
GIVE A SHOUT-OUT TO YOUR 3 FAVORITE FILM PHOTOGRAPHERS.
Alex Bridge @disorganised_film is a fantastic street photographer. He has a very high-quality body of work. I honestly think he will go far. His most recent book is called 'Japan: You don't work, you take a hard pleasure', which contains photos of his time in Japan. You really shouldn't miss it. He is very clever with his compositions and very skilled in his execution.
Peggy Marsh @cameragocamera is one of the most knowledgeable people that I know. She has tested hundreds of cameras and she has a website(https://cameragocamera.com/) where she posts everything about each camera that she tries. I find it very interesting to see the cameras that she is testing and the results from them. If you want to know about a particular film camera, check her website out or ask her a question on Instagram.
Peter Gault @thisis_howiroll has always motivated me to shoot more black and white. His drive to constantly try new formats and processes is also very inspiring! Peter shoots 35mm, 120 and 4x5 but also motion picture film (Super8 and 16mm). And he has a business where he sells film for very good prices!
GIVE A SHOUT-OUT TO YOUR FAVORITE PHOTOGRAPHY YOUTUBE CHANNELS.
A YouTube channel that I would recommend is @iamtrece, by Lucho Dávila. He is an analogue fashion photographer. In his videos, he talks about shooting film for editorial and fashion. He also talks about general things related to shooting film: developing film, photowalks, shooting expired film… The quality of his videos is excellent, he has a great personality, and he really knows what he is talking about.
Another YouTube channel that I recommend is @ArmandoStreets. Armando Caballero is a street photographer who makes videos not only about street photography but also about gear and developing film. In his videos, he shares his workflow, compares different ways of scanning film, and gives tips about film development. He also compares different film stocks, which I find very useful. Armando has a great character, and his videos are very informative.
GIVE A SHOUT OUT TO YOUR FAVOURITE PHOTOGRAPHIC RETAILERS.
When I want to get something special, I go to West Yorkshire Cameras (Leeds - https://wycameras.com/). They are very professional, and I have the guarantee that it's going to be a great service. The best cameras and lenses I've got are from them.
For cameras, I would also recommend Cameras By Max (https://www.camerasbymax.co.uk). Their care and attention to detail is incomparable. They have a very nice range of cameras, which are always in top condition thanks to Max's skilful hands.
For film, I mostly use Analogue Wonderland (https://analoguewonderland.co.uk/). They have a very wide selection available, and I can get my film the next day if I need to. They have a club which organises interesting events and activities such as photo walks or online meetups (Click&Chat on Thursdays at 1pm once a month).
I would also like to mention the darkroom where I make my prints, Rapid Eye in London (https://rapideye.uk.com/). They have a fantastic space that you can hire to make prints, with 4 individual booths to work in and 2 Colenta machines. Their staff is extremely knowledgeable and helpful. There is such a great atmosphere! It's one of my favourite places to hang out with my film friends.
GIVE A SHOUT OUT TO YOUR FAVOURITE LAB SERVICE.
I have used quite a few labs, but a new one that I have used recently and found of excellent service is Gulabi (https://www.gulabi.co.uk/), based in Glasgow. Their standard scans are always at high resolution, and they generally deliver orders within 24 hours.
SECTION 3 - FAVOURITE KIT
WHAT FILM CAMERAS DO YOU OWN AND WHICH IS YOUR FAVOURITE?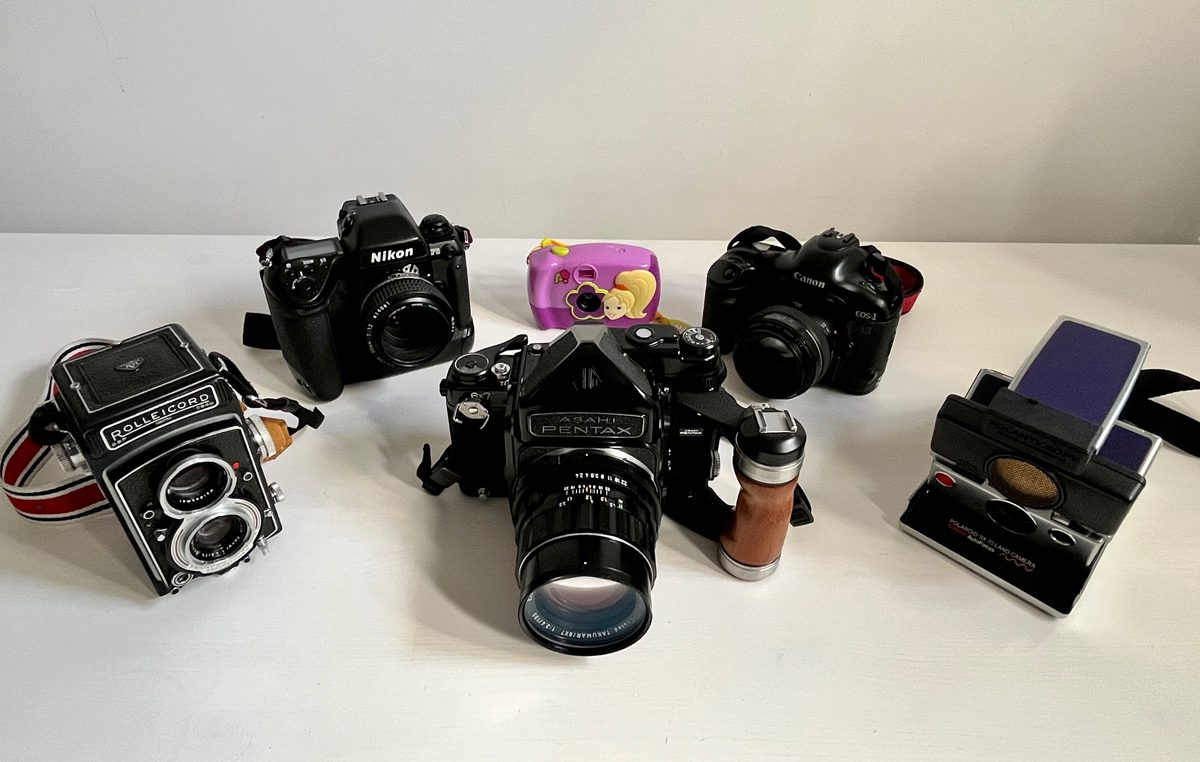 Shooting different cameras is a passion of mine. Handling them and learning about them is an absolute pleasure for me. These are some of my favourites, the ones I'm using the most at the moment. From left to right: Rolleicord Va, my first love. I have used it so much! Nikon F5, very powerful. Pentax 6x7, so big and heavy, I adore it. Polly Pocket camera, the lightest and funniest camera ever! It always brings a smile to people's faces. Canon EOS 1v, super modern and easy to use. And sx70, sharp and reliable.
ASIDE FROM YOUR CAMERA, LENSES AND FILM WHAT ACCESSORIES MAKE IT INTO YOUR CAMERA BAG?
Definitely, my pocket light. It's a portable LED light that comes in very handy when you need that extra light source. I never go out without it, as it makes a massive difference when you use it. There is always someone who asks me about it. It's as small and compact as a mobile phone, but it's surprisingly bright.
WHAT IS THE BEST PIECE OF PHOTOGRAPHY KIT YOU HAVE FOUND OR BEEN GIFTED?
It's a funny thing, but I would say that one of the best pieces of photography kit that I have been gifted is a 3D printed Lucky Cat that sits in the hot shoe mount of my Nikon F5. It was designed and printed by Kristian Faulkner (@kristian.faulkner).
AS THIS IS AN ILFORD INTERVIEW, IT WOULD BE REMISS OF US NOT TO ASK ABOUT YOUR FAVORITE ILFORD PRODUCTS. TELL US YOUR FAVORITE ILFORD FILM, PAPER, OR CHEMS AND WHY?
In terms of film, I love shooting the Delta range, especially Delta 400. I really like its contrast, sharpness, and professional look. I also enjoy shooting XP2 because it's so well balanced and because it's so clean (ok, I'm not going to lie, it's also quite cool to be able to send it to the lab to develop in C41 when my backlog of film to home develop is getting too much to handle!).
And as for developers, at the moment I'm using ILFOTEC HC, which was given to me by my friend Mike @md_images. I would say it's a fantastic developer and it gives me great results every time.
AND FINALLY…
NOMINATE ONE OTHER PERSON YOU THINK SHOULD FILL IN THIS FORM AND WE WILL REACH OUT TO THEM.
I want to nominate one of the most enthusiastic photographers that I know: Nelson Autefault @autefault.
©Mandyleft
---
About The Author

Mandyleft
Mandyleft is a film photography artist and analogue camera lover, shooting fashion and editorial, with an interest in capturing the beauty of art, cultures and traditions.
Her devotion to analogue photography started when she got her hands on an old TLR camera. Viewing the world through that focusing screen was a turning point. With it came the appreciation for taking pictures on physical, tangible material. The thought of giving value to each moment, imprinting it on film.
MandyLeft is dedicated to capturing portraits. Photographing people is her biggest passion. She works exclusively on film.
Website: https://mandyleft.com/
Instagram: @mandyleft
---