In focus - Malik Rainey Posted On 25th July 2023 To Magazine & In Focus

Introducing our 71st In Focus interviewee, Malik Rainey. Malik specialises in editorial and social documentary photography. However, Malik only became hooked on film when his friend Teo traded him his Pentax P30T for his bike.
Section 1 - Background
Share your favorite image/print shot on ILFORD film and tell us what it means to you.
This image is an all-timer for me! I always find myself returning to this image because it's perfect, from the little girl smiling directly at me to the boys playing basketball in the background. It captivates the message of Black joy and community that I often look and search for when making images in my spare time.
Just in case anyone doesn't know who you are or what you do can you give us the overview?
My name is Malik Rainey, and I am a photographer focusing on editorial and social documentary work. I often work for The New York Times, ABC, The Washington Post, and other publications. When I'm not doing paid work for the news, I'm out and about with my 6x9 medium format camera making images that frequently relate to Black joy & resilience.
How and why did you get started shooting film?
The story about how I got into film is long. I despised film at first, and I attest that to being inexperienced with photography and spoiled with working with digital cameras. I saw no reason to go and use a film camera because "we have technology far better than the cameras before us." It wasn't until a good friend of mine named Teo traded me his Pentax P30T and $200 for a bike that I was trying to get rid of. I've been hooked ever since then. I started to use the film camera so much more than I would use my digital camera. I began to see things more distinctly, take my time, and appreciate the process of using film.
Who has been your biggest photographic inspiration to date?
Gordon Parks. If you know photography, chances are you know the name or you've heard about him. Parks was self-taught, and I appreciate that as a self-taught photographer. Because of that, his work feels more emotional and visceral than technical. You can feel so many different emotions when looking at his work.
Photographed On ILFORD HP5+ 400 Film Camera : Fujica GW690 Medium Format Rangefinder Location : Angola , New York
Photographed On ILFORD HP5+ 400 FilmCamera : Fujica GW690 Medium Format Rangefinder Location : Allentown , Buffalo , New York
What is the best piece of photography tip or advice you have ever received?
Definitely to "create what YOU feel." In my experience, even when I'm on assignment, my best comes out when I stop thinking about what an editor or whoever may want, and I just create based on what I feel at that moment.
What film photography-related projects are you currently working on (or are in the pipeline)?
I'm working on multiple projects, many of which will continue in the Spring / Summer season. One of the projects that I'm working on is a short photo essay on  "Perry Day," which is a day on which the Perry Commodore Projects set up activities around for youth & adults to partake in.
What / where is your next shoot and how do you decide what film/kit you will use?
I currently don't have any photo sessions set up, but I typically do an impromptu session where we meet and walk around a particular area. We usually get started once I see something that sparks my interest. It's sort of like including the talent in a photo walk.
What are your photographic goals going forward?
I'm not sure. I'd love to photograph some magazine covers or work on more long-term projects. Something that takes a team effort. At this point in my career, I want to be put in positions where I can prove a point. I'm not as worried about proving that I have worth as a photographer anymore. I've spent a decent amount of time doing that already, and I think that's been proven, haha!
SECTION 2 - SHOUT OUTS
We all need a bit of inspiration and love so this is your chance to tell the community about yours – from the film photographers whose work inspires you, the labs you trust with your film, your 'go to' film photography stockists, your favourite community darkrooms or just anyone in the community who you feel deserves a special mention.
Give a shout-out to your 3 favorite film photographers.
My favorite film photographers would have to be Andre Wagner, Mark C Warner & Daniel Emuna. People should follow these individuals because they know how to convey their ideas and thoughts well through imagery. I often actually bookmark their images on social media and study them.
Give a shout-out to your favorite photography YouTube channels.
Unfortunately, I don't go to YouTube much for photography, but in the rare instance I do, Adorama has never let me down when I need to add some more knowledge to my noggin.
Give a shout-out to your favorite photographic retailers.
BIG BIG SHOUT OUT TO MPB!!!! I got my first camera from them and I'll never go to anybody else. They don't have a physical location as they are an online retailer but their website link is https://www.mpb.com/en-us .
Section 3 - Favourite kit
What film cameras do you own and which is your favorite?
I own a ton of film cameras: the Fujica GW690 (my everyday camera), the Olympus OM-1, A Polaroid Land Camera, and some other obscure cameras.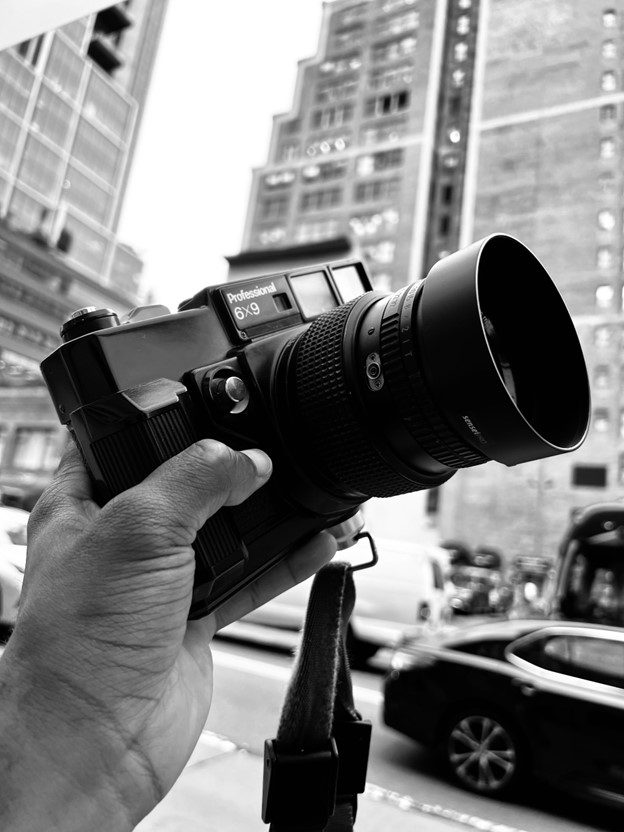 Aside from your camera, lenses, and film, what accessories make it into your camera bag?
I always always carry my Moleskine notebook with me. Whenever I may need to jot down an idea…or ten…I always have that and a nice pen with me.
What is the best piece of photography kit you have found or been gifted?
I believe the name of the camera was the Pentax P30T with a 50mm Lens. My mentor has an abundance of cameras, and I remember asking him for a film camera at the time, so he made a counter-offer:  "I'll give you one of my cameras for the bike that you're selling," and for me, that was the best news ever, so I walked away with a free camera, two rolls of film & $100.
As this is an ILFORD interview, it would be remiss of us not to ask about your favorite ILFORD products. Tell us your favorite ILFORD film, paper, or chems and why?
My favorite film is, without a doubt, ILFORD HP5+ 400 film. It was the very first B&W film stock I was introduced to. I have this undying love for ILFORD because it's a film that can be pushed or pulled depending on what the situation calls & looks like. Also, it's a film that best represents the way that I see the world around me. I always tell people I see this world in B&W, and I'll normally get someone to laugh at that, but it's my truth. Life is like one long continuous film for me, and I'm just here to make stills.
AND FINALLY…
NOMINATE ONE OTHER PERSON YOU THINK SHOULD FILL IN THIS FORM AND WE WILL REACH OUT TO THEM.
Malachi Smythe (@Malachismythe)
©Malik Rainey
---
About The Author

Malik Rainey
Malik Rainey is a freelance photographer based in Buffalo, New York who specializes in editorial and documentary photography.  He grew up in a family surrounded by music and dreamed of being a music producer before a chance encounter with a camera at age 15 led him on his current path. He is oftentimes inspired to create images in relation to black joy and resilience.
Website : malikmeetslik.com
Socials : IG || @malikmeetslik
Twitter || @MalikRainey_
---